March 16, 2020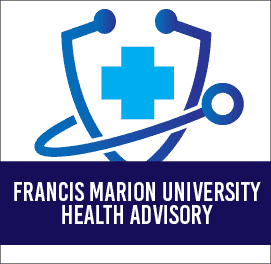 Latest statement from Dr. Fred Carter, FMU President – March 16, 2020
Message from Dr. Fred Carter, president Francis Marion University, to FMU faculty and staff.
As you recall, the governor's executive order yesterday closed the university, while giving us the latitude to transition to online instruction. Today we met with our COVID-19 working group, the vice presidents and department directors, and the deans and chairs. We discussed a number of items important in charting our future course. I want to share some of those with you this evening.
Our purpose during the next few weeks is clear. We want to do all that we can to keep the university community safe and get our students through the semester. Students are on spring break now through March 24. You'll recall that the break was extended two days to provide us additional preparation time. Our move to online instruction will keep the vast majority of them off campus and out of harm's way. Similarly, we have reduced the staff on campus down to just those deemed essential. When online instruction begins March 25, faculty will have the flexibility to teach their classes from home if they choose. This effort will reduce the on-campus population even further.
All of these initiatives are consistent with actions taken by our sister institutions.
I have asked the vice presidents and department directors to use telecommuting extensively, especially to protect employees at high risk from the virus.  The Centers for Disease Control (CDC) define high-risk employees as those above age 60, those with chronic health problems such as diabetes, heart disease or respiratory problems, those with immune disorders, and pregnant woman. I also asked the directors to consider those employees with children whose schools have closed.
The Provost and his staff are working with various people across campus to develop guidelines for facilitating online instruction, and Mr. Dixon and Dr. Kunka are assembling the necessary technical support. Faculty should receive correspondence from Peter, Jennifer, and John later this week.  As noted in yesterday's email, $50,000 has been set aside in a special fund to purchase new materials needed for the online instruction. Mr. Bridges and Dr. Warters will manage that fund and approve requests. Please contact them directly.
Dr. King will also be in touch regarding registration for fall classes. We have delayed the start of registration until March 30 to allow additional time for implementing online instruction. We are also adding additional advising staff to the Center for Academic Success and Achievement (CASA) to relieve some of the advising burden on departments. The deans and chairs will work with Jennifer to coordinate this process.
Last night, the CDC recommended strongly that meetings with 50 or more people be discontinued for the next eight weeks. Both numbers in the recommendation are instructive. Eight weeks is considerably longer than the initial two-week closure in the governor's order, and a standard of 50 or more eliminates most of the events we would hold on campus.
The University is in the process of cancelling or postponing a number of campus events including Christine Darden's lecture, our 50th Anniversary Gala, Arts International, and most of the upcoming programs at the performing arts center. Professors Steadman and Gourley are working to develop the definitive list of closures and will distribute a revised calendar later in the week.
Dr. Kennedy and Ms. Tuttle have the residential housing situation well under control. We're strongly encouraging students to return home, while being accommodating to those who can't. The Ervin Dining Hall will remain in operation with adjusted hours.
This is a lot of material, and more will be forthcoming. I'll do my best to provide you with essential information in a timely fashion, but the next series of emails will likely come from Peter, Jennifer/John, and Alley/Glen later in the week.
FMU has never been in a situation quite like this before, and the path ahead still remains unclear. At the deans and chairs meeting, we discussed the importance of not being afraid to make mistakes in the weeks ahead. Let's just continue to be supportive of one another.