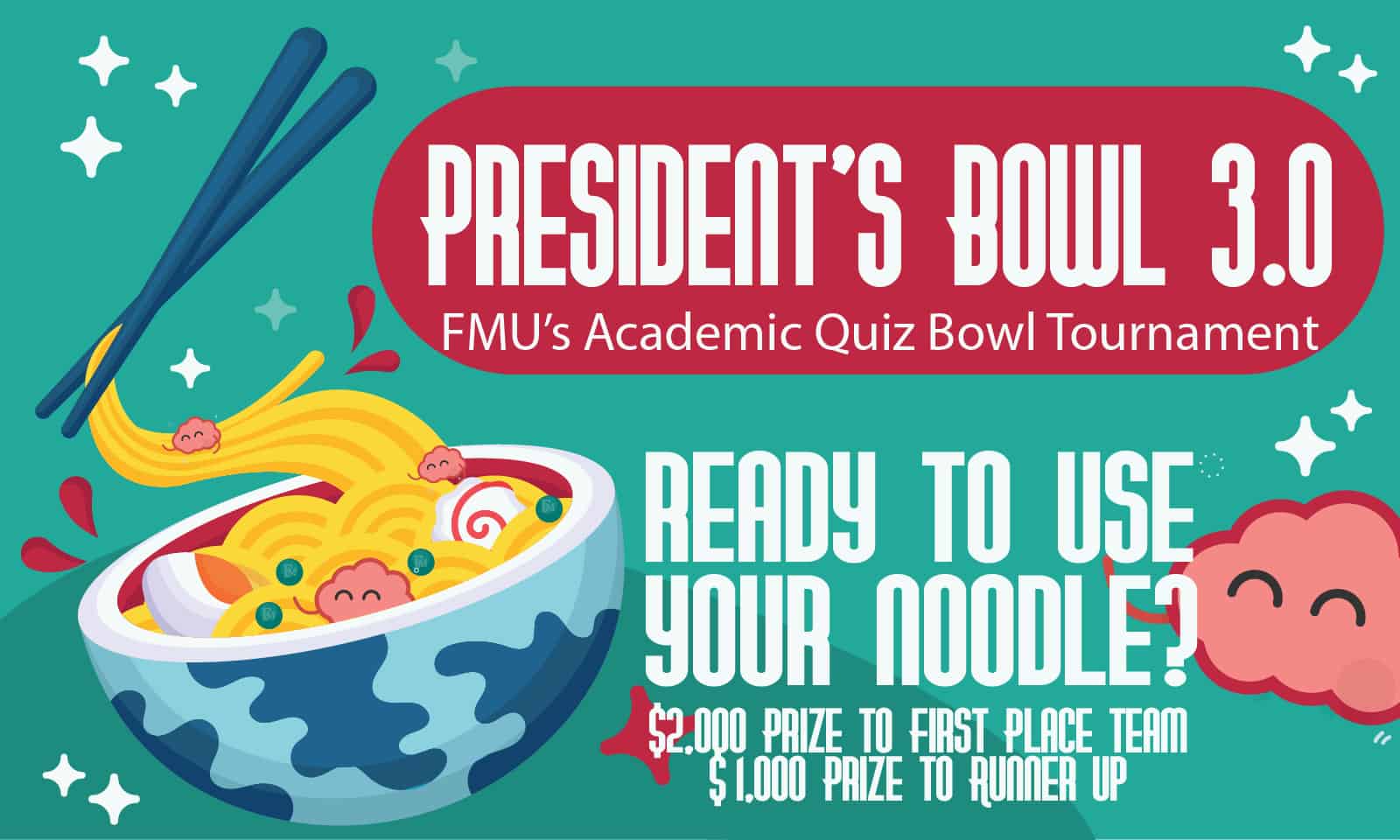 Are you ready to use your noodle? Dig in to the 2020 Francis Marion University President's Bowl and compete for a cash prize, plus a year's worth of bragging rights! Registration for this annual quiz bowl is now open and will close on February 2nd!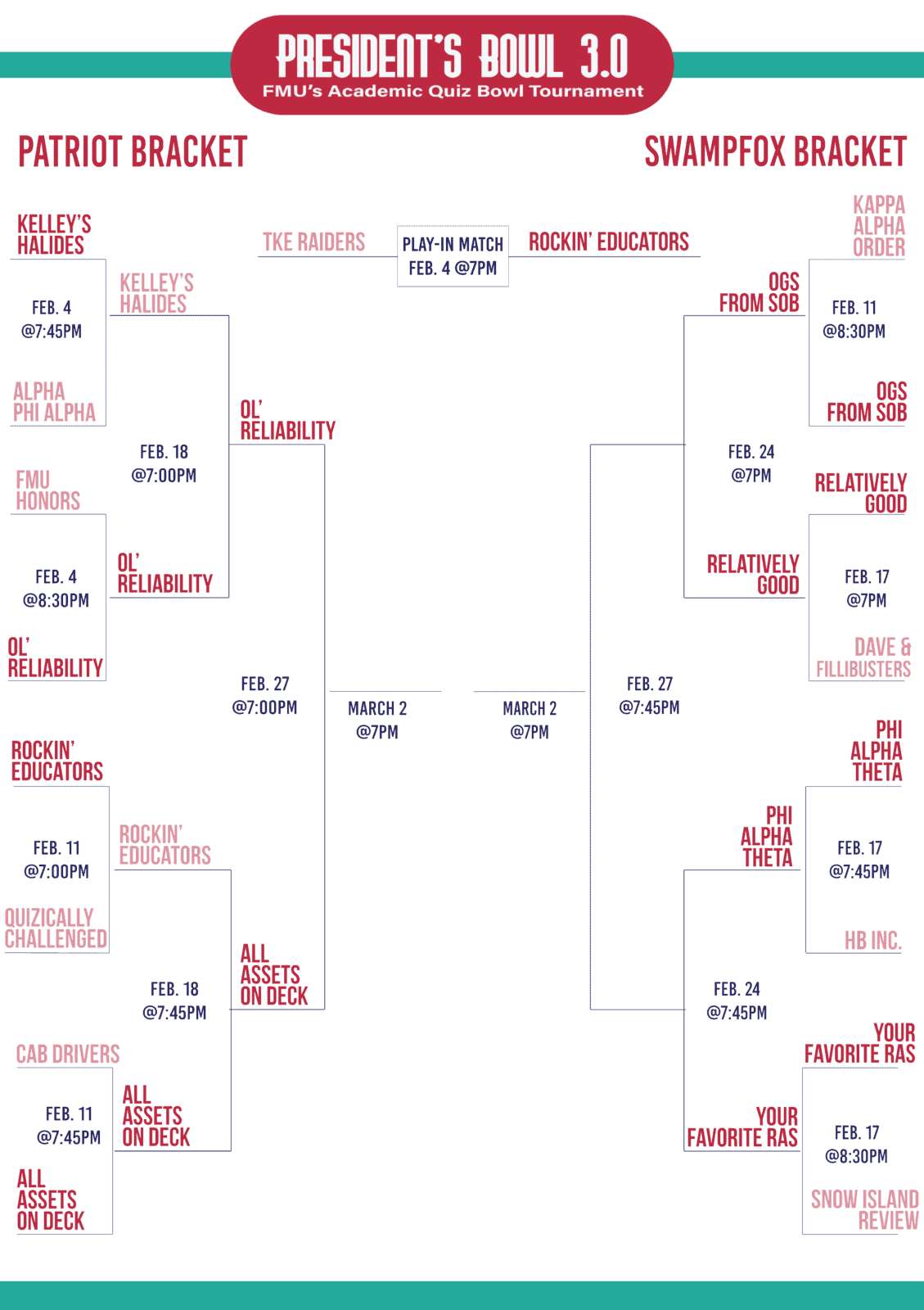 Schedule
Events begin at 7 pm on the days below in the Lee Nursing Building Auditorium. All events are free and open to the general public.
February 3 : Kick-off Event & Bracket Announcements
February 4: Round 1 Matches
February 6: Round 1 Matches
February 11: Round 1 Matches
February 17: Round 2 Matches
February 18: Round 2 Matches
February 24: Semi-Finals Matches
March 2: Championship Match-up
The 2019 President's Bowl - A Look Back
Rules and Info
The winning team will hoist the FMU President's Bowl trophy and will earn a $2,000 donation to the campus organization they represent. The runners-up receive $1,000 for their organization.
All participants must be FMU students in good standing.
The President's Bowl will follow the standard Quiz Bowl formats, as outlined by National Academic Quiz Tournaments (NAQT), LLC. But it essentially works like this:
Teams are asked a series of toss-up questions and respond using a "lockout" buzzer system supplied by the university. Speed matters! The individual team member who buzzes in first, receives the first chance to answer the tossup question. A correct answer nets his or her team points, plus an exclusive chance to answer a multi-part bonus question which may be answered by any member of the team, individually or in consultation. An incorrect answer sends the tossup question to the opposing team, which then has a chance to answer and steal the bonus questions.
Matches are made up of two halves, each consisting of 7 tossup questions. 14 Questions total.
Intermittently at tossup questions #3, #7, #10 and if needed #14, the team that answers the tossup correctly will given the opportunity to answer bonus questions.
Tied matches move to a three-question overtime, and, if necessary, to a sudden-death round.
Team Size
Teams may be composed of up to six players. However, each team uses only three team members at time. Substitutions may be made at halftime of a match. Different lineups may be used for each match. Again, all team members must be FMU students in good standing.
Practice
Sets of practice questions are available so teams can get a feel for the event and practice answering questions. Team captains and advisors can request a practice set when registering or by email.
Questions?
Questions will be provided by NAQT and will test knowledge of history, literature, science, fine arts, current events, sports, and popular culture, among other topics.
The Tournament
Teams entered in the tournament will be drawn randomly into a tournament bracket. The bracket will play down to the finals.
When will the tournament be held?
The bracket was drawn on 2/3. Match play will began with first rounds on 2/4, 2/6, and 2/11. The second match rounds will be held on 2/17 and 2/18 with the semifinals set for February 24 and The Final set for March 2 – March Madness!!
What else?
Matches will be held in FMU's Thomason Auditorium in the Lee Nursing Building. The semifinals and finals will be televised. There will be plenty of room for friends, supporters and probably even some social media smack talking.
FMU President's Bowl Regulations
(Based on the NAQT, LLC rules. ©2016)
No more than three people may play at a time. Teams may have rosters larger than three people; substitutions may be made between games, at halftime, before overtime, or during a timeout called by either team.
Tossup questions are usually worth 10 points. Each tossup has a "power mark" indicated by an asterisk; a correct response given at or before the power mark earns 15 points instead of 10.
A correct answer to a tossup (other than in overtime) earns a bonus question worth up to 30 points (with partial points possible).
A player may signal ("buzz") to answer a tossup at any point after the moderator has begun reading it. The moderator will stop as soon as a player has buzzed. Only one player per team may buzz on each tossup, and only the player who buzzed may give an answer. Players must begin answering within 2 seconds after having been recognized. Teammates may not engage in verbal or written consultation ("conferral") during tossup questions.
If a player's answer to a tossup is incorrect, or the 2-second period has expired, the moderator will, if necessary, finish reading the question for the other team—but the question remains a tossup, and thus subject to the rule on conferral. If a player on the second team buzzes and answers correctly, the second team earns the bonus. If the second team's
player gives an incorrect answer, or no player on the second team buzzes, the tossup goes dead: the moderator will provide the correct answer and move on to the next tossup. No consultation is allowed on tossup questions.
After the moderator has finished reading a tossup, players have 3 seconds in which to buzz. If one team gives an incorrect answer at this point, the other team has another 3 seconds in which to buzz. The exception to this rule is for computation tossups, for which 10 seconds are allotted.
A bonus question will usually have multiple parts, each with a separate clue for a separate answer. Occasionally a bonus will ask for multiple answers within a single part. Teams may confer on each part. The captain, or a player designated by the captain, should give the team's answer. After the clue for a part has been read, teams have 5 seconds in which to answer; the moderator will ask for a response after 4 seconds. Bonus parts do not "bounce back": if the team who controls the bonus (i.e., the team whose player answered the tossup) answers a part incorrectly, the non-controlling team has no opportunity to answer.
The moderator will ask for additional information (also called a "prompt") if an answer is correct but less complete than what is required, except for titles of works, which must usually be exact. Generally, last names of persons, or other commonly used names ("Moses," "Madonna") are sufficient.
Games will consist of two halves featuring 7 tossup questions each.
If the score is tied at the end of the game, three tiebreaker questions (with no bonuses) will be played. If the score is still tied, sudden-death tossups will be read.
Francis Marion University has modified the official NAQT rules for the purpose of conducting its own Intramural tournament. Where FMU rules do not apply or offer complete guidance, decisions will be made based on NAQT rules. The full version of the NAQT rules is available at https://www.naqt.com/rules.html.