May 4, 2020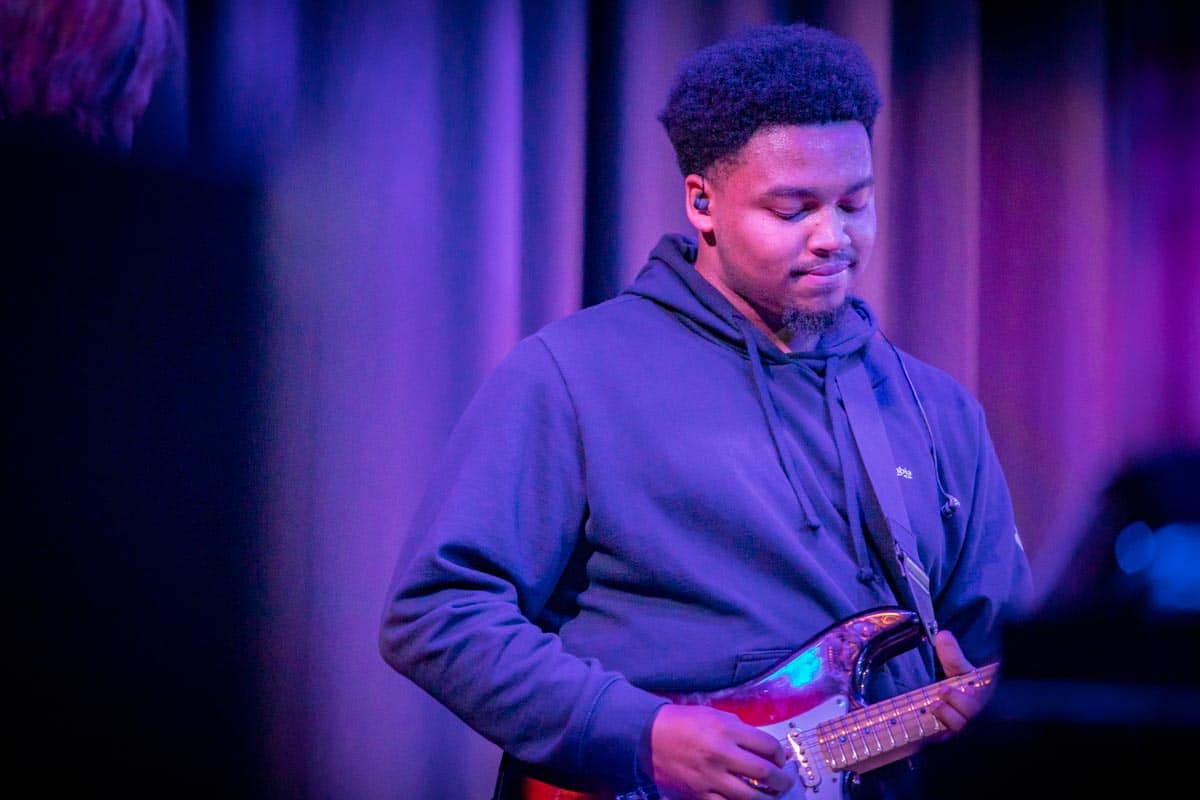 Concert cancelled? No problem for FMU's clever Jazz Ensemble
Like a lot of events this spring, the Francis Marion University Jazz Ensemble's spring concert was cancelled because of the coronavirus outbreak.
And then it re-emerged last week in a different form.
Using technology and a dose of the FMU-can-do spirit, four members of the ensemble put together a recording of "Triste," a smooth jazz hit from Brazilian composer Tom Jobim. The four parts — guitar, keyboard, bass and vocals — were recorded in four different places. The electronic files were shared and synced by guitarist Kevin Washington, a junior from Hopkins, S.C.
The result: a mini-concert that warmed the hearts of the ensemble and their director, Dr. Paolo Gualdi, an associate professor in the music industry program at FMU.  
"I am beyond proud that despite the fact that we could not rehearse live, or perform our spring recital, we were still able to make music together and put out this great rendition of the song," says Gualdi. "This is a real positive outcome during some not-so-good times."
The four members of the ensemble who perform are vocalist Charday Sparks of Rock Hill, S.C., keyboardist Adrien McClintock of Sumter, bass player Caitlyn Vaca of Blythewood, S.C., and Washington.
Washington says the group was able to work on the piece together for a few weeks before FMU and other state universities in South Carolina were closed by the governor's executive order. But most of the work took place after that occurred. It was up to each member of the group to work on their part, using a sound track with special cues to keep the tempo equal.
They recorded numerous versions of their parts and shared them with Washington, who used what he'd learned from a high school broadcasting class plus some experience he gained in courses at FMU to create the blended piece. After syncing the recordings he sent the various cuts to the other group members for comment. He lost count of the number of takes required, but said it "was at least 10.
"It was a lot of trial and error," says Washington. "I didn't have the very best software and I was learning a lot of it as I went along. But it came out well in the end."
Washington says that while he's not a fan of online learning and is eager to return to in-person instruction, he is glad for the experience. He'd like to work as a session guitarist someday — performing backup music for recordings — and he says this is exactly how they do a lot of their work.
What he doesn't want to do right now is listen to "Triste" again.
"It's a good song," says Washington, "but honestly, at the moment I'm a little tired of hearing it."
FMU's music industry program is a part of the Department of Fine Arts. It prepares students for careers in music, both as performers and in behind-the-scene directors and technical roles. Find our more at www.fmarion.edu/finearts. To view the video of the Jazz Ensemble's iteration of "Triste," click here: https://www.facebook.com/francismarionu/videos/230052545098661/