August 26, 2020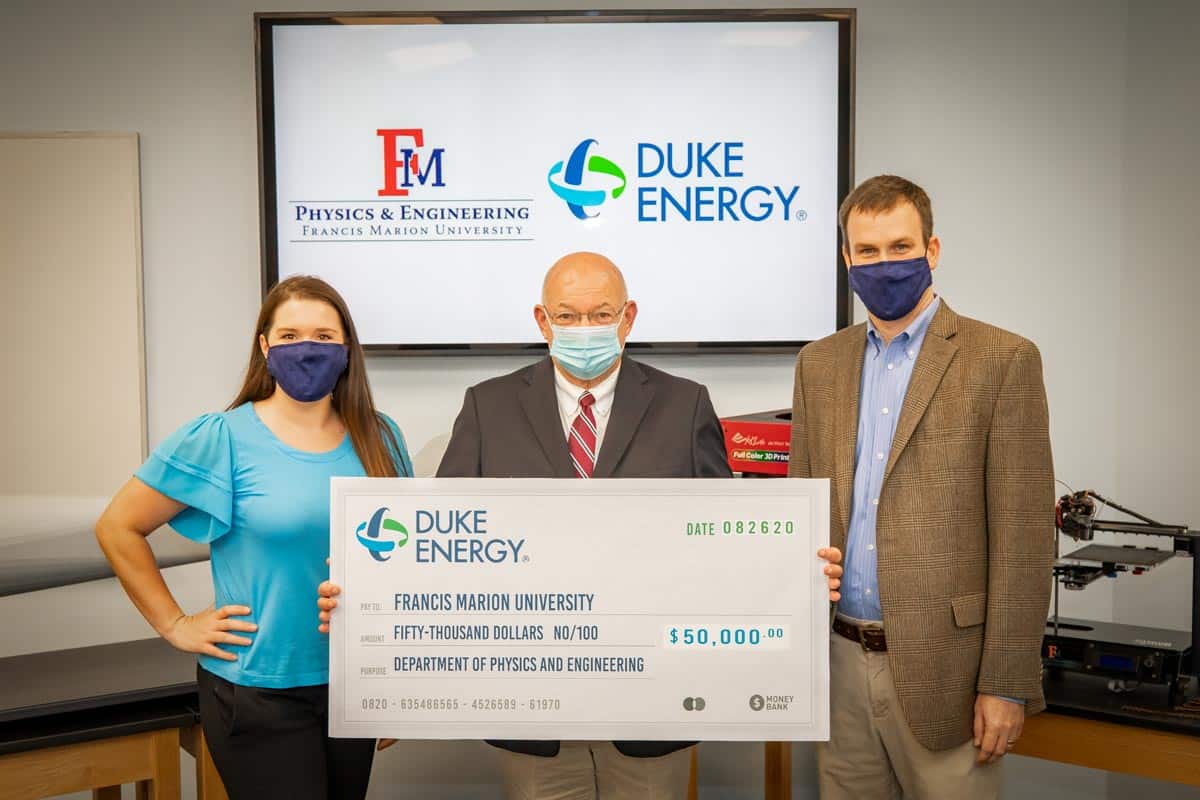 Duke Energy provides Makerspace grant for FMU Engineering
The Duke Energy Foundation has made a $50,000 gift to Francis Marion University's new FMU Engineering Makerspace. 
The gift is a part of the Duke Energy Foundation's continued support of the Department of Physics and Engineering at FMU.    
The FMU Engineering Makerspace will provide FMU students and faculty with a new resource to allow them to tap into their creativity outside of the classroom. 
The Makerspace will be integrated into classroom work as an essential part of senior engineering design courses.
But students will be able to use the Makerspace throughout their careers to create objects using contemporary design and manufacturing equipment. Projects can be tackled individually or collaboratively in groups.  
Dr. Derek Jokisch, the chair of the FMU Department of Physics and Engineering, says the gift provides an important tool in maintaining the pertinence of engineering within the Pee Dee region.
"By making these tools accessible to our students, the Makerspace will have a significant impact on the recruitment, retention, and graduation of students in the fields of Industrial and Mechanical Engineering," Jokisch says. "This will go a long way toward meeting the ever-growing needs of manufacturers in the Pee Dee and the Carolinas."
This latest gift is one of many the Duke Energy Foundation has provided FMU's Department of Physics and Engineering within the past few years. Previous foundation donations have gone towards the purchase of equipment for FMU's new Mechanical Engineering program, and significant enhancements for the David M. Peterson Nuclear Lab.
"We have a long history of working with institutions like Francis Marion University to grow the workforce of the future in the Pee Dee and beyond," said Mindy Taylor, government and community relations manager for Duke Energy. "We look forward to continuing that partnership with this creative makerspace program."
Francis Marion University President Dr. Fred Carter said the grant illustrates Duke Energy's dedication to education.
"Duke Energy is one of Francis Marion University's staunchest supporters," Carter says. "The FMU Engineering Makerspace provides our students and faculty with a great opportunity to continue to grow and improve our engineering programs in innovative ways."
FMU's Department of Physics and Engineering is noted throughout the region for the men and women who graduate from its Health Physics and Computational Physics track and who go on to careers in nuclear energy, nuclear medicine and more.
Engineering majors were a natural outgrowth of the department. FMU began its industrial engineering program in 2014 and produced its first graduates in 2017. Mechanical engineering began last spring.