December 2, 2021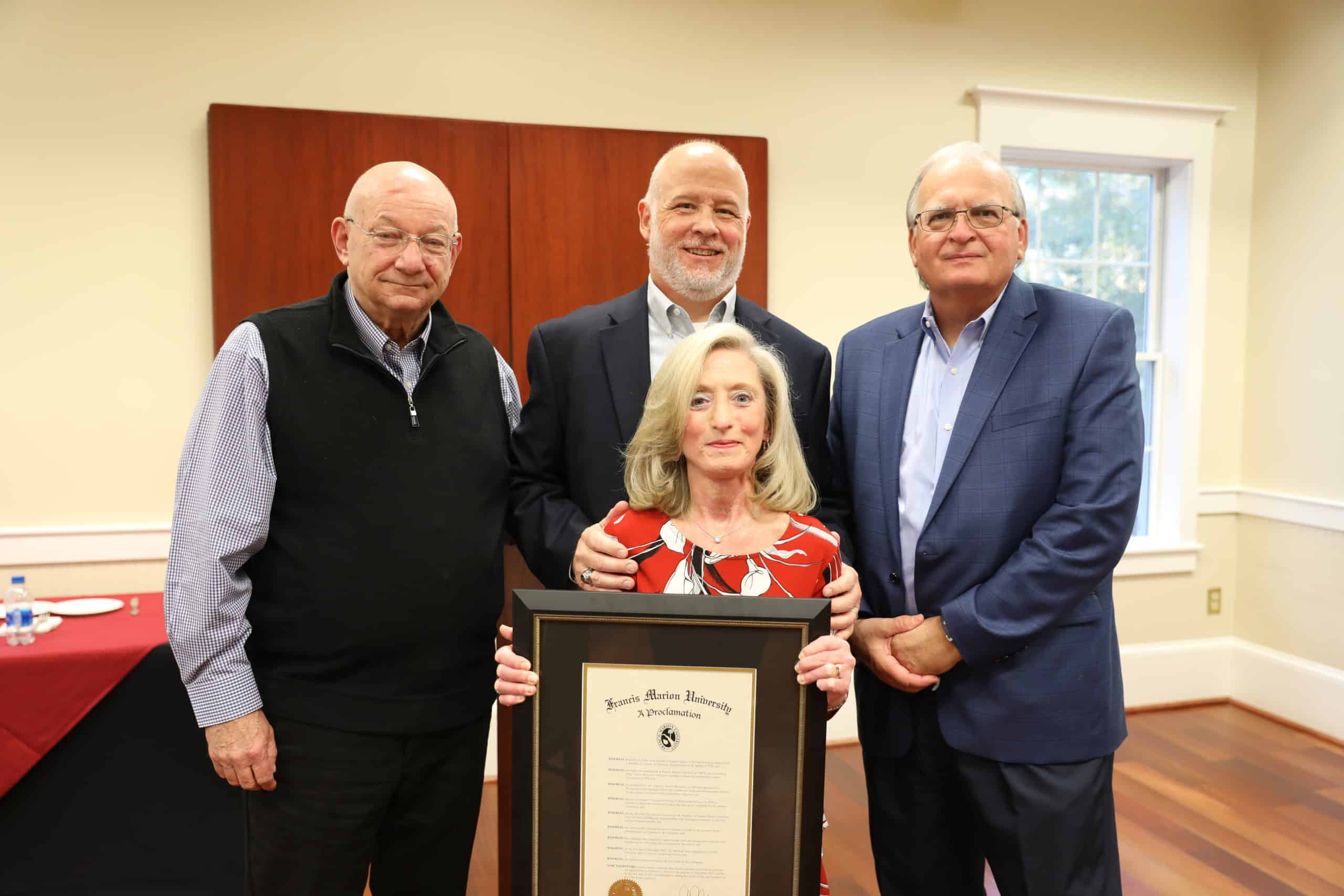 FMU celebrates the retirement of Kim Davis, executive assistant to the president
Francis Marion University celebrated the 35-year career of Kim Davis, executive assistant to the president, ahead of her retirement at the end of December.
Members of FMU's faculty and staff gathered at The Cottage on the University's campus Thursday to share memories and offer Davis their congratulations.
FMU President Fred Carter has nothing but praise for her work ethic and devotion to the university and its people.
"Kim has distinguished herself in every single position that she's held in her 35 years here," said Carter. "She's conscientious about everything she does, every task that she performs, everyone that she assists.  She treats every person who walks in this office with respect and compassion. I've never worked with anyone with such a strong sense of selflessness and service to others."
Davis has served as Dr. Carter's executive assistant since 2014, but her journey at FMU began in 1982 when she stepped onto campus as a freshman.
"Many things have changed since I started here," Davis said, reflecting on her time at the university prior to Thursday's event. "New buildings have been constructed, and new academic programs have been established, which is in large part due to Dr. Carter's strong leadership."
Davis graduated in 1986 with a Bachelor of Science in Business Administration and began her career at Francis Marion soon after in the accounting office as an accounts payable clerk. Davis went on to serve the university in several roles, including senior accountant, human resources specialist, and assistant director of institutional research.
Over the years, Davis' has developed a deep relationship with the university and the special people who work there.
"All of my colleagues are great to work with, but they are also great friends, too," Davis said. "For me, it's another type of family – my work family. And that's the way I've felt ever since I've been here."
The idea of family is a recurring theme for Davis, especially when remembering challenges that FMU has overcome.
"We have been through a lot together," Davis said. "You see the university come together in hard times, just like a family. Everybody has their part in it. And through our great leadership, everybody is kept safe through hurricanes, floods, and even this pandemic. That's where you see just how strong this university is and what we can do."
Davis' other cherished memories include seeing students receive hard earned degrees at commencement, as well as assisting with other university functions, including board meetings, distinguished faculty dinners, Board of Trustees Research Scholar Luncheons, and staff awards.
"All of these events are times to reflect on and celebrate the good things happening here at FMU and the wonderful faculty and staff who work here," Davis said.
As she prepares for the future, Davis looks forward to spending more time with her parents, husband, Doug, and son, Brian, who graduated in 2016 from FMU.