August 19, 2019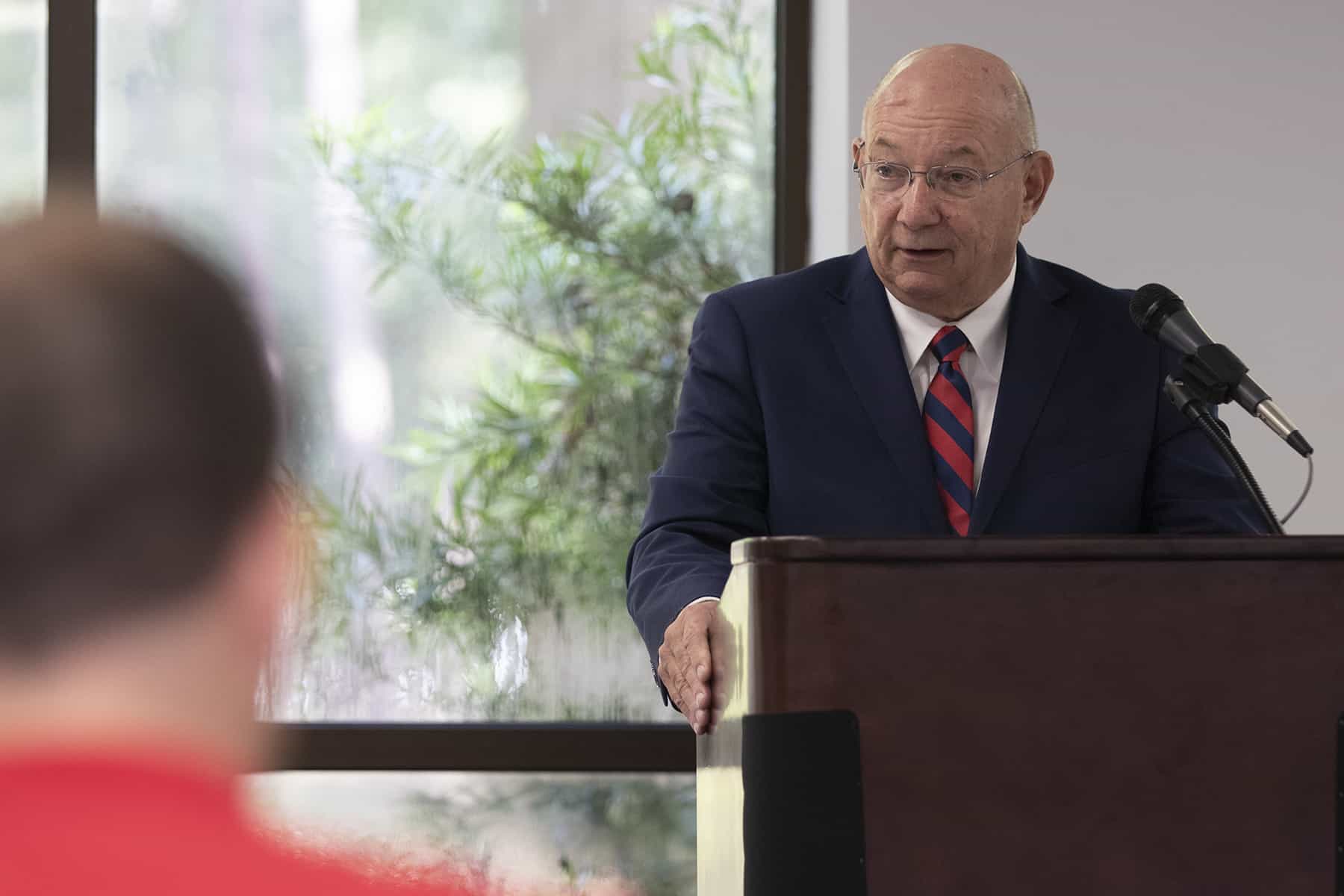 Exciting year ahead at FMU, focus on excellence will remain
Francis Marion University President Dr. Fred Carter told the University faculty Monday that one of the most exciting years in FMU's history was set to begin, as it celebrates to the run up to its 50th Anniversary and launches a series of critical construction projects.
But the University will not lose sight of its core values amidst all the excitement, Carter said.  It will continue to provide a high quality education that is affordable and accessible to its students.
"The funding we received from our friends in the General Assembly this year was sufficient to allow for a reasonable pay increase for faculty and staff while permitting us to avoid any increase in tuition and fees — an announcement that was, as you might expect, well received by our parents and students," said Carter. "We'll continue to seek ways to run the University sensibly, with modest or no tuition increases, while continuing to pay our staff and faculty what they deserve.  That's been our model for a long time and it is a very good model."
Carter's comments came at the annual faculty breakfast Monday morning. That event is the kickoff to the new academic year at FMU.
FMU's year-long 50th Anniversary celebration will include a number of special events.  The construction projects that Carter mentioned include a new Honors Center on the main campus, construction of a freshwater ecology lab and a conference center on a new 145-acre site just north of campus, renovation of the old post office in downtown Florence for a medical education complex including laboratories and clinical space, and additional renovations to the school's athletic facilities.
FMU has already completed a renovation of its Village Apartment residential housing on campus.
Carter also formally announced several new faculty postings:
• Professor Alley Steadman is the new Associate Provost.
• Professor David Baxley as the new director of the First Year Initiative.
• Dr. Ann Stoeckmann as the new director of the McNair Institute.
• Dr. Chris Johnson is the first editor of Carolina Currents, the University's new interdisciplinary regional journal which is expected to be in publication by 2020-21.
• Dr. Jeff Steinmetz as the first director of the Freshwater Ecology Center.
Carter also announced that Dr. Jo Angela Edwins, professor of English, is the latest Trustee Research Scholar. FMU Trustee Research Scholars are appointed by the FMU Board of Trustees and receive special opportunities to further their research while remaining on faculty.