June 22, 2023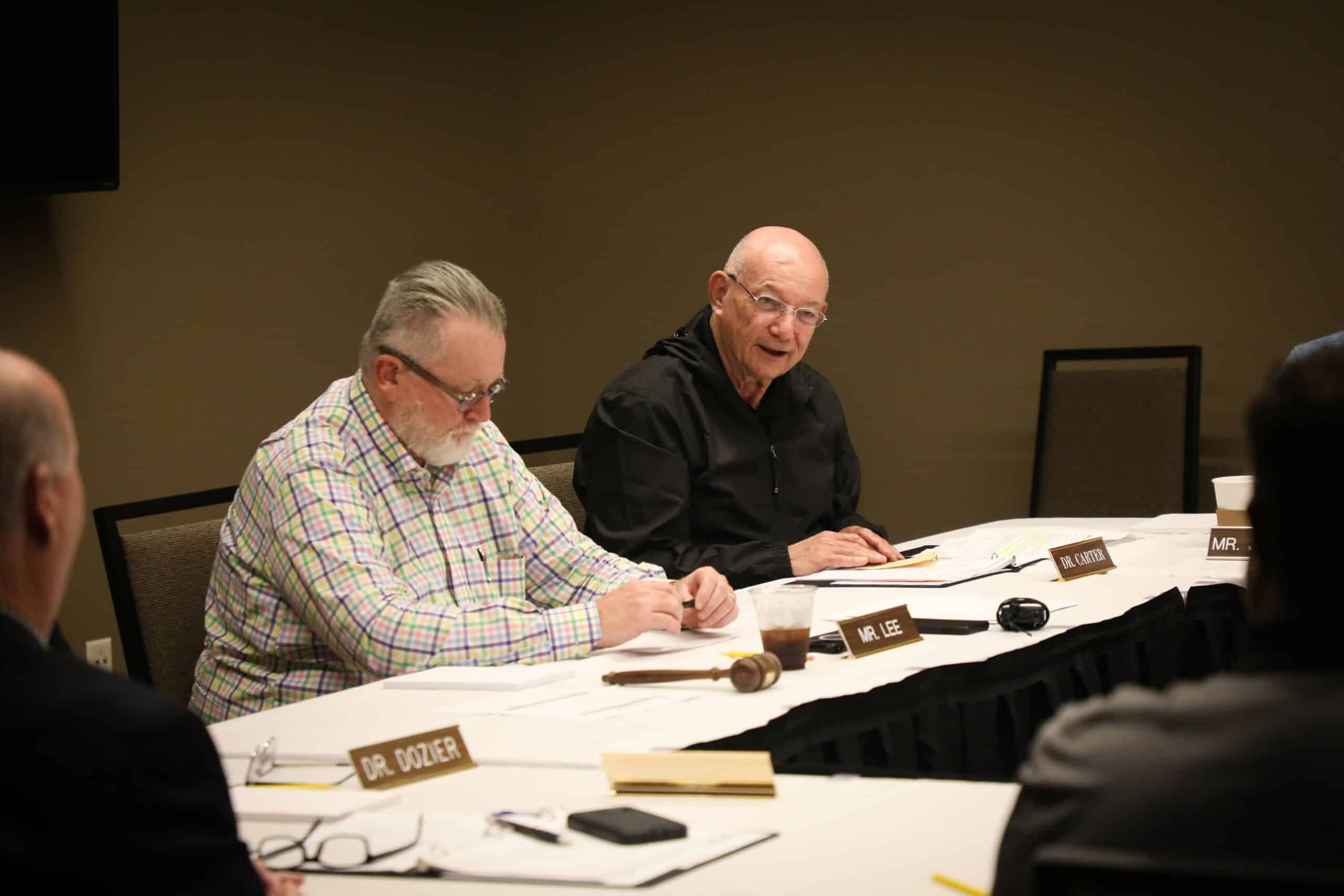 FMU Board of Trustees names facilities, adopts 2023-24 budget, and approves faculty and staff pay hikes
On Thursday, Francis Marion University held its annual staff awards ceremony followed by the quarterly meeting of the Board of Trustees. During the meeting, the naming of three campus facilities for long-time university faculty members and the university's operating budget for the FY 2023-2024 were approved.
Three areas within the University Honors Center will be named for longtime FMU faculty who have made an impact on FMU's Honors Program.
Richard Chapman, former FMU Provost who served as director of the Honors Program from 1996 to 1999, was recognized for his contributions to the program with the naming of the Richard N. Chapman Auditorium in the McNair Science Building in 2007.
The Duane P. Myers Seminar Room is named after longtime history professor Duane Myers who passed away earlier this year. Myers was the founding director of the FMU Honors Program in 1986 and served as director through 1995. During his tenure, he developed a rigorous curriculum and cultivated developmental opportunities for the students he mentored and taught.
The Pamela A. Rooks Classroom honors Pamela Rooks, director of the Honors Program from 1999 until 2013. During her tenure, the program experienced a period of extensive growth resulting in students engaged in an expanded curriculum of instruction, research, and service.
Jon Tuttle, current director of the Honors Program, will have the Jon W. Tuttle Atrium named in his honor. Tuttle has served as director of the Honors Program since 2013 during which time he's expanded the program with innovative opportunities for student engagement in scholarship, research, and service through creative course offerings, activities, and domestic and international travel.
"This recognition highlights the impact that Duane, Pam, and Jon have had in developing and sustaining our extraordinary honors program," said Carter. 'I am so pleased that the university can permanently acknowledge the role that each has played in educating some of the state's finest students."
The FY 2023-2024 budget includes adjustments in the budget for renovation work on campus. This action reflects the increased construction costs in today's economic environment.
The budget also includes a pay increase for all full-time faculty and staff. Under the state's budget, all state employees making less than $50,000 per year will receive a $2,500 recurring increase to their salary, and those making over $50,000 per year will receive a 5% pay increase. The university will also provide an additional increase of $1,000 for employees making less than $50,000 and an additional 2% increase for those making over $50,000 per year. In total, employees making less than $50,000 per year will receive a recurring increase of $3,500 while those making above $50,000 will receive a 7% increase.
In addition, a fifteen percent pay increase will go into effect for adjunct faculty, course overload payments, student workers and other hourly employees.
"This university excels because of the quality of our faculty and staff," said FMU President Fred Carter. "The General Assembly provided a generous raise this year, and I'm appreciative that the Board of Trustees supported our efforts to add to it. Of course, I'm also mindful of the fact that FMU hasn't raised tuition in five years. That makes this pay package even more meaningful. It was accomplished without increasing the financial burden on our students or their parents. Of course, it also serves to sustain the most crucial resource on our campus – our faculty and staff."
During his remarks, Carter also recognized and thanked Robert Lee, Peter King, and Daniel Dukes for the leadership they each provided to the university as well as their personal friendship. Lee was elected as chair of the Board of Trustees in 2018. He served five years in this role as his initial term was extended during the Covid pandemic. King will retire as provost at the end of June, a post he has held for the past seven years. Dukes was recognized for his twenty years of service as the legislative liaison for the university and will be given an honorary degree during the December 2023 commencement. Lee and King received honorary degrees in May.