December 15, 2018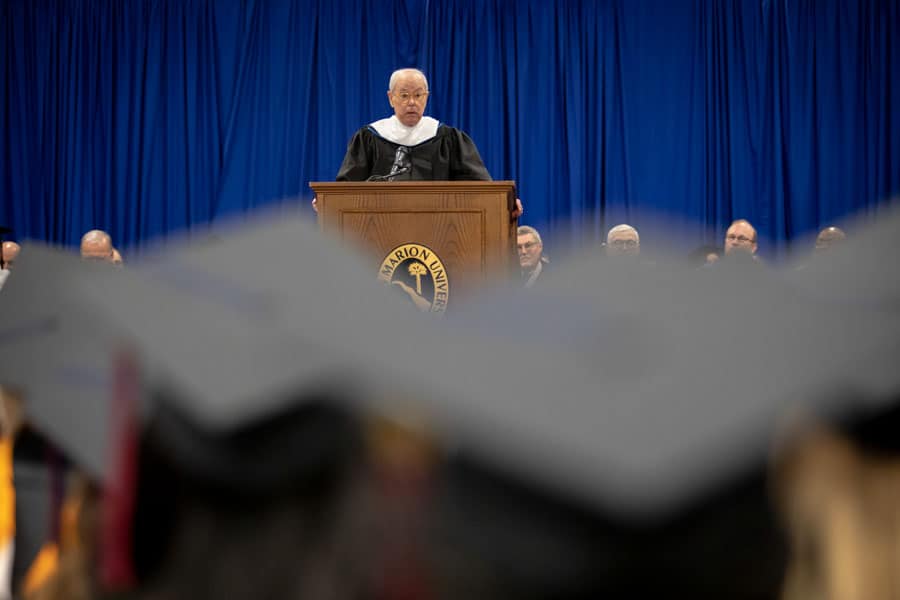 FMU celebrates fall commencement, first class of doctoral graduates
FLORENCE — Francis Marion University awarded degrees to 329 graduates at its fall commencement ceremony on Saturday, Dec. 15.
It was the largest fall commencement in FMU history.
One hundred twenty-five students received graduate degrees, including FMU's first-ever doctoral students. Seven Doctor of Nursing Practice (DNP) students were among those who crossed the stage. FMU also celebrated the 32 members of its first graduating class of Physician Assistants.
Honorary doctorates of Humanities were conferred on Costa M. Pleicones, a Columbia-based lawyer and the former Chief Justice of the South Carolina Supreme Court; and Dr. John Keith, III, a Pee Dee region pediatrician.
Pleicones served as the commencement speaker and emphasized the importance of a liberal arts education, such as one provided by Francis Marion University, and the impact it has had on society.
"Go it and change your world," said Pleicones, "…. You'll do it be engaging in civil discourse and by being willing to consider thoughtful and cogent arguments that may at first make you uncomfortable. …. Embrace that discomfort. Do not fall prey to that rotten center that is self deceit, and which underlies, I think, much of tension in our country today. The education you have received here (at FMU) empowers you to do that. It frees your mind. Join the people who seek to protect our values."
In his welcoming remarks, Dr. Fred Carter, the president of Francis Marion University, told graduates to enjoy the emotion of the moment — and use it to express gratitude to those who aided them in their journey.
"There are some intense feelings in the room surrounding today's accomplishments," said Carter. "Take time to acknowledge those who played such a big role in making that happen — your family. And do it today. Yes, can do it tomorrow but today is better."
Pleicones is currently a special counsel with Haynsworth Sinkler Boyd law firm in Columbia. Pleicones served on the South Carolina Supreme Court for 16 years. He was Chief Justice of the court from 2015-16. Prior to beginning his career in the private sector, Pleicones had a 30-year active duty and reserve military career in the United States Army. He is a native of Columbia.
Dr. John Keith, III is a practicing pediatrician with nearly 20 years of experience serving the Pee Dee region.  He served as the Chief of Pediatrics at Carolinas Hospital System from 2010-14.. Keith, a Florence native, was also a pioneering entrepreneur who was among the first private investors in the City of Florence's revitalized downtown.
Saturday's graduates included plenty of future health care practitioners as a FMU continues to address state and regional needs for more frontline practitioners. Besides the DNPs and PA's, the grads included 38 Nurse Practitioners (Master of Science Nursing Practice), 19 with Masters of Science in Applied Psychology, 38 students graduating with Bachelors of Science in Nursing, and 33 health care administration grads.
Seven students graduated Summa Cum Laude ("with greatest praise") after completing degree requirements with a cumulative GPA of 3.9 or higher. They were Bailey Conner, Samuel Dubose, Madison Hewitt, Ryan Holland, Presley Hucks, Sterling Sadler and William Seals III.
Three students graduated Magna Cum Laude ("with high praise") in recognition of a cumulative GPA between 3.75 and 3.89. They were Abbey Kennedy, Savannah Motley and Kaci Willis.
Nine students graduated Cum Laude ("with praise") after completing degree requirements with a GPA between 3.5 and 3.74. They were Dianna Bibeau, Leslie Creech, Mary Flamini, Donald Gardner, Austin Halliburton, Rachel Jeffords, Lauren Moore, Jennifer Roberson and John Ryan IV.