May 6, 2017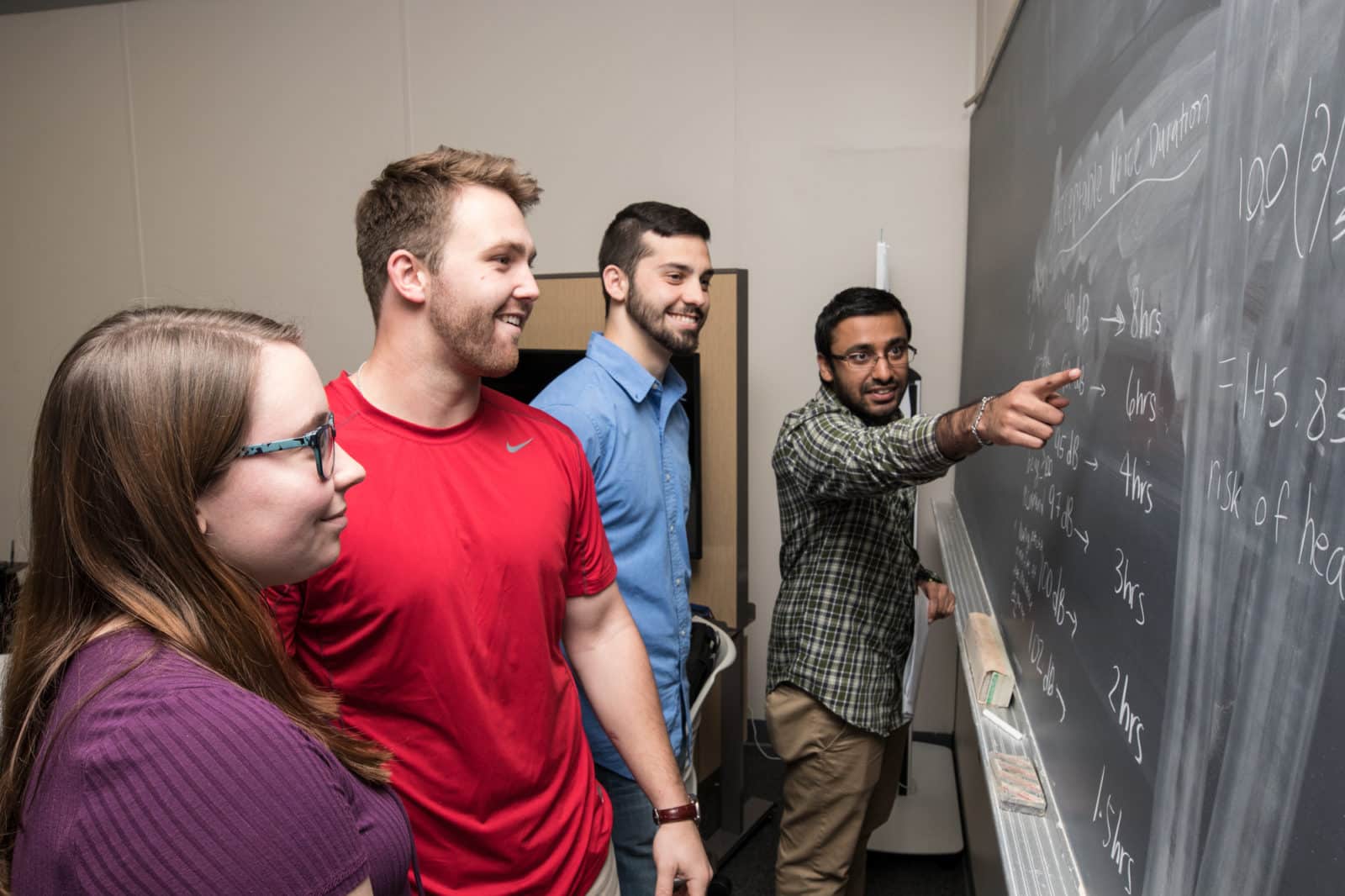 FMU graduates inaugural Industrial Engineering class
Three years ago, Francis Marion University launched its new Industrial Engineering (IE) degree program, seeking to support a growing need in local industries and provide the university's graduates with yet another meaningful career path.
The bold initiative bore its first fruit Saturday when the first class of IE grads received their diplomas at FMU's spring commencement ceremony.
The inaugural graduating class – Dax Doctor of Florence, Bryce Saunders of Aiken, John Tellis of Florence and Olivia Wilkes of Hartsville – is small, but it's the vanguard of a fast-growing program.
University officials expect the number of graduates to more than quadruple in the next few years.
Dr. Lorna Cintron-Gonzalez, assistant professor of Industrial Engineering and the coordinator of the IE program, says a number of factors will drive that growth.
"It always takes awhile to get to the level that you want with a program, but we already see growth in the sizes (of the coming classes)," says Cintron-Gonzalez. "Next year, we're going to go through the process of accreditation from ABET (Accreditation Board for Engineering and Technology, Inc.), which is a big appeal for other engineers… The father or the mother of a potential student, they see that this is accredited by ABET and that raises the prestige."
The program is a response, from FMU President Dr. Fred Carter and other university leaders, to a cry for help from local industry. Florence and the Pee Dee are home to a large number of industrial concerns who need skilled engineering professionals. Nearly all of them face some struggle in filling those jobs.
A source of home-grown engineers was a logical solution.
"One of the main factors for the creation of the program was that industries in our area had is that they couldn't retain engineers that came from bigger cities or bigger universities because they're not rooted in this area," says Cintron-Gonzalez. "Our students are from around here, and they're interested in living and working in the Pee Dee. We're growing these engineers to serve the region."
Says Florence native Tellis, who like all the members of the graduating class has enjoyed internships with several local companies, "My supervisors are constantly asking, 'You're going to be looking for a job in this area, right? … You're going to have other engineers from other colleges outside of this area that might be willing come to the region, but they want engineers that will stay in this area."
The value of industrial engineers arises from their flexibility, which allows them to work within a variety of fields, including manufacturing, healthcare, consulting and engineering services and others.
Their ability to find inefficiencies in a process and reformulate a more efficient process — in other words, to solve problems — offers businesses an adaptability not often seen from engineering graduates.
Wilkes says it's clear, from conversations with FMU faculty members and professionals already in the workplace, that Industrial Engineering will be one of the most in-demand degrees moving forward because of that versatility.
"My boss (at an internship) has said, 'We need more than just engineers who can do drawings,'" says Wilkes. "Other degrees don't quite see the whole industrial picture, but this degree does. It's not just business and it's not just technical engineering. It's everything. That's what companies around here are looking for."
Industrial Engineering is among the fastest-growing engineering disciplines in South Carolina, with the Pee Dee being the epicenter for some of the most rapid growth.
The Bureau of Labor Statistics reports that Florence has the seventh-highest location quotient – the concentration of an industry within a region compared to the nation – of industrial engineers. Members of FMU's first class have already reaped some of those benefits.
Class members have had internships at Otis Elevator, Wyman Gordon, Honda of South Carolina Manufacturing, International Knife and Saw, and others. Saunders has already accepted a position as a process engineer with Wyman Gordon and most of the rest of the class is mulling multiple offers.
"There's a lot of interest," says Saunders. "It's been great to see. It was very good decision as far as I'm concerned."