May 6, 2017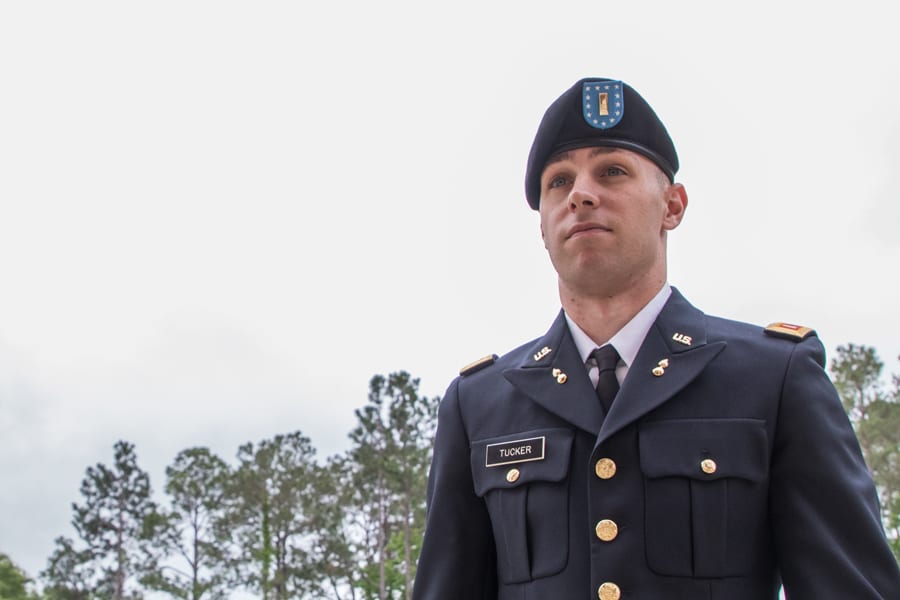 True Patriots: two FMU grads will start their careers as officers
For most soon-to-be graduates, the promise of a degree, subsequent first jobs and paychecks are enough of a reward for their years of toil. For two Francis Marion University graduates, though, that wasn't enough.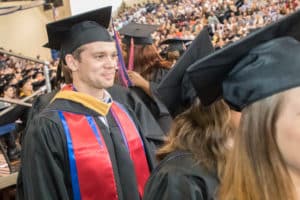 They wanted a chance to be leaders, to serve their country and deviate from the most tread paths of college graduates.
They found that in the U.S. military where Tyler Rogers of Hartsville and Jeffrey Tucker of Florence will take a leap made by few students as they join the U.S. Marines and U.S. Army respectively as officers after their graduation Saturday.
The opportunity to serve their country immediately out of college trumped any post-graduation lifestyle that either could envision, although both admit some trepidation on the way to making one of the biggest decisions of their young lives.
Rogers, a Political Science major and a superb student – a Magna Cum Laude graduate, says the life of a Marine was not always on the radar.
He had a full-time job lined up, and was also doing prep work for law school when it him: he wanted to do something … more.
"I was studying for the (Law School Admissions Test) and I just said, 'This isn't what I want to do,'" Rogers says.
Rogers had met a U.S. Marines recruiter on campus earlier in his career at FMU. He requested more information and soon decided that he wanted to head to Quantico, Va. after graduation to undergo ten weeks of training and hopefully, become officer in the Marines. His next step was persuading family members who weren't he was making the best choice.
For help in that area, Rogers sought the guidance of a retired Marine he knew well – FMU President Dr. Fred Carter.
Carter followed a path through the Marines that was appealing to Rogers. He served as an infantry officer in the Marines, then, for many years, as a Colonel in the Marine Corps Reserve. After consultation with Carter, Rogers was able to assuage his own, and his family's, worries.
"Before I spoke with (Dr. Carter), they (his family) were absolutely against it," he says. "I told my mom, 'Look at President Carter. He has a Ph.D. and he's done well. He was in the Marines for many years and look at the good things he's done.' They were comforted from that fact."
Now, Rogers is set to serve and constantly preparing for the new world that will envelop him once he steps foot on Quantico Base.
"Don't let me fool you," Rogers said a few weeks before FMU's spring commencement ceremony. "I'm scared to death. I've prepared physically, but the culture is just different there… I don't know what the atmosphere is going to be like when I get there and I don't know how I'm going to do with people screaming in my face, but I think it will change me for the better."
Rogers' selflessness and desire for a career of service suggests he will do well as a Marine, says Carter.
"Being an officer of Marines is a unique and distinctive calling, one for which Tyler is well suited," Carter says. "I am very proud of him and his commitment to serve. He's a special young man."
Though they're graduating at the top of their class – Rogers graduated Magna Cum Laude and Tucker graduated Cum Laude – both students came to FMU as new recruits to be molded and shaped into academically focused students.
Second Lieutenant Jeffrey Tucker's path to a career as a military officer is like Rogers' in many ways. He's also an excellent student (cum laude grad) who, like Rogers, is looking to a military career as a means to serve, and a means of self improvement.
Tucker has already seen the later at work.
Unlike Rogers, he joined the Reserve Officers' Training Corps (ROTC), and has a military career in his sights for some time.
ROTC is a demanding life that starts the process of acclimating young men and women to the military life. At times, especially early on, it was just too much to handle.
"At the very beginning, as a lot of freshman do, I struggled," he says. Tucker's struggles to balance early morning runs, late-afternoon ROTC labs, and his academic load left him gasping after the end of his first year. It forced him to some introspection, which, in turn, led to some changes.
"At the end of my freshman year, my maturity was very low," says Tucker. "My cumulative GPA was not where I wanted it. That summer, I decided that if I wanted to continue in the program and if I wanted to mature, not only as an adult, but as a future Army officer, I knew that I needed to get my priorities in line."
Mission accomplished. Tucker, a Sociology major, raised his GPA significantly from his freshman to his senior and wound up as one of the top students in FMU's ROTC program, and at the university.
And, as an active duty officer in the U.S. Army. Tucker will be headed to Fort Bragg, N.C. shortly after graduation to join the 108th Air Defense Artillery unit as an ammunition supply officer of the Ordnance Corps, attending to logistics and planning.
Captain Christen Bono, Assistant Professor of Military Sciences and cadre leader of FMU's ROTC program, says Tucker's resolve is unquestioned.
"What I got on his evaluations was that he was just unbreakable," Bono says. "Everybody makes mistakes, but he recovers quickly. He brushes it off, learns from it and just keeps moving."
As marched in FMU's commencement and was also officially commissioned recently, Tucker couldn't help but look back on how far he's come.
"Sometimes," he says, "I'm at a loss for words. To graduate from this program in my hometown and from this university is just awesome."