August 14, 2020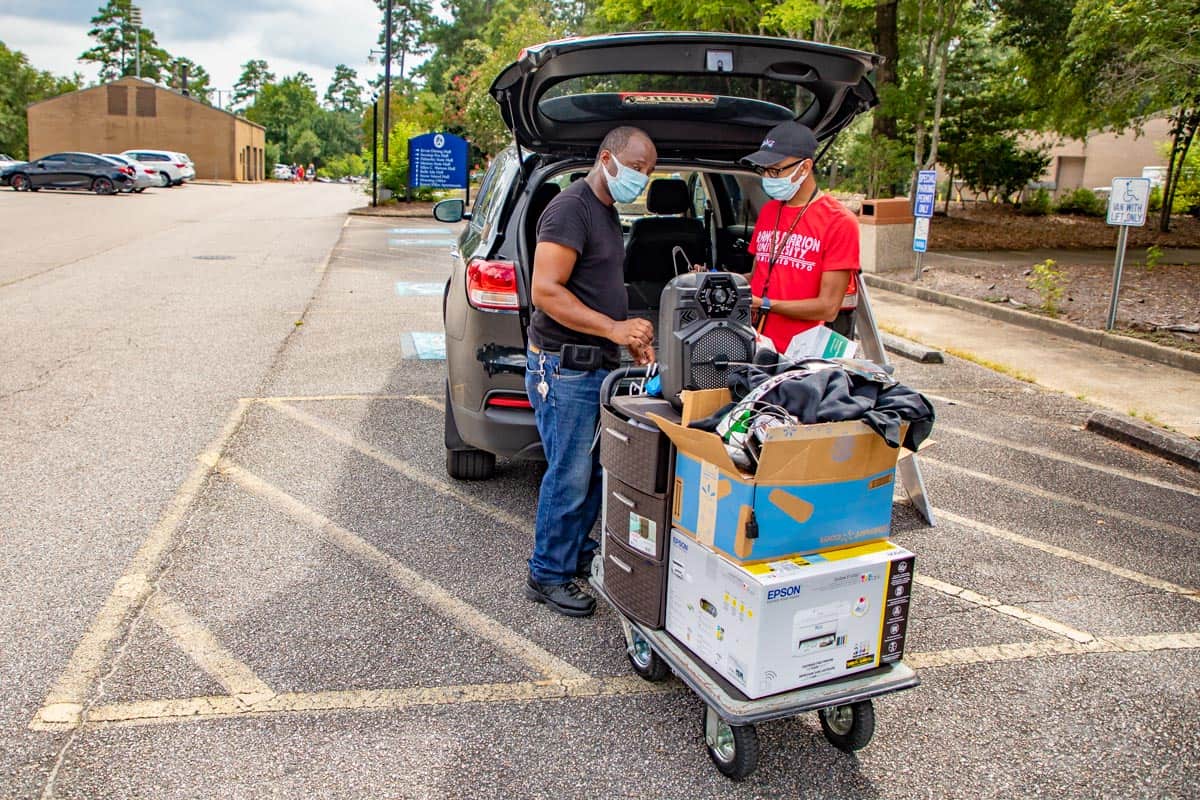 FMU prepared to kick-off semester with fully online experience
FLORENCE — Francis Marion University students began moving into residence halls on Friday ahead of the start of the University's fall semester. 
FMU is expecting more than 500 students to be in residence halls when online instruction begins on Monday, Aug. 17. More students will move in during FMU's three-week period of online instruction to open the semester. All classes will be online through Sept. 7. Students will return to campus on Sept. 8 for face-to-face instruction, although some classes will remain online at that point, and some will be taught using a blend of instructional methods. The last day of classes is Nov. 25.
FMU is continuing to accept students for the fall through Aug. 21, based on standard admission requirements. More information is available at www.fmarion/edu/admissions, or by calling the Admissions Office at 843-661-1231.
Instruction and campus life will reflect many changes brought on by the COVID-19 pandemic. The University has spent months developing a reopening plan designed to protect the campus community and provide access to quality academics. New policies and procedures included in the plan include:
Requiring masks in all campus buildings, at outdoor University events, and at other times when social distancing isn't possible.

Reduced occupancy in classrooms, and the utilization of new spaces, like auditoriums and gymnasiums, for classes.

Reduced occupancy in residence halls.

App-based daily health assessments for all students.

New campus dining procedures.

Enhanced cleaning of campus facilities and the installation of protective barriers where applicable.

The establishment of a special COVID-19 Response Office on campus.

Enhanced access to health services through a new Student Health Office in the Smith University Center, and agreements with community healthcare providers.
The governor ordered FMU, and all public universities in the state, to close and move classes online in March. While FMU's faculty and students adapted well to this quick change, online instruction is expected to be even better this fall. 
Over the summer FMU acquired new software to improve online teaching, particularly in speciality areas like labs. Additionally, faculty members used the time to attend classes and learning groups to improve online teaching skills. Much of that learning took place in small groups, dubbed "workingshops," that were led by faculty members with more experience and proficiency in remote learning.
Dr. Amy Lea Clemons, assistant professor of English, and Dr. Kristen Kiely, assistant professor of Spanish, led one program in which participating faculty were presented with an array of lectures, combined with small groups to devise ideas and ultimately develop curriculum plans.
Plans for instruction were created and tested over and over until a working solution was determined. This hands-on testing improved course quality and instructor confidence.
Other learning events focused on improving skills with Blackboard, one of FMU's existing online tools, and other software. About 10 percent of FMU's courses were online last year, meaning the majority of the faculty had limited experience with remote instruction.
Like many aspects of university life, that has now changed.