November 11, 2022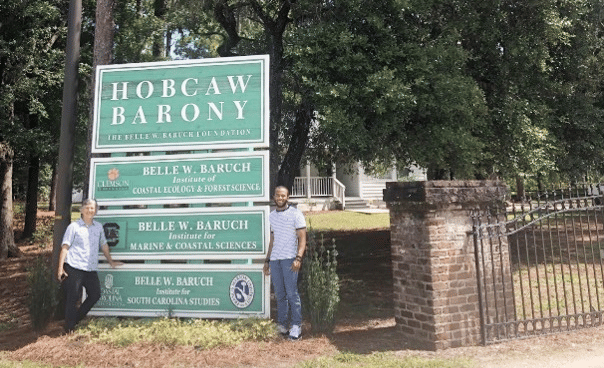 Hobcaw Barony Conservation Project Begins
Jerel Dawkins, a sophomore in mechanical engineering, has begun a project with FMU's Belle Baruch Institute for South Carolina Studies (BISCS) at Hobcaw Barony in Georgetown, SC. He plans to use 3-D printing and reverse engineering to design and manufacture replicas of the late Belle Baruch's equestrian medals. The project is super-vised by Dr. Rahul S. Renu, coordinator of FMU's mechanical engineering program, as well as Dr. Lynn Hanson co-director of BISCS. It is financially supported through PEAK grant funds.
For an orientation in September of 2022 Jerel traveled to Hobcaw Barony in Georgetown SC. The 16,000 acre property is owned by the Belle W. Baruch Foundation, whose mission is to conserve Hobcaw and facilitate research and education. Jerel's first impressions of the property reflect the unique environment that these conservation ef-forts have helped to create at Hobcaw. "I believe the most interesting thing was how they didn't industrialize the area and instead preserved wildlife and kept everything the same as it was in the 1900s. Before visiting, I did research,…but actually experiencing it was much different than reading about it."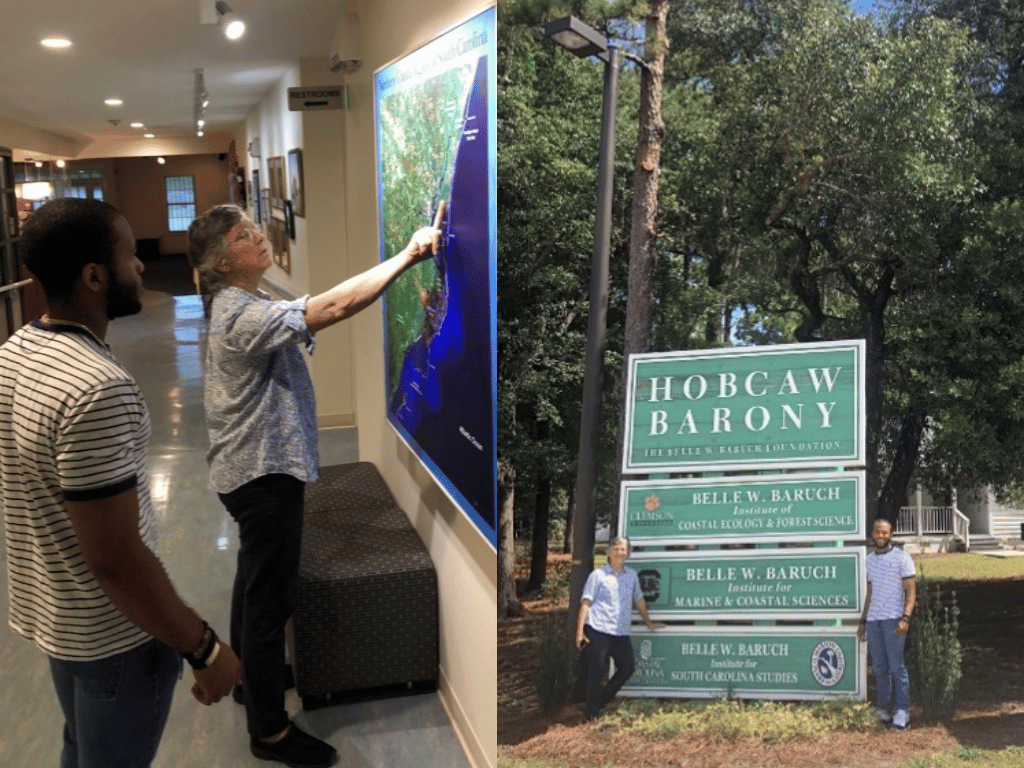 Belle Baruch was an accomplished equestrian, and for a time, many of her medals were displayed at her stables at Hobcaw Barony. Time and exposure to the elements has taken its toll on many of these medals. In an effort to conserve them, they were removed from the stables. Jerel's project is attempting to create replicas of some of Belle's medals for display at Hobcaw Barony, while the originals can be more safely preserved. In November 2022, Jerel will present his early work to the Executive Director of the Belle W. Baruch Foundation, George Chastain.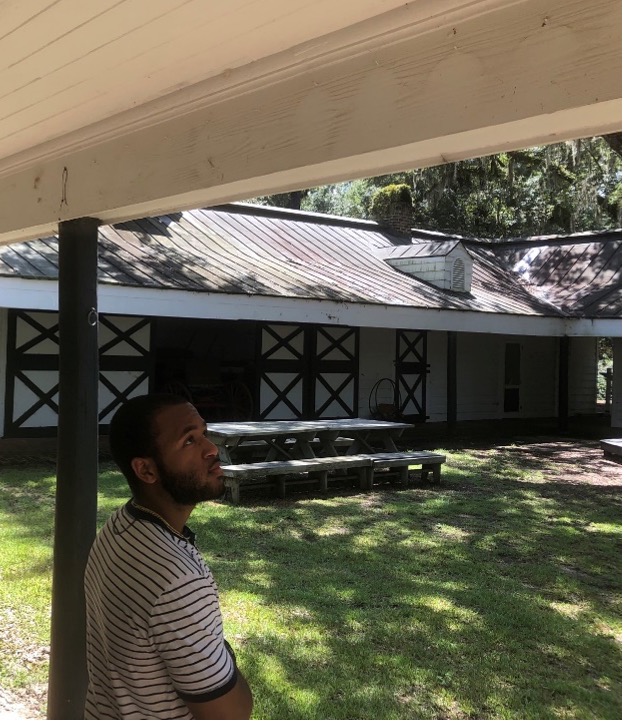 This project has inspired Jerel to think more broadly about Belle Baruch and the significance that his work will have in sharing her part in South Carolina history. "One of the things I wish to accomplish is just to inform people about Belle and bring attention to her. She's done a lot for the state of South Carolina and yet, I didn't know who she was till a few months ago. Her story is also extremely interesting. For example, the medals we're creating are written in French because that's where she competed. In the United States women were not allowed to compete. Belle's medals were won in the 1930s, which is almost a century ago. Her medals were showcased outside her stables. With those metals being placed outside, they began to break and wear down. That's where the purpose of this study comes into play. We want to recreate these metals and make them look brand new."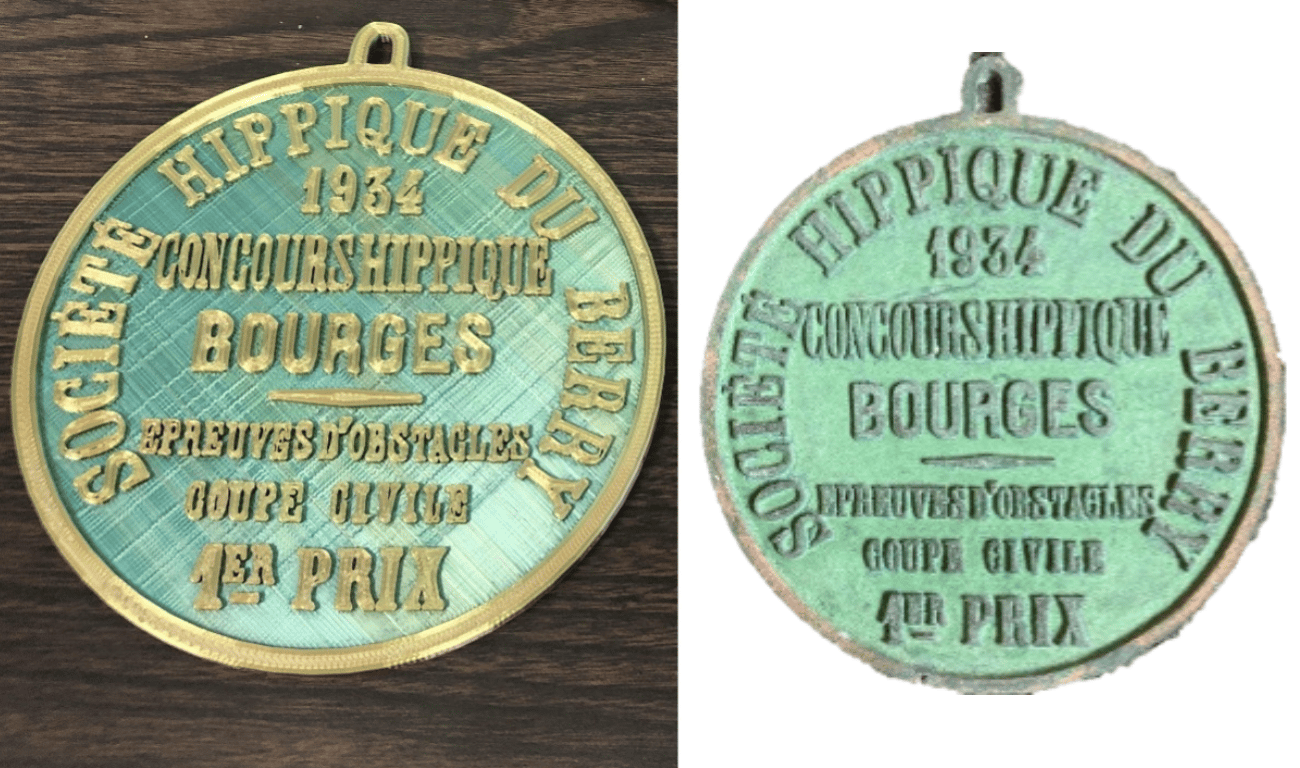 One of Belle's original medals, which is still in good condition (right), shows signs of erosion on the edges. Jerel's 3-D printed plastic replica of the same medal (left), will later be bronzed and used for display on Belle's stables at Hobcaw.
We look forward to seeing more impacts from Jerel's project, and encouraging more students and faculty to do work with BISCS. For more information on how to visit Hobcaw Barony or start a research project with BISCS, visit: https://www.fmarion.edu/biscs/
.