March 15, 2020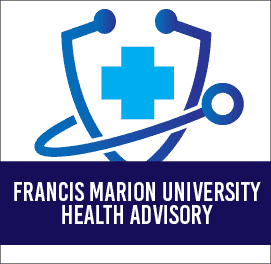 Latest statement from Dr. Fred Carter, FMU President – March 15, 2020
Message from Dr. Fred Carter, president Francis Marion University, to FMU faculty and staff.
My email last to you Thursday afternoon outlined three conditions under which we would reconsider continuing on-campus instruction after spring break—if the COVID-19 situation escalates, if the state closes substantial parts of the K-12 school system, or if any other adverse developments occur. Over the past 48 hours, the number of state coronavirus cases has increased to 20, the Governor has declared a state of emergency, and the closure of the state k-12 schools and universities may be imminent. While there are still no cases in the Pee Dee region, it's prudent for us to move to online instruction/remote learning when classes resume after spring break.
Our COVID-19 work group has been discussing the possibility of this transition since the deans and chairs meeting last Wednesday. Over the course of this weekend, we have developed a series of initiatives to facilitate this transition.
Spring break will be extended two days with online instruction resuming on March 25th. This extension addresses two concerns. It provides additional time for faculty to develop course materials, and it allows residential students who choose to return home sufficient time to move textbooks, computers, and other items out of the dorms. This is especially important for those who may be traveling during spring break. Online instruction/remote learning will begin at 8:30 on Wednesday, March 25th and continue until April 10th when we'll reassess the viability of resuming on-campus courses.
Provost Peter King, Dr. Charlene Wages, and Professor Glen Gourley will assemble a small committee of faculty and technology staff to develop guidelines for coordinating the new array of instructional approaches- synchronous (online class sessions at times specified in the existing class schedules), asynchronous (posting pre-recorded lectures or other class materials) or some hybrid of the two. The provost's office has already developed a Continuity of Instruction website which is linked to the Provost's page. It is essential that all instruction conforms substantively to our semester course schedule and satisfies accreditation standards. SACS-COC has already emailed all presidents reminding us of this obligation. It's also important that synchronous classes not extend outside of their scheduled time.
Mr. John Dixon and Dr. Jennifer Kunka will assemble a group of staff who are proficient technologically to assist faculty with posting materials on-line and other technical issues. John and Jennifer would be delighted to hear from experienced on-line faculty who would also be willing to help with this effort.
Tomorrow morning, a new $50,000 technology support fund will be established to respond directly to faculty requests for purchasing new or addition online material. Dr. Alissa Warters and Mr. Darryl Bridges will manage this fund and process requests quickly.
The residence halls and dining facilities will continue to operate, although Dr. Chris Kennedy and Cheryl Tuttle, the director of housing, may enact more restrictive rules regarding non-student visitors and other matters to protect the health and well-being of our own residents.
A number of campus events scheduled for the next month will be eliminated or postponed. Professors Steadman and Gourley will coordinate this process and distribute a revised calendar.
Over the next couple of days, you should receive emails from the university officials mentioned above expanding upon each of these initiatives within his or her purview.
As of now, all university classroom buildings and support facilities will remain open, and administrative faculty and staff will continue regular responsibilities. In a couple of days, Dr. Wages will send an email to administrative faculty and staff regarding telecommuting possibilities for those who may have special medical issues.
There will be contractors  equipped with special sanitizing and disinfecting equipment cleaning classrooms, corridors and common areas throughout the campus this next week- supplemented by additional contractual custodial services. This will continue for the next few weeks.
I understand that this represents substantial change and seems overwhelming. Just remember that almost all South Carolina universities and colleges, public and private, will move in this direction over the next two weeks. Some are attempting to change the mode of instruction over a weekend. We are fortunate that we have nine days to resolve problems and implement it a bit more deliberately. Of course, I am fortunate that I have a faculty and staff that handles adversity and change well—always has, always will.
None of this is to say that there won't be problems and mistakes. It is too large an undertaking for that not to occur. Moreover, everything here may be evolving continually over the next few weeks depending upon the COVID-19 situation. Let's just be patient and supportive of one another.
The Provost will schedule a deans and chairs meeting within the next couple of days, and we'll discuss many of these items at length. I'll also ask Dr. Wages to convene the administrative directors for the same purpose. At 3:15 tomorrow, I'll meet with all of our own custodial staff at their shift change to thank them for everything they're doing to keep all of us safe.
Finally, on a very positive note, our five students studying in Europe will be coming home on Monday and Tuesday. Dr. Mark Blackwell has worked ceaselessly to arrange their return. Their families and I owe him an enormous debt of gratitude for navigating through international protocols, changing presidential edicts, travel rebooking frustrations, and changing medical screening procedures.
Continue to check the FMU Health Advisory page, www.fmarion.edu/healthadvisory, for additional federal, state, or university updates.