November 21, 2018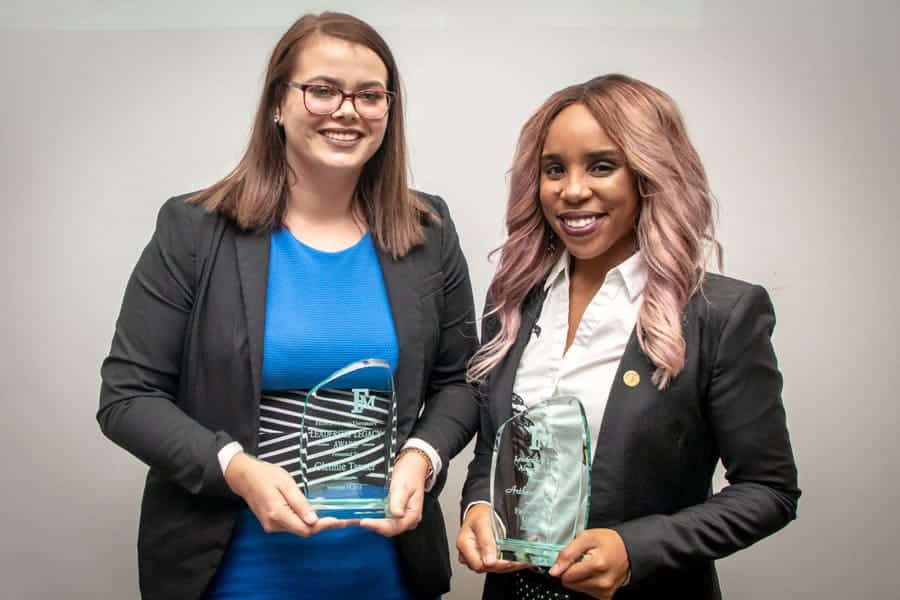 Leadership FMU recognizes second largest cohort
Francis Marion University's Leadership FMU program celebrated on of its largest cohorts Nov. 19 with a recognition ceremony held at the Lee Nursing Building on the University's campus.
Leadership FMU is a semester-long co-curricular leadership-oriented course that equips students with the tools to become effective leaders on campus and in life after graduation.
Glennie Tanner, a 2015 participant in the program, was awarded the Leadership Legacy Award, and Arthenius Jackson, a 2009 FMU graduate, was awarded the Leadership Legacy Alumni Award.
Thirty-eight students were members of the class of 2018 of Leadership FMU are: Christina Abram, Florence; Cathryn Ackerman, Scranton; Justin Addison, Charleston; Kiara Arnold, Florence; Astou Aw, Dakar, Senegal; Ebonie Burgess, Florence; Shanavia Burgess, Florence; Kendra Cameron, Florence; Benjamin Czarnopys, Kansas City, Mo.; Jonathan David, Bennettsville; Kiyana Fleming, Latta; Porisha Flowers, Camden; S. Tylic Galloway, Anderson; Rebea Wiebke Graessner, Erfurt, Germany; Latia Harvin, Lane; Ryan Hilbourn, Florence; Brea Jackson, Columbia; Chris Jacobs, Florence; Ashley Krause, Kansas City, Mo.; Lakya Lawrence, Nesmith; Abigail Lesley, Hartsville; Destieni Lyons, Anderson; Janice Marshall, Hemingway; Caitlyn McCoy, Sumter; Bridget Miller, Pageland; Brianna Milton, Winnsboro; Colton Mims, Florence; Erica Moses, Florence; Adrian Pinckney, Charleston; Ty Robinson, Florence; Cheyenne Sconzo, Columbia; Ryan Singh, Georgetown, Guyana; Christopher Sousa, Camden; Benjamin Taylor, Florence; Brooke Thornell, Andrews; LaQuita White, Ridgeland; Morghan Williams, Florence; and Khalisha Wofford, Greenville.