August 26, 2022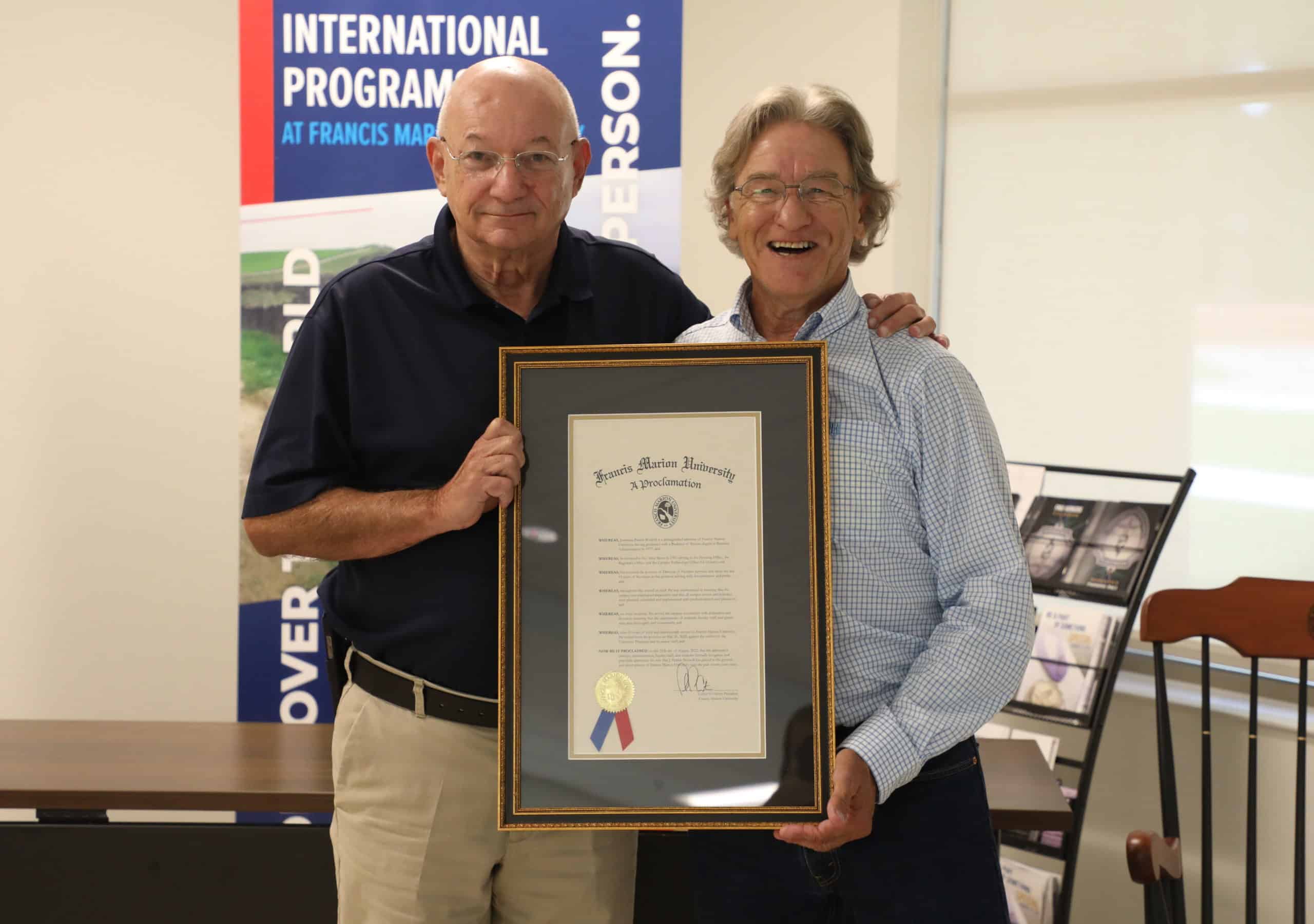 Pat Boswell retires after 29 years at FMU
Pat Boswell, a longtime member of the Francis Marion University campus community, celebrated his retirement after nearly three decades of service.
Friends, family and university colleagues gathered at the FMU Honors Center on the main campus Thursday to honor Boswell's 29 year career. During the reception, Dr. Fred Carter, president of Francis Marion, presented Boswell with an official proclamation and thanked him for his many years at the university.
"I have to point out that Pat is retiring against the wishes of both myself and the senior staff of FMU," Carter joked. "After all, why would you ever want to lose a quality individual like Pat Boswell? We talked him out of retiring a few times, but in the end we just couldn't persuade him to stay on forever, which is what we would have all preferred."
In addition to the proclamation, Boswell – an avid fisherman – was given a fishing pole by Ralph Davis, Associate Vice President of Facilities. Boswell shared a few of his favorite stories from his time at the university and thanked members of the FMU family.
"I appreciate everything from my time here, but I especially appreciate how Francis Marion is such a great place to work," Boswell said. "We would say that every day while I worked here, because it is true."
Boswell graduated from FMU in 1977 with a Bachelor of Science degree in Business Administration. In 1993, he began working at the university, first in housing, then the registrar's office, and campus technology. In 2009, he became director of facilities, and would hold that position for the final 13 years of his career.
Known for his determination and for taking great pride in his work, Boswell helped ensure the impeccable maintenance of Francis Marion's facilities. His assistance in planning and executing campus events and activities were always completed with the utmost professionalism and precision.
Boswell said he plans to remain in Florence for his retirement and use his new fishing pole quite often.