February 9, 2021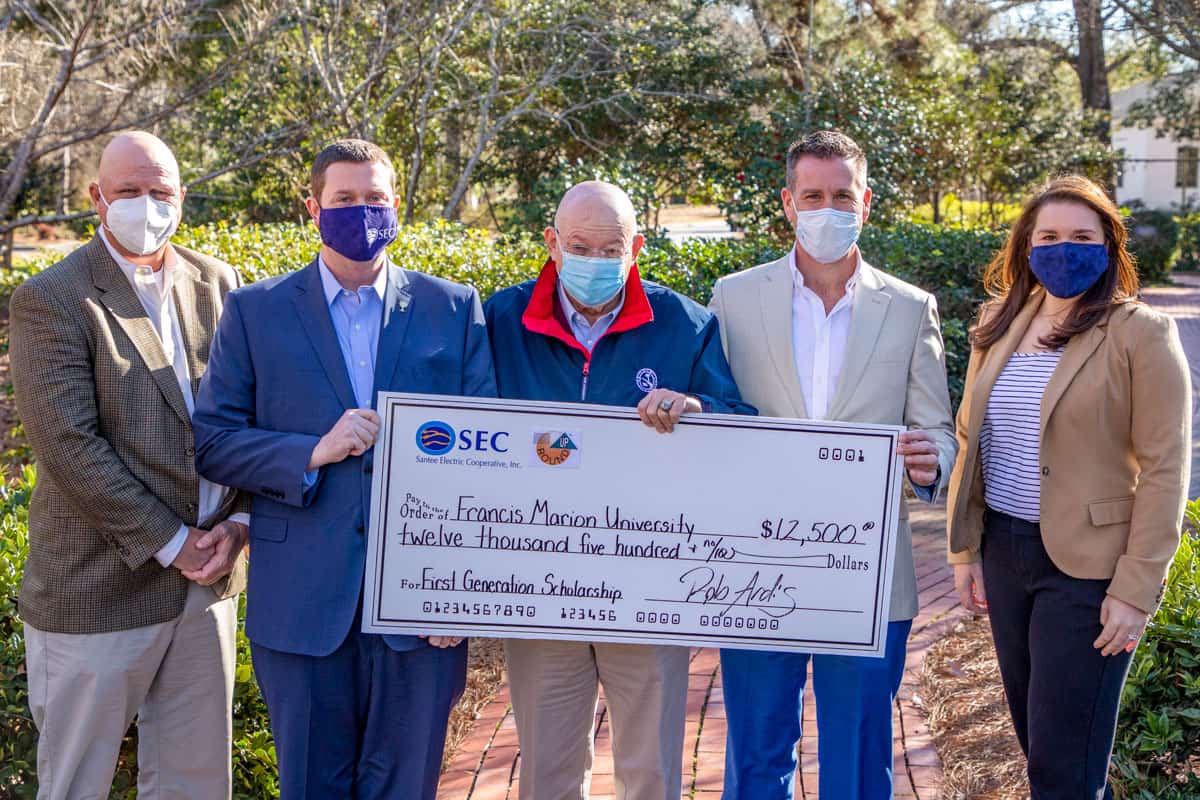 Santee Electric Cooperative makes donation to FMU First Gen Fund
Santee Electric Cooperative has made a $12,500 gift to the Francis Marion University First Generation Fund. 
The gift is a part of Santee Electric Cooperative's continued support of Francis Marion University and first generation college students of the Pee Dee region. 
Rob Ardis, president and CEO of Santee Electric Cooperative, says the partnership between Francis Marion University and the electric cooperative has proven to be beneficial for both entities, as well as the students of the region. 
"We are pleased to present this donation to FMU on behalf of our members. SEC has been fortunate enough to recruit several FMU alumni, including me, and we clearly see the benefits of having a nationally accredited university located so close to us," Ardis says.
The donation was funded through SEC's Operation Round-Up, in which co-op members agree to "round up" their monthly electric bills to the nearest dollar. The additional funds go to charitable causes like the First Generation Fund. 
FMU's First Generation Fund provides scholarships for students who are the first in their family to attend college. These students face unusual challenges, and additional hurdles in pursuing the dream of a college education. The First Generation Fund, created just a few years ago, helps them find a path. 
Francis Marion University President Dr. Fred Carter says the donation is indicative of Santee Electric Cooperative's dedication to helping to provide educational opportunities. 
"Once again Santee Electric Cooperative has provided generous funding to assure educational opportunities for students from the Pee Dee region," Carter says. "First generation college students are one of our most important constituencies, and Santee Electric Cooperative's donation further bolsters FMU's ability to provide them with an accessible and meaningful education. We are most appreciative."
Typically, around 40 percent of FMU's student body are first generation students. Ensuring that those students receiving a quality college education produces long-lasting benefits in families, and throughout the community.
The FMU First Generation Fund
Gifts support students who are the first in their family to attend college

Gifts provide direct aid to these students

Donations are through the FMU Education Foundation and are tax deductible.

To make a gift, go online at connect.fmarion.edu/donate or contact the FMU Education Foundation at 843.661.1225.