May 28, 2014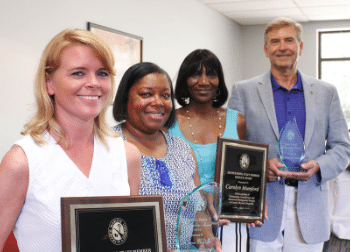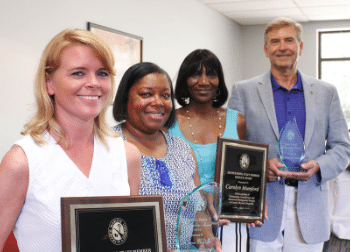 Nor again is there anyone who loves or pursues or desires to obtain pain of itself but because occasionally circumstances.
SHARE
COMMENTS
FMU recognizes outstanding staff service
Francis Marion University honored four employees with special awards at its annual Staff Awards Luncheon Thursday on campus.
H. Teresa McDuffie was the recipient of the John J. Kispert Leadership Award, and Julian Young received the Marvin Lynch Humanitarian Award.
Jennifer L. Cason and Carolyn Mumford were named winners of the 2016 Staff Service Awards.
Employees of FMU are responsible for nominating their colleagues for the staff awards. A special committee consisting of past award winners and representatives of the university's academic schools and colleges selects the final recipients.
McDuffie, the recipient of the Kispert Award, is an FMU network administrator Campus Technology. She has been employed at FMU for 26 years. The Kispert award recognizes staff members who exhibit the drive, determination and initiative to embrace the mission of their departments and to inspire their colleagues with a higher standard of leadership than what is called for by the particular employee's position.
Young, who received the Lynch Award, is the director of alumni affairs and annual giving. Young has been employed at FMU for 10 years. The Lynch Award recognizes a staff member who exhibits an unusual commitment to and care for his fellow man at both work and elsewhere.
Cason is an administrative associate, Education Professional Development director and Live Text coordinator for FMU's School of Education. She has been employed at FMU for four years and has 13 years of state service.
Mumford is the senior administrative associate for FMU's physical plant. She has been employed at FMU for six years and has 39 years of state service. Both were cited for exemplary service and dedication to their jobs.