May 2, 2019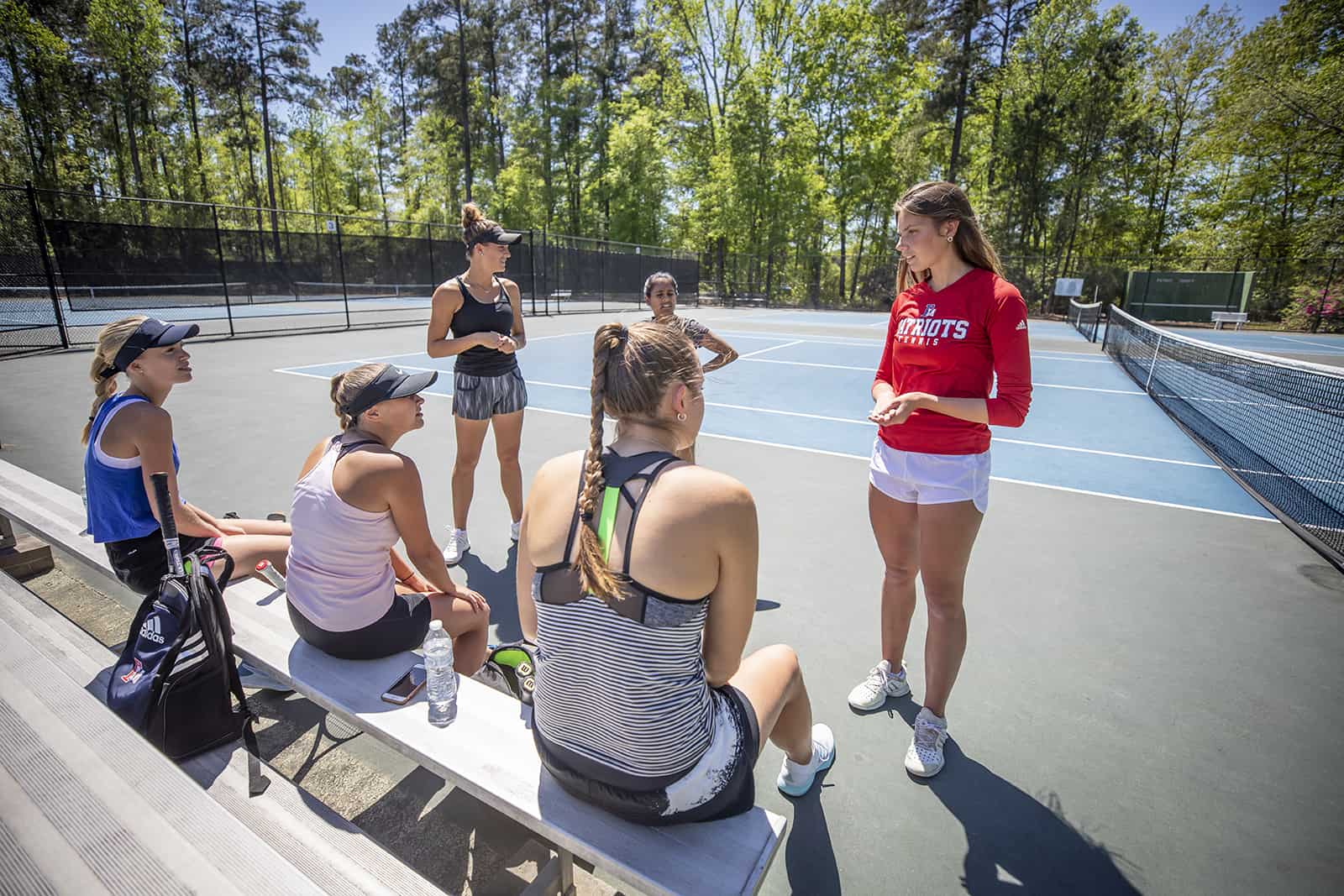 Two degrees and five years later, Sofia Henning is happy with her college choice
When Sofia Henning came to Francis Marion University five years ago, an 18-year-old tennis player from Sweden, dropped into the Pee Dee by the opportunity to play American college tennis, she didn't know what to expect.
What she didn't expect was that she'd fall in love with the place, and wind up spending five years here and earning two college degrees.
"You get to feel like you're a part of something here," Sofia says. "Even if you're 4,300 miles away from home like I am, FMU will always make you feel like you're at home."
Henning enjoyed superb careers both on the court and in the classroom. She was a mainstay of the Patriots' women's tennis team, compiling a 52-23 career record. She was a three-time member of the Intercollegiate Tennis Association (ITA)'s All-Academic team and graduated Magna Cum Laude in 2018.
When her undergraduate career was over, Henning landed a slot as a graduate assistant coach for women's team and began work on her MBA at FMU. She received her master's degree at Saturday's commencement ceremony.
Henning's journey from Gothenburg, Sweden to Florence, South Carolina and FMU was unlikely. She was an amateur tennis prodigy in Sweden. But rather than turning pro, she wanted to go to college. Sports and universities don't have the same connections in Sweden as they do in the U.S. so she applied to several schools in America, including FMU.
"Before coming to Francis Marion, I had never been to the United States," she says. "(Once at FMU, however) I began to feel very comfortable as a person, though… I really began to get to know the place."
Henning says she's leaving FMU a different person than when she first arrived. She grown both personally and intellectually. She plans to go into marketing and wants to build her career in her the United States. The sunny South would be just fine.
"These five years have made me very strong and comfortable as a person," she says. "Leaving my home country and finding a place that I love so much is an accomplishment and I'm proud of that. … Being able to handle school, performing well on the tennis court and finding that balance, I'm very proud of that, too."
She was named an ITA Scholar-Athlete on three occasions (2016, 2017, 2018) and was selected to the PBC All-Academic Team three times (2016, 2017, 2018).  She was part of Patriot squads that earned ITA All-Academic Team awards in 2016 and 2018.
Henning was inducted into Chi Alpha Sigma national college athlete honor society, Phi Kappa Phi honor society, Omicron Delta Kappa national leadership honor society, and Beta Gamma Sigma business honor society.  She served on the Student-Athlete Advisory Committee (SAAC) for three years (2015-16, 2016-17, 2017-18), and was named to both the Peach Belt Conference Presidential Honor Roll and the FMU Swamp Fox Athletic-Academic Honor Roll on every possible occasion.  She also earned D2 ADA Academic Achievement Awards in both 2016 and 2017.