October 2, 2018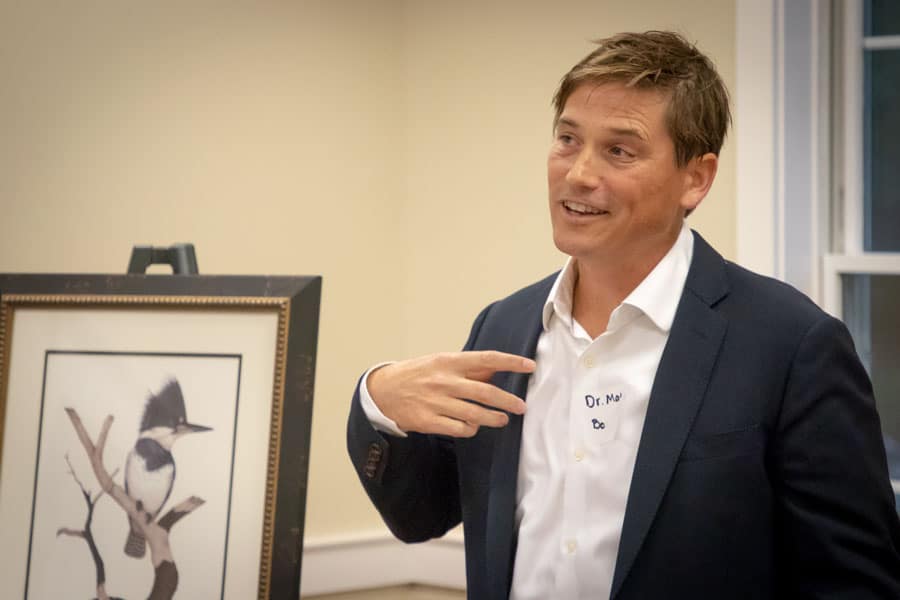 Bonds receives FMU's Swails Award
Dr. Matt Bonds ('98), assistant professor of Global Health and Social Medicine at Harvard Medical School and co-CEO and co-founder of the international poverty-fighting organization PIVOT, is the recipient of the 2018 Lawrence F. Swails Award from Francis Marion University.
The Swails award is presented annually by the FMU Department of Biology, and is named after one of the department's original chairpersons. Recipients are outstanding alumni of the department who have illustrated a high level of professional achievement, persisted in supporting their community and the University.
Bonds received the award Tuesday night at the annual Biology Alumni reception on campus.
Bonds, a Maryland native, was an Economics major at FMU with a minor in Biology. He was extremely active in Biology during his undergraduate career, accompanying professor Travis Knowles on several field trips to Costa Rica and participating in a number of interdisciplinary projects involving both his chosen academic fields.
Bonds continued to pursue his unique, dual-track interests after FMU. He earned Ph.Ds in both Economics and Ecology from the University of Georgia before embarking on a career that has taken him and his family around the world.
Bonds joined the Harvard Medical School faculty after a post-doctoral fellowship in sustainable development under the mentorship of Jeffrey Sachs at the Earth Institute at Columbia University.
Bonds' time Sachs launched his career as an academic – and an organizer – who explores the relationships among ecology, infectious diseases, and economic development, with an applied focus on the role of healthcare in promoting economic growth in areas of extreme poverty.
Bonds works with a number of non-profit, non-governmental organizations (NGOs) like Partners In Health. He is the co-founder and current science director of PIVOT, which combines accessible and comprehensive health care services with rigorous scientific research to save lives and break cycles of poverty and disease. PIVOT works primarily in Madagascar. Bonds has also worked on anti-poverty projects in Rwanda and Kenya.
Bonds is also a prolific author of scientific works in his field, with more than 40 scholarly articles published.
Bonds' work has been funded by a variety of organizations and foundations, including a Fogarty International Research Scientist Career Development Award (NIH); and a Population Health Implementation and Training grant to Partners In Health from the Doris Duke Charitable Foundation.