February 23, 2018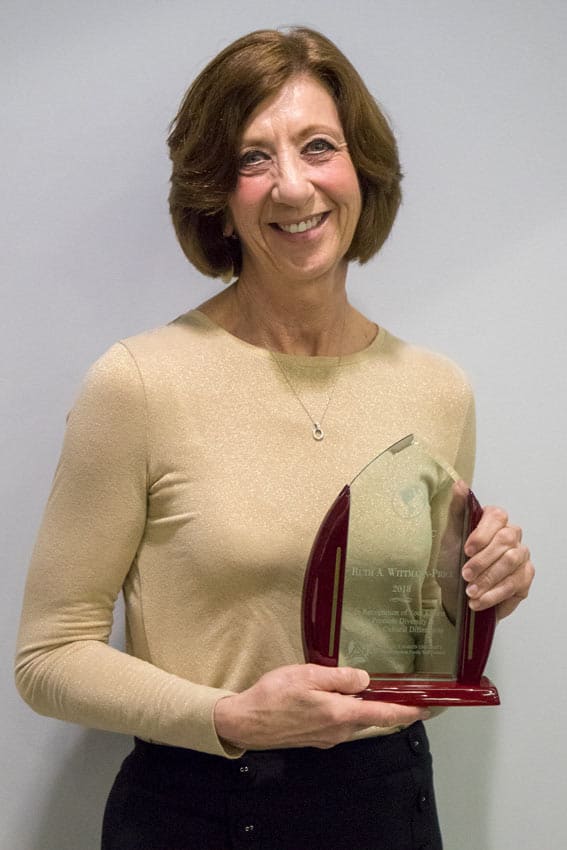 Dr. Wittmann-Price receives AAFSC Diversity Award
Dr. Ruth Wittmann-Price, the dean of the Francis Marion University School of Health Sciences, received the African-American Faculty & Staff Coalition's Diversity Award at the organization's annual gala Thursday night on campus.
The diversity award was just one of many highlights at the event. The  AAFSC also recognized 12 recipients of AAFSC-sponsored scholarships at the gala, listened to an inspiring message from keynote speaker Yvonne Davis, and heard about new honors for Davis and long-time university administrator Dr. Joseph E. Heyward.
The 12 scholarships were provided by AAFSC fundraising as well as university support. The AAFSC funds named scholarships for Dr. Joseph E. Heyward, Dr. Leroy "Pete" Peterson, Mrs. Rebecca Lunn, and Dr. Dorothy Harris.
In honoring Wittmann-Price, the AAFSC noted her involvement in helping secure two grants totaling more than $2 million to assist in creating a more diverse healthcare workforce throughout the Pee Dee.
Wittmann-Price is a native of Palisades Park, N.J. who joined the FMU faculty in 2010 after working as an assistant professor and coordinator for the Educational Track in the Doctor of Nursing Practice Program at Drexel University. She received her AAS & BSN degree from Felician College in Lodi, N.J., her MS as a Perinatal CNS from Columbia University and completed her PhD in nursing at Widener University, Chester, Pa. and was awarded the Dean's Award for Excellence.
Yvonne Davis, a former FMU staff member who served the University for 34 years, was the event's keynote speaker. Besides her long service to FMU, Davis is also  an advocate for more accessible healthcare in some of the Pee Dee region's more rural areas. She talked about her work in that area and also highlighted FMU's role in the region.
"The brightest light that shines in the Pee Dee is Francis Marion University," Davis said.
FMU President Dr. Fred Carter announced a new scholarship honoring Davis, and in her name. The scholarship will go to a Francis Marion student with a passion for community service.
Carter also announced that university would name would of its two most prominent streets after Heyward, who served as provost and in a number of other roles, including, briefly, acting president just before Carter's arrival in 1999.
The AAFSC was founded at FMU in 1995 to stimulate and enhance cultural awareness, and to promote professional development and welfare among faculty, staff and students.
The organization's goals include increasing morale, and communication among members; creating an atmosphere of community for FMU African-American faculty, staff and students; serving as a liaison between the administrative personnel of FMU and the African-American faculty and staff; and examining the university's efforts in recruitment and retention of African-American faculty and staff.
Past winners of the AAFSC Diversity Award included Dr. Rebecca Lawson, Dr. Louis Venters, Ms. Angela Crosland, Dr. Rhonda Brogdon, Ms. Yvonne Davis, Mrs. Crystal Graham, Dr. Will Wattles and Dr. Jason Owens.