February 26, 2018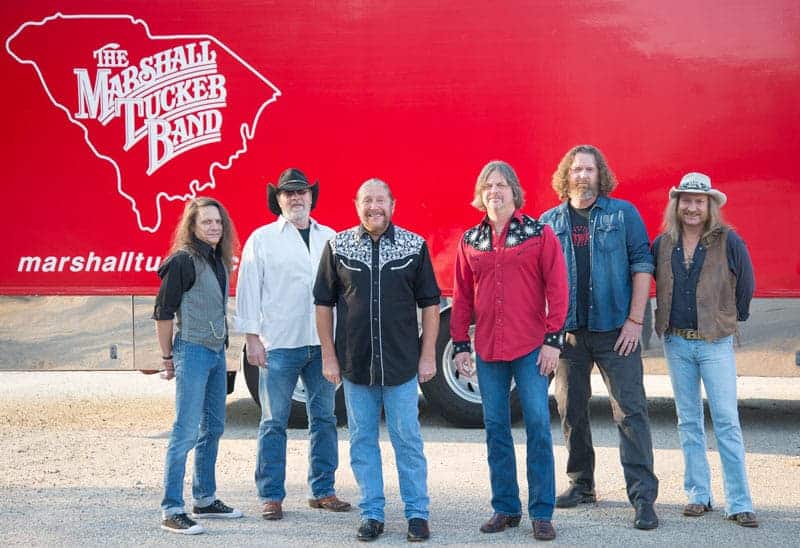 Southern rock legends Marshall Tucker Band to perform at FMU PAC
There'll be "lightning in the air" on Friday May 4 with the iconic Marshall Tucker Band brings its legendary brand of Southern rock to the Francis Marion University's Performing Arts Center at 7:30 p.m. on Friday, May 4.
The Marshall Tucker Band has had a devoted and passionate following, almost since the day the group was formed in Spartanburg, S.C. in the early '70s. That's grown through the years as the band churned out seven gold records, three platinum records and a long list of memorable singles including, "Can't You See," "Heard It In a Love Song," "Fire On The Mountain," and more. Through it all,  the Marshall Tucker Band became synonymous with pioneering the genre of Southern rock.
Tickets for the show, the band's only Pee Dee-area performance this year, will go on sale Monday, Feb. 26 at 10 a.m. Tickets prices start at just $22.
Tickets can be purchased online at www.fmupac.org, by phone at 843.661.4444 or in person at the PAC ticket office in downtown Florence, Monday-Friday, noon to 5 p.m.
The Marshall Tucker Band got its start when lead vocalist Doug Gray teamed up with Tommy Caldwell and Toy Caldwell, Paul T. Riddle, George McCorkle and Jerry Eubanks. The band's composition has changed repeatedly through the years. As long-time fans know, there is no actual  "Marshall Tucker" in the band. The band "borrowed" that name from a piano tuner whose name was found on a key ring in their original rehearsal space.
From pulling a name out of thin air, creating a new sound was no big deal for MTB. Founding member Gray says, "We were a bunch of young guys who didn't know any boundaries."
In 1972, the band signed its first major label record deal, and in 1973, the Marshall Tucker Band opened shows for The Allman Brothers. The following year, as their own star began to grow and their debut album went platinum, they began to headline their own shows across America.
They toured constantly over the next decade, honing their signature sound by blending rock, rhythm and blues, jazz, country and gospel.
"The buying public never really cared whether we were country or rock and roll," says Gray. "They called us a Southern rock band, but we have always played everything from country, jazz, blues, rock & roll and all things in-between. As we've become older, our Southern heritage seems to come out even more, but no matter how old we get, we can still rock your socks off."
The Marshall Tucker Band continues to tour on a regular basis, playing more than 130 live dates each year. Today, the band records on its own Ramblin' Records Label (distributed by Sony/RED) and continues to produce a steady stream of new  material.
The band is still led by Gray, but current members include some notable names with long pedigrees in other groups. Highly respected drummer B.B. Borden is a former member of both Mother's Finest and The Outlaws; multi-instrumentalist Marcus Henderson plays flute, saxophone and keyboards in addition to lead and background vocals; Pat Elwood is on bass guitar; and Rick Willis is on lead guitar and vocals. Acclaimed lead guitarist and vocalist Chris Hicks recently rejoined the band after a two-year absence.