October 1, 2020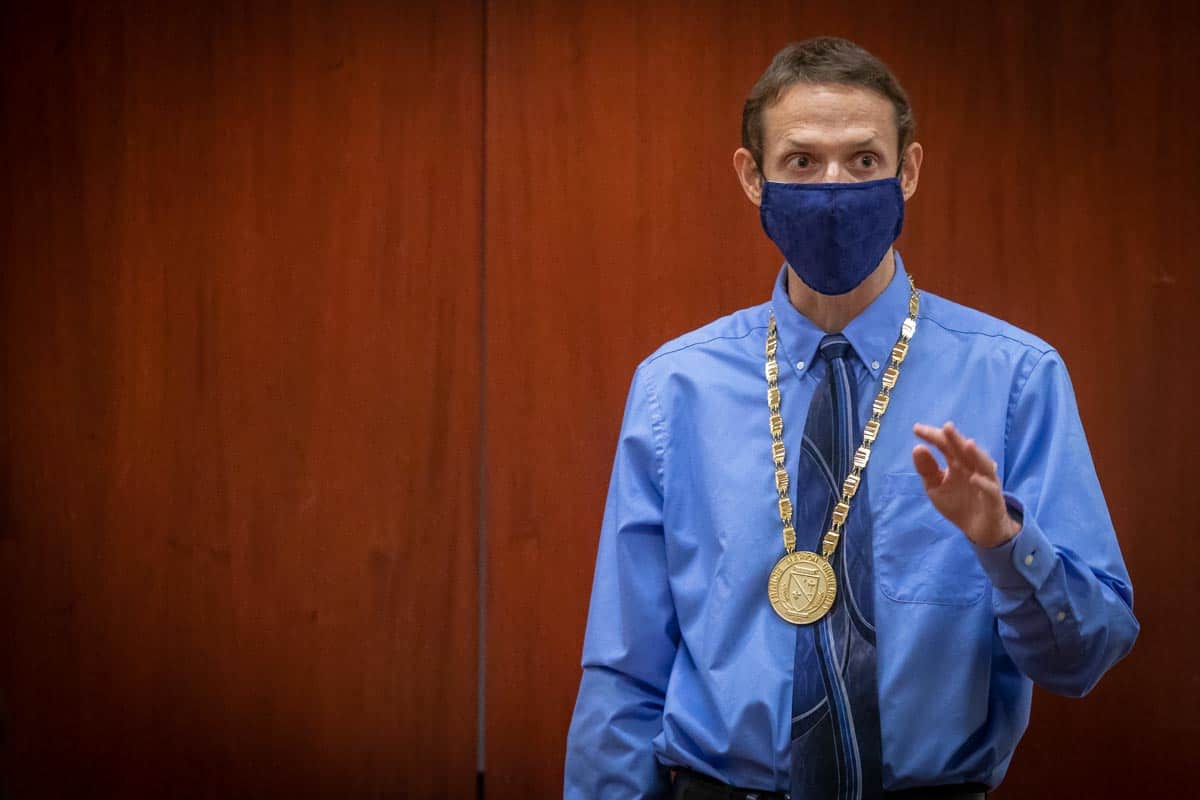 Engelhardt named Francis Marion's distinguished professor for 2019-2020 
Dr. Larry P. Engelhardt, professor of Physics, was named FMU's J. Lorin Mason Distinguished Professor for the 2019-20 academic year at a special awards dinner Thursday night. 
The annual award, named in honor of a former chairman of the FMU Board of Trustees, is the highest honor bestowed upon an FMU faculty member. It also means that Engelhardt will be the FMU nominee for the South Carolina Governor's Professor of the Year Award competition. 
The Mason Distinguished Professor award is based upon a faculty member's ongoing contributions to teaching, professional service and scholarly activities.
Engelhardt, the 45th recipient of the Mason award, said he was honored. 
He told the assembled faculty that Francis Marion University, its faculty, staff, and students, have played a familial role over his time at FMU. 
Engelhardt joined the FMU faculty in 2006. Aside from his skills as a professor and researcher, Engelhardt proved vital in the University's response to the COVID-19 outbreak. He was crucial in providing fellow faculty members with tools and tutorials in providing top-notch remote education.
Engelhardt was also the FMU's Faculty secretary from 2012 to 2016, and has served on various faculty governance committees. 
Engelhardt holds a Bachelor of Arts Degree in Physics from Gustavus Adolphus College, and a Ph.D. in Condensed Matter Physics from Iowa State University. Engelhardt and his wife Susan have a son, Ethan and a daughter, Morgan. 
Dr. Fred Carter, FMU's president, said Engelhardt's dedication to the University and its mission made him an obvious choice.
"Larry Engelhardt is a brilliant physicist who would have been as successful in the applied sector as in the academic world. But he's a masterful teacher and a prodigious researcher, so we're delighted he made the right choice — and so are all of  those physics students who are privileged to study with him every year," Carter said.
The distinguished professor award is typically announced at faculty dinner with most, if not all, of the FMU faculty in attendance. This year's award was presented at an intimate affair attended by Englehardt, his family, representatives of his academic department, and some University officials.