September 29, 2020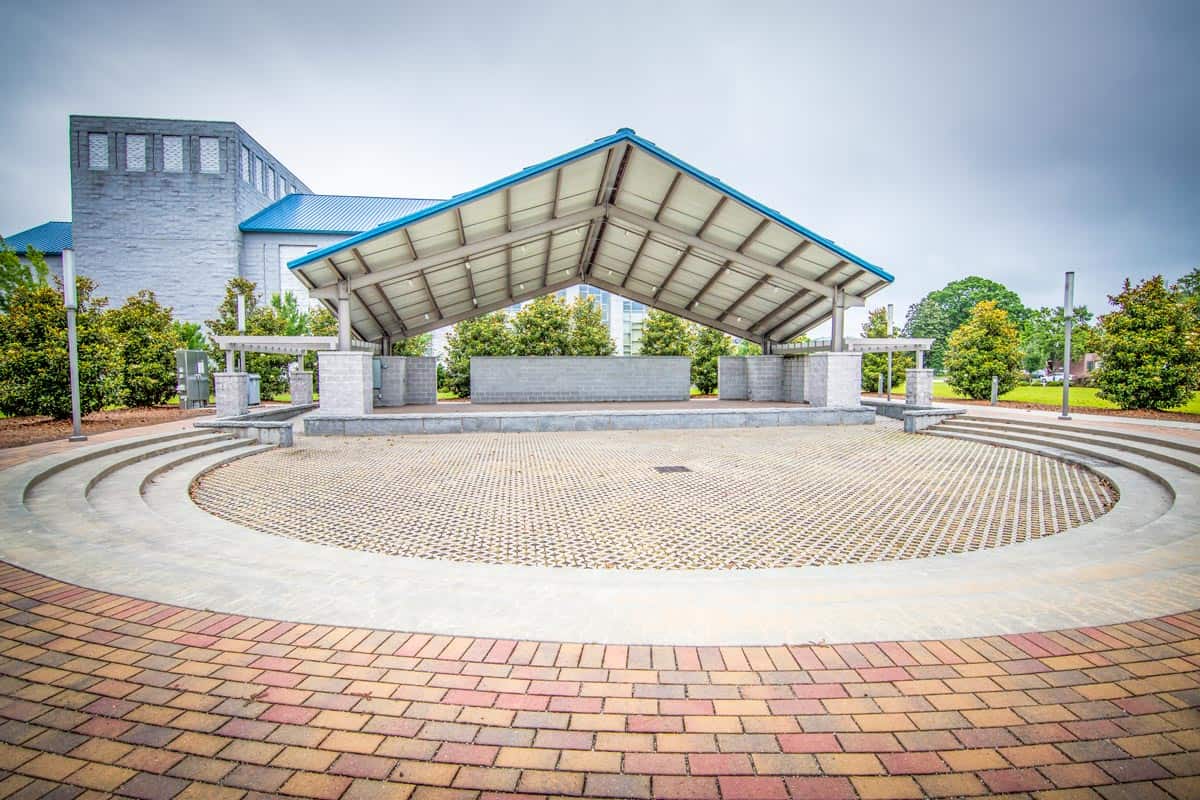 Fresh Air Fest concert series at PAC amphitheater this fall
Francis Marion University's Fine Arts Department and several community arts organizations are joining forces to present a free, outdoor concert series this fall at the FMU Performing Arts Center amphitheater.
The series, entitled "Fresh Air Fest," will offer a variety of musical entertainments in a safe, outdoor environment. Audiences will be limited to 150, and FMU policies requiring masks and social distancing at all University events will be in place. 
The performers will include ensembles from the Florence Symphony Orchestra and the Masterworks Choir, FMU's Music Industry Ensemble, FMU's Jazz Combo, and FMU's Voice and Choir, among others. 
The concert series begins Oct. 11 and will be held on various afternoons and evenings through Nov. 12. 
The PAC and the performing groups are donating their services, so the event is free. To assist with managing the size of the audience and keeping everyone safe, reservations are recommended. To make a reservation, contact the FMU PAC ticket office at 843-661-4444. Patrons who make a reservation will check in at the information tent near the entrance to the amphitheater. Others will be admitted as space allows. The amphitheater will open for patrons one hour before show time.
Socially distanced seating will be provided at the amphitheater, but guests may bring portable seating as well. Individuals may bring food and drinks to the event, but please note that each concert will last an hour or less.
Bud Simmons, executive director of the PAC, says the concerts will provide a much-needed outlet for local performing arts.
"The arts play an important role in this community and they've been sorely missed the past few months," says Simmons. "The Fresh Air Fest will be a nice way to give our patrons a taste while we continue to deal with the pandemic. We're looking forward to it."
For more on Fresh Air Fest, visit the FMU Performing Arts Center website (www.fmupac.org) or call the PAC at 843-661-4444 during normal business hours.
A Little Fresh Air
Fresh Air Fest
Outdoor Concert Series
FMU Performing Arts Center Amphitheatre 
Sunday, Oct. 11, 4 p.m. — Florence Symphony Strings: "Scandinavia"
Thursday, Oct. 15, 6 p.m. — FMU Music Industry Ensemble: "Alive and Kicking"
Thursday, Oct. 22, 6 p.m. — Masterworks Choir Reimagined: "Music of Beethoven, Bernstein, Broadway, and Beyond" 
Sunday, Oct. 25, 4 p.m.

— 

Florence Symphony Woodwinds: "Austrian Winds" 

Thursday, Oct. 29, 6 p.m. — FMU Jazz Combo: "From Gershwin to Monk: An Evening of Jazz Standards" 
Sunday, Nov. 1, 4 p.m. — Florence Symphony Brass: "Crazy for Brass"
Saturday, Nov. 7 — FMU Music and Arts Day. Various groups and performers
Thursday, Nov. 12, 6 p.m. — 

FMU

Voice and Choir: "A Light in the Darkness, an Evening of Inspirational Song"