May 4, 2018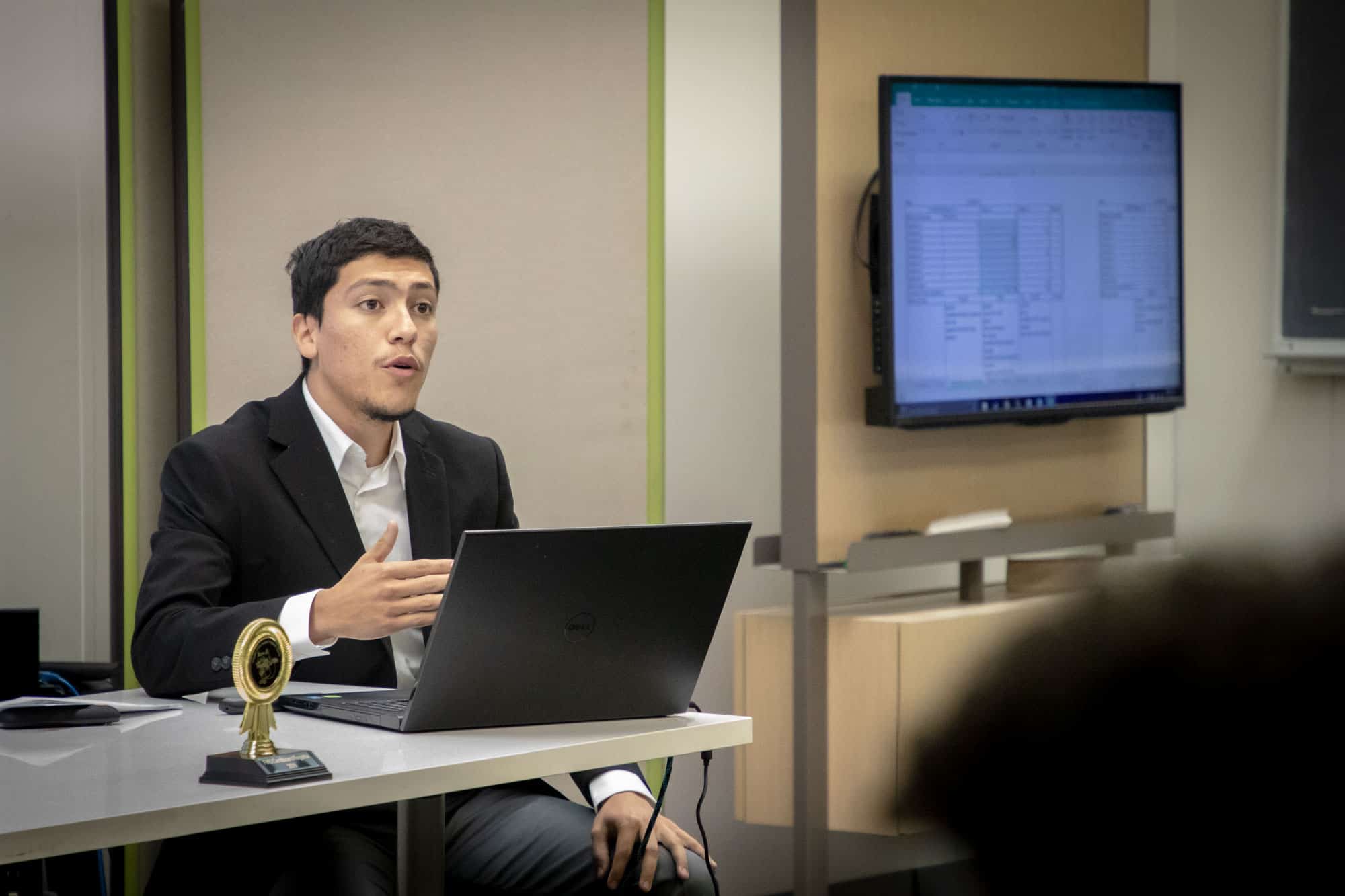 Faculty connections made all the difference for Bustos Jaimes
Professors and the relationships they build with students are one of the most important aspects of college life at Francis Marion University.
Javier Bustos Jaimes, a part of FMU's class of 2018, knows all about that. Bustos Jaimes, a much-decorated Industrial Engineering-Mathematics double major from Eagle Springs, N.C., says his connections with FMU faculty made all the difference.
That began right at the beginning.
FMU wasn't even on the radar when Bustos Jaimes was looking for a college. A friend's father knew Bustos Jaimes was interested in Engineering and suggested he check out the new Industrial Engineering program at FMU, which was just beginning as Bustos Jaimes was starting his search.
Bustos made a visit and had an opportunity to meet with Dr. Lorna Cintron-Gonzalez, FMU's first IE faculty member. A bond formed quickly with the professor whom Bustos Jaimes now refers to fondly as "Dr. G."
"I talked to Dr. G and I thought, 'Well, I guess I can get behind this program,'" Jaimes says. "I came here and the rest is history."
Bustos Jaimes wasn't in the first class of IE grads at FMU, but is counted among the program's pioneers all the same. utilized some of the incredible opportunities FMU's Industrial Engineering program afforded him – such as 3D printing, internships with various companies throughout the region, and trips to meet and work with professional industrial engineers in the field.
The Department of Physics and Engineering became a second home. When he wasn't running cross country and track for the Patriots — Bustos Jaimes was a cross country star at FMU —  he was busy with assorted IE projects. He was able to practice 3-D printing in the IE lab and participate in field trips to meet professionals in the field. Recently he was part of a team of student engineers who worked on a long-term project at Groupe Beneteau's yacht factory in Marion, S.C., working on a plan to improve the overall manufacturing efficiency.
That's what Industrial Engineers do in real life. Bustos Jaimes and company were able to join in as students. Professors in the IE program, of course, provided the necessary guidance.
"I've had amazing experiences with all of my professors," he says. "It was just an extraordinary experience here."
Dr. Cintron-Gonzalez says that Bustos Jaimes' intellectual gifts, and his work ethic, helped him have a successful academic career. Bustos Jaimes won the FMU Mathematics and Industrial Engineering awards as the top students in those departments. He graduated Magna Cum Laude, was MVP of the Cross Country team in 2016 and is a four-time all-Academic selection in the Peach Belt Conference.
"Javier reflected his brilliance throughout his academic career at FMU and has acquired skills and abilities that will make him an excellent graduate student and professional in his near future,"  says Cintron-Gonzales. "I am beyond proud of him and grateful for the experience of having him as one of our first graduates from the IE program."
Bustos Jaimes, who graduated magna cum laude, has multiple employment offers but is planning to attend graduate school. He says says he hopes to become one of the thought leaders in the field of Industrial Engineering.