May 4, 2018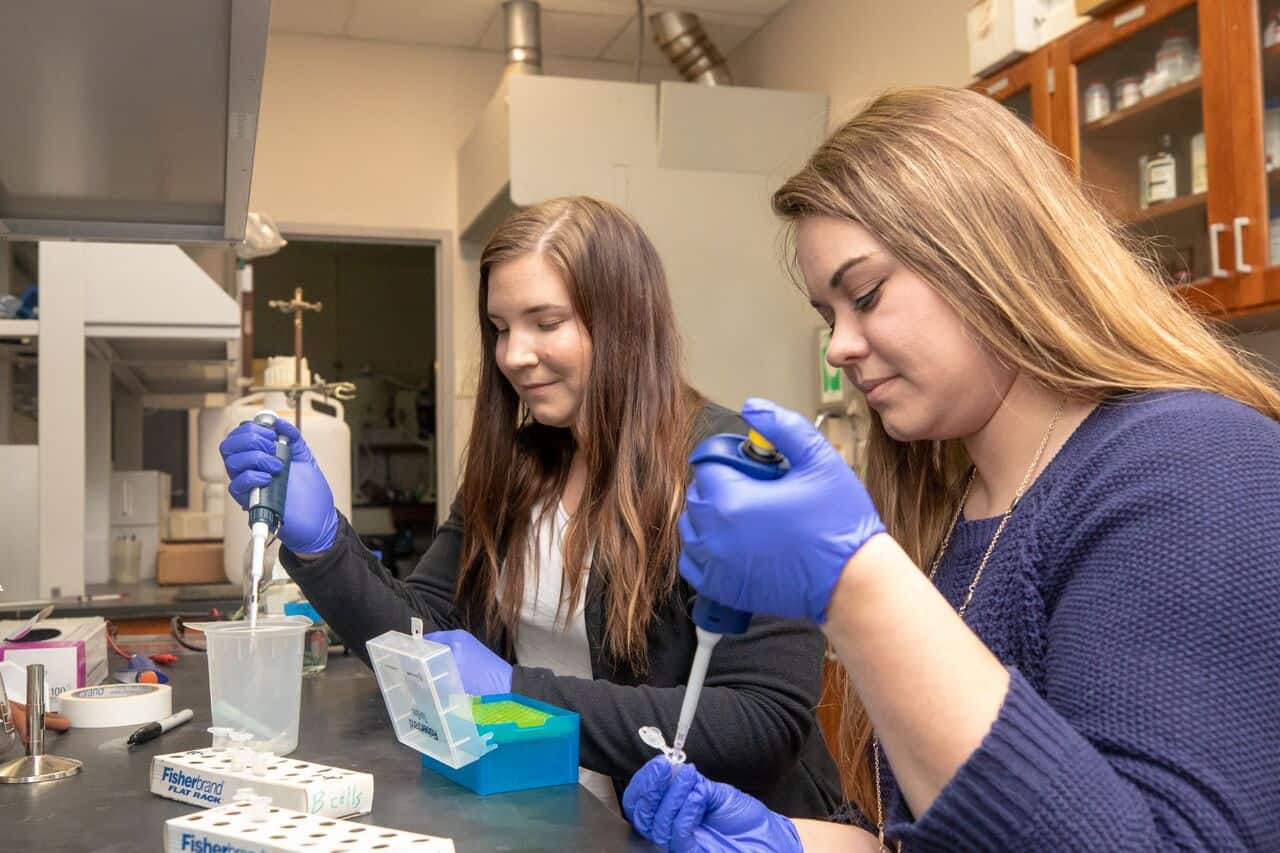 FMU undergrads tag-team cancer research
Taylor Broach and Jessica McNeil were great friends going through college. They hung out, took many of the same classes, and did a lot of things friends do.
They also made the Biology lab at Francis Marion University their second home for their final year in college, researching cervical cancer and different alleles of the p53 tumor suppressor gene.
Just typical friend stuff for Francis Marion students.
Both Broach from Florence, S.C., and McNeil from Sumter, S.C., are Biology majors who were among the almost 400 members of the Class of 2018 who graduated May 5th at FMU. Both graduated with University Honors, meaning they completed 21 hours of special Honors courses with a GPA of 3.25 or higher. Both also plan to enter the healthcare field: McNeil will continue at FMU and enroll in the Physicians Assistant program and Broach will begin working as a medical scribe to attain more experience before applying to medical school.
Preparations for that future included dedicating a lot of time to the cancer research project.
It's uncommon for undergraduate students at most universities, but occurs on a regular basis at Francis Marion. It's part of the University's student-focused academic program.
Broach and McNeil worked closely with Dr. Erin Eaton, an assistant professor of Biology FMU, who's renowned for her cancer research. Eaton provided guidance and assistance in whatever amounts the students requested.
"She's one of those professors who is very hands on and would step in any time that we needed her," Broach says. "Then again, she'd also let us do it by ourselves. We were given the leeway to learn and make our own mistakes, but if we needed more assistance, she would be there for us."
As noted, the research involved the p53 tumor suppressor gene acts, which as a safeguard against mutated, tumor-containing cells, sending altered genes into apoptosis — cell death. In the absence of this function, the potential for cervical cancer is increased by a factor of seven. Understanding the gene and its behavior is valuable to researchers.  Broach and McNeil hope their work will help lead to early detection and treatment of the disease.
"We both want to be healthcare providers," McNeil says. "This just relates back to what we want to do in the future… It was interesting to see just how that can impact our futures."