May 4, 2018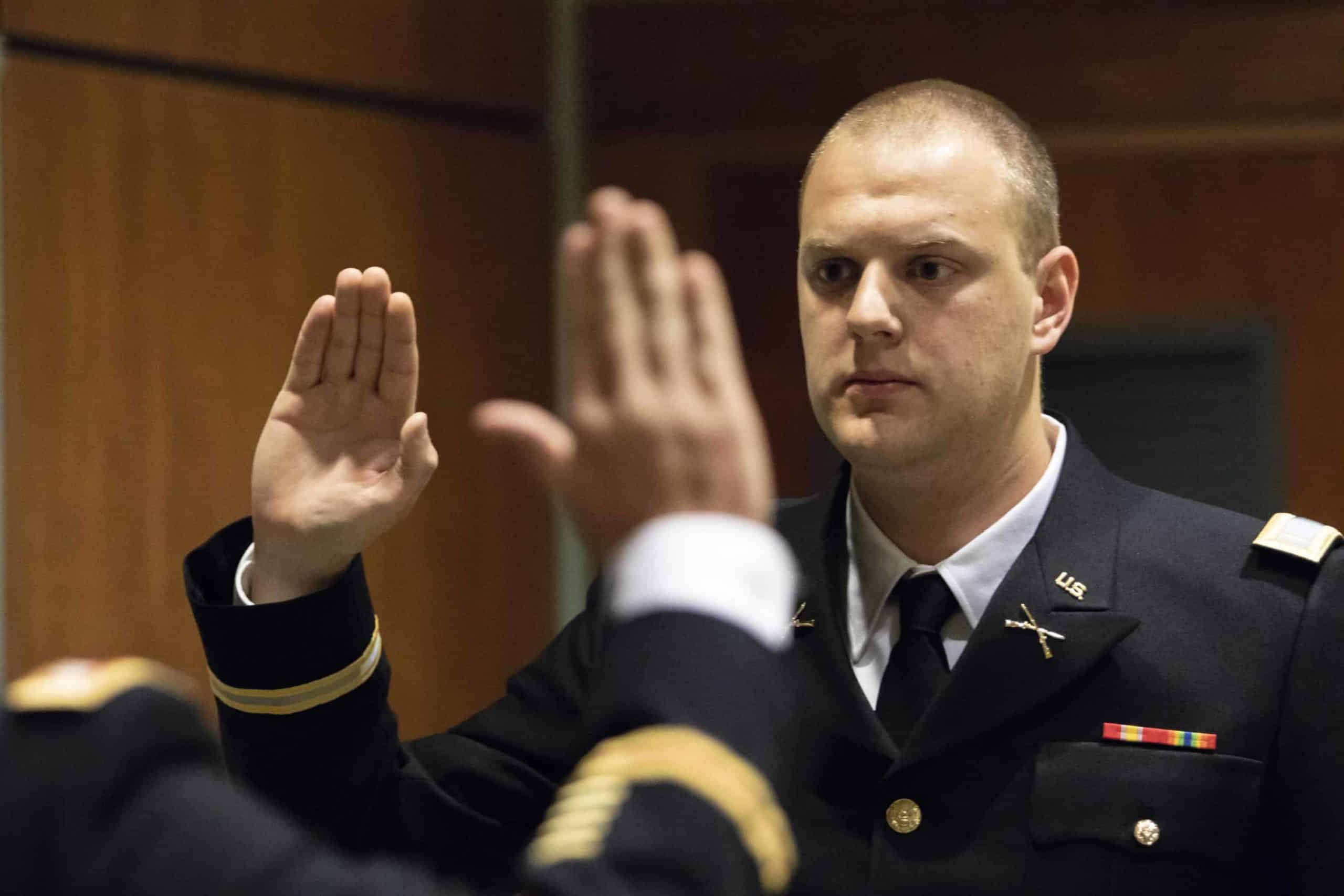 Son follows in father's footsteps to be commissioned as officer at FMU
Ian McCarley has been looking up to his father for his entire life.
His father, Burton McCarley, served his entire career in the U.S. Army and Army National Guard, leaving an indelible mark on his son.
"I saw my dad and his love of (the military) and I wanted to know more about it," Ian says. "Even after he retired, he still kept up with hit. That comradery was very important to me."
The paths of the two McCarley's lives met Friday morning, as Ian was commissioned as a U.S. Army National Guard 2nd Lt. at Francis Marion University. The same place his father received his commissioning 37 years ago.
Even down to their shoulder board pinning, the McCarleys maintain a deep sense of synchronicity.
"My wife Mary – she was my girlfriend and I had just asked her to marry me – pinned me," Burton said. "My mom and her pinned me, and now his mom and his girlfriend (FMU graduate Abigayle Derrick) pinned him."
The idea of a father and son following the same career path is not new, but the level of service and dedication show by the two Francis Marion University graduates is surely unmatched.
Though their service is lauded by others, to Ian and Burton, they're just doing as others have done before them.
Both of Ian's grandparents served during World War II, with his maternal grandfather serving in the U.S. Army Air Corps and his paternal grandfather serving in the U.S. Army.
Ian, who will be stationed with the U.S. Army National Guard's 118th in Mt. Pleasant, S.C., is well acquainted with the necessity for public service.
In 2013, he enlisted in the U.S. Army National Guard as a military police officer and was activated to serve during both the 1,000 Year Flood and Hurricane Matthew.
He enrolled at Francis Marion in 2014 with a plan to earn his commission as an officer in the U.S. Army National Guard, majoring in Economics.
After four years of waking up at in the wee hours of the morning for physical training, balancing his ROTC and student life, and managing his time with an exactness unknown to most, Ian looks back and knowns he did what was necessary.
"You spend years getting up at 5:30  in the morning to be here to do PT and then you're going through your classwork," he says. "After putting so much effort and to be here now, it's pretty satisfying to know that you've put forth what was needed into the program and into school. I gave what I had and it was appreciated."
The parallel doesn't end with the commissioning. Ian hopes to make a career out of the military as his father did.
"I want to be one of those individuals that has to get kicked out because they've been there for so long," he says.
For Burton, the sight of seeing his son and other members of his family – five of his ten children are involved with Francis Marion as employees or students – is a heartening image.
"I was just filled with emotion," he says. "I was just thinking about my commissioning and him and his future. It's just wonderful to see that happen."