Kassab Art Gallery Series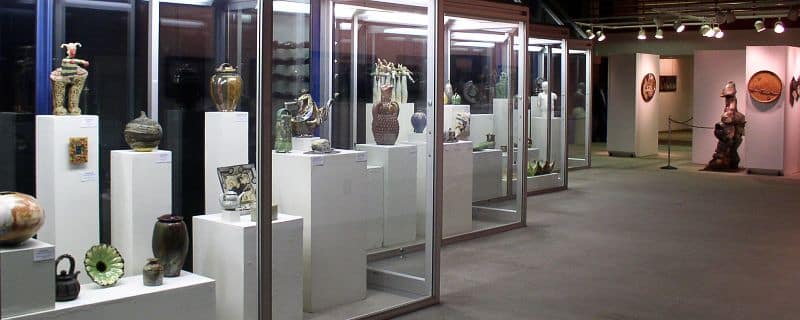 The Department of Fine Arts sponsors the Kassab Art Gallery Series, hosting varied shows of two and three dimensional works showcasing local and regional artists. Exhibits change regularly throughout the academic year.
The mission of the art galleries program is to present exhibitions that support and enhance the academic goals of the visual arts program at Francis Marion University, providing a non-profit institutional setting in the service of society for educational purposes. Under the supervision of the Fine Arts Department faculty, the galleries curator is committed to researching, exhibiting and interpreting for the purpose of study, objects, activities, and documents focused on the visual arts.
The Hyman Fine Arts Center's Adele Kassab Art Gallery features large cases along glass walls, allowing three-dimensional works to be displayed and viewed from the outdoor breezeway as well as inside the commons serving the Fine Arts Theatre and Adele Kassab Recital Hall and Art Gallery. A lighting grid and configurable display partitions provide a flexible gallery space for two- and three-dimensional works throughout the remainder of the gallery.
Senior shows are required of all students majoring in Visual Arts. At the end of each semester, the galleries also feature works produced by students enrolled in studio art classes. These shows give students hands-on experience in selection and installation of artworks, publicity of exhibition, and external review by the University community and general public.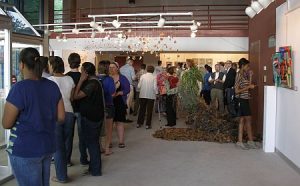 The Galleries Curator then selects among distinguished regional artists to fill out the Art Gallery Series schedule in order to have two- and three-dimensional shows changing regularly throughout the academic year. The gallery serves as the lobby for Kassab Recital Hall and the Fine Arts Theatre, bringing the visual and performing arts together.
Gallery hours are typically 8:30 am – 5:00 pm Monday-Friday, except during summer session (June-August), when hours are 8:30 am – 5:00 pm Monday-Thursday.