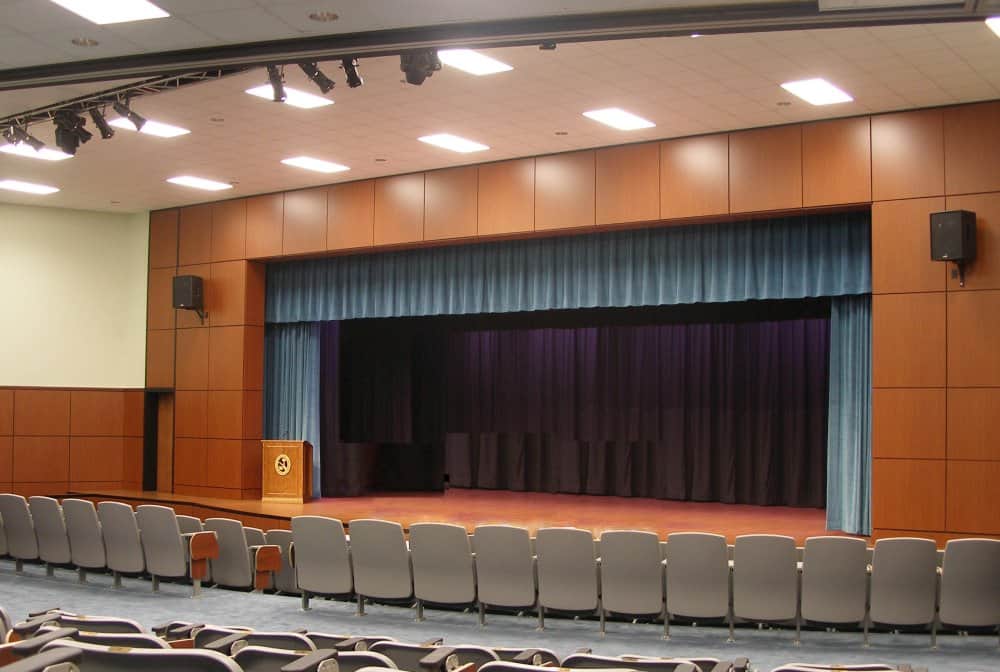 Richard N. Chapman Auditorium
Robert E. McNair Science Building
Chapman Auditorium, the principal academic arena of Francis Marion University, is located in the Robert E. McNair Science Building and is named after FMU Provost, Dr. Richard N. Chapman.
According to FMU president Fred Carter, "Dr. Chapman has successfully established a true provost system at Francis Marion in a fashion that has won the faculty's confidence and restored their faith in academic administration. He approaches his job with charm, grace, style and an abundance of integrity, and every single day he uses these traits to solve seemingly insolvable problems, defuse catastrophic situations, distill potential faculty divisiveness, and focus his president in a productive direction."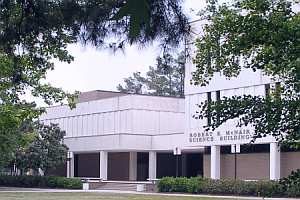 A native of Sikeston, Mo., Chapman earned an undergraduate degree at Washington University in St. Louis and two master's degrees and a doctorate from Yale University. His major field of research and teaching is 20th century United States political and economic history. Chapman first came to FMU in 1989 as the A.R. Avent Professor of History, serving as department chairman until 1996 when he was appointed director of the Honors Program. He left FMU in 1999 to become chairman of the Department of History at the State University of West Georgia, but returned as provost in 2000 and served until he retired in 2016.
He has taught at Yale University, Wells College in Aurora, N.Y., Meramec Community College in St. Louis, Southeast Missouri State University in Cape Girardeau, and at the University of Hartford in Connecticut.
---
Chapman Auditorium Rep Info – Gofer Joe's Overview
Here's a little overview of the Chapman Auditorium rep set-up. This is an older yet still quite nice performance space heavily used for lecture, drama, music and dance. In 2007 the performance space received a much-needed face-lift, along with an update of much of the "1972 original equipment" lighting and sound equipment.
Click here for a more detailed technical stage layout.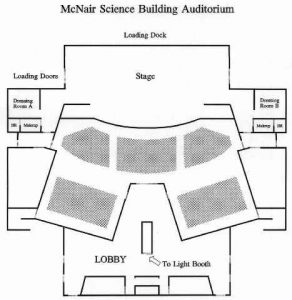 CAPACITY:
The main room (MSB-12) has 246 permanent seats. With walls to the wing rooms (MSB-11, MSB-13) open, permanent seating is expanded to 428 (91 seats each wing room). Additional seats can be brought in to a fire code maximum of 480 house capacity.
LOAD-IN:
The loading dock is directly behind the stage-house at truck bed height and level with the stage floor. Stage access is through 10′ tall double doors directly into right and left wings. GPS to loading dock: 34.190538 -79.654687.
STAGE:
Tongue and groove satin finish maple floor over hung joists, ±40′ wide by ±30′ deep. Proscenium 15′-7″ above stage. Manual counterweight fly system with 24 line-sets and batton loft ±33′. In normal house configuration, seating is 246 with back row 35′ from curtain line. With wings open seating is 450+.
LIGHT BOARD:
Leap Frog memory console controls 48 generic channels and 24 fixture channels via single universe DMX.
16 presets can be programmed into stage manager position on stage right proscenium wall. These typically are programmed to control house lights, work lights, and several presets for simple lecture, projections, and performances configurations.
ANTIPROSCENIUM:
Lighting truss semi-recessed into ceiling on hoist system. Twelve 26º ETC Source Four ellipsoidals @ 575 W, four Elation Optipars @ 575 W, seven Elation Design 36 LED instruments to add color to the FOH wash, and two Elation Design Spot 250 cyberlights.
ELECTRICS (2):
1st Electric 3′ upstage proscenium wall; 2nd (cyc) Electric 16′ upstage wall.
30 Elation Design 36 LED instruments are circuited to provide upstage wash, cyc color, and downlight. 12 6″ Fresnels @ 500 W and 12 14″ scoops @ 500 W can augment the LED instruments. (There are no Lekos on the electrics).
SIDES:
Wall and floor pockets, but no booms or facilities for side lighting. (I will sometimes use LEDs, fresnels or scoops at extreme pipe ends of electrics to throw cross-stage or back-light for body contouring.)
STANDARD LIGHT PLOT:
My standard lighting set is geared to minimize limitations and maximize flexibility.
Standard set downstage antiproscenium wash is in 5 acting areas with pale gold (RLUX #08) coming from stage right and pale lavender (RLUX #53) from stage left. This allows 2 Lekos to be used for specials, typically set center-stage. Optipars provide bright white full stage wash from apron to valance good for concerts, video and general illumination but with spill on cyc. LEDs add color fill from front of house (again, with spill on cyc).
First electric fresnels provide 3 upstage acting area with pale gold, and the LED lights on both electrics give good saturation color washes of stage and cyc. Second electric also has scoops aimed downstage to provide light for ensembles to read music.
SOUND:
Behringer X32 digital stereo console in booth feeds 15″ 3-way speakers on the proscenium walls with delay feed run into 8″ 2-way speaker pairs in the wing rooms. Each proscenium wall has 12 mic sends and 2 monitor returns, and the booth has CD, DVD, VCR, cassette decks and computer input. In addition the stage manager position can take control of the house PA with a Mackie mixer racked with CD, DVD, VCR, cassette, computer and microphone inputs.
Microphones include 4 wireless Sennheiser mics, 2 Sennheiser general purpose dynamic mics, 4 CAD small diaphragm condenser mics, 2 CAD large diaphragm mics, and several general purpose handhelds.
Generally speaking this is not the rig for rock festival sound reinforcement, but it is a reasonable system for the vast majority of programs in this size venue.
VIDEO PROJECTION:
Sony VPL-FHZ90L laser projector, WUXGA 1920×1200 native resolution, 9000 lumens. Throws to a 9′ screen mounted to the back center of proscenium arch in front of blue house curtain. DVD and VCR are provided in booth and at stage manager position. No computer is provided but both positions will accept HDMI (or VGA video with mini phone plug audio) if a computer is brought in.
SUMMARY:
So my major limitations are no stage Lekos, no true side trees, no follow spot, and no center electric. Without center electric, performers may lose light close to cyc. All stage connectors are older style (20 amp "titty-out") twist-lock. I have no adapters, few extensions or twofers, and no gel stock. I have no stock furniture, props, flats, drops, shop tools, hand tools, storage area, etc.
Primary color stage saturation with LED fixtures helps with down and side light concerns, and they mix to a reasonable white for general performance light without the heat of traditional instruments.
Truss mount moving head cyber fixtures can be pressed into service for numerous specials.
Wish the facility were more versatile, but we're just a small college trying to inflict culture on unsuspecting audiences. Somehow designers and performers always manage to make the best possible use of what we have.
HANGING SCHEDULE:
24 double-purchase line sets 11′-4″ above stage level. Loft blocks +/- 36′, battons fly to +/- 33′, loading platform 28′. Vertical clearance: fully flown out, 17'+ clearance to soft goods except 13′ to sky cyc.
 0' 0" Plaster Line     (upstage edge of proscenium wall)
    3" Projection Screen
    6"
    9" 1] Valance (blue)
 1' 0"
    3"
    6"
    9" 2] Act Traveler (blue)
 2' 0"
    3"
    6"
    9" 3] 1st Electric
 3' 0"
    3"
    6"
    9" 4] - open
 4' 0"
    3" 5] Black Side Leg 1
    6"
    9"
 5' 0"
    3"
    6"
    9" 6] Black Border 1
 6' 0"
    3" 7] - open
    6"
    9" 8] Black Side Leg 2
 7' 0"
    3" 9] (Limited use - proximity to screen)
    6"
    9"
 8' 0"
    3" 10] - open
    6"
    9" 11] - open
 9' 0"
    3" 12] - open
    6"
    9"
10' 0"
    3" 13] - open
    6"
    9"
11' 0"
    3" 14] Black Border 2
    6"
    9" 15] Black Traveler 1
12' 0"
    3"
    6"
    9" 16] - open
13' 0"
    3"
    6"
    9" 17] - open
14' 0"
    3"
    6"
    9" 18] - open
15' 0"
    3"
    6"
    9" 19] 2nd (Cyc) Electric
16' 0"
    3"
    6"
    9"
17' 0"
    3" 20] - open
    6"
    9"
18' 0"
    3"
    6"
    9" 21] - open
19' 0"
    3" 22] Black Traveler 2
    6"
    9"
20' 0"
    3" 23] (Limited use - proximity to Cyc)
    6"
    9"
21' 0"
    3" 24] Cyclorama (lite blue wrap-around)
    6"
    9"
22' 0"
    3"
    6"
    9"
23' 0"
    3"
    6"
    9"
24' 0"
    3" Upstage Wall
Black legs are about 5′ and 8′ upstage of plaster line (currently tied to 36′ opening), and full black travelers at 13′ and 20′, (0′ to 39′ opening). Add 7′ of usable apron in front of plaster line and you have your staging options. Blacks are not perfect for all sight lines, but late-comers get the seats they deserve, right?