FMU Performing Arts Center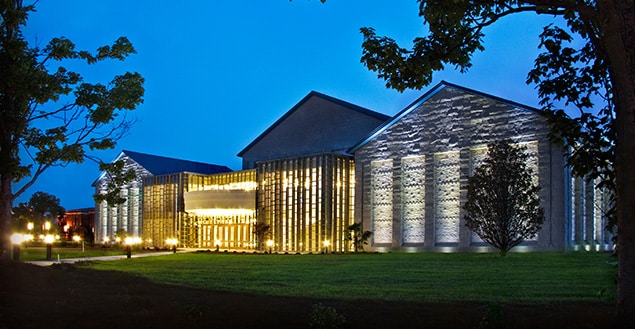 Architect Malcolm Holzman, FAIA, a partner with Holzman Moss Bottino Architecture of New York, designed the Performing Arts Center. The 61,000-square foot Performing Arts Center in downtown Florence is operated by Francis Marion University and is home to an 850-seat theatre, a smaller 100-seat experimental theatre.
Its academic wing includes administrative support space, classrooms, performance laboratories, and practice rooms for the Department of Fine Arts Music Industry Program. This multi-use facility is designed to promote the flexibility needed for a wide variety of programs, from University music performances to national touring music, dance, and theatre productions, while incorporating superior acoustics that adapt to individual performance needs.
The grounds of the Performing Arts Center include the BB&T Amphitheatre that can accommodate 500 patrons. Resident tenants of the center also include the Florence Symphony Orchestra, Master Works Choir, South Carolina Dance Company, and the Drs. Bruce & Lee Foundation.
Visit the FMU Performing Arts Center website and its calendar of events here.