August 17, 2018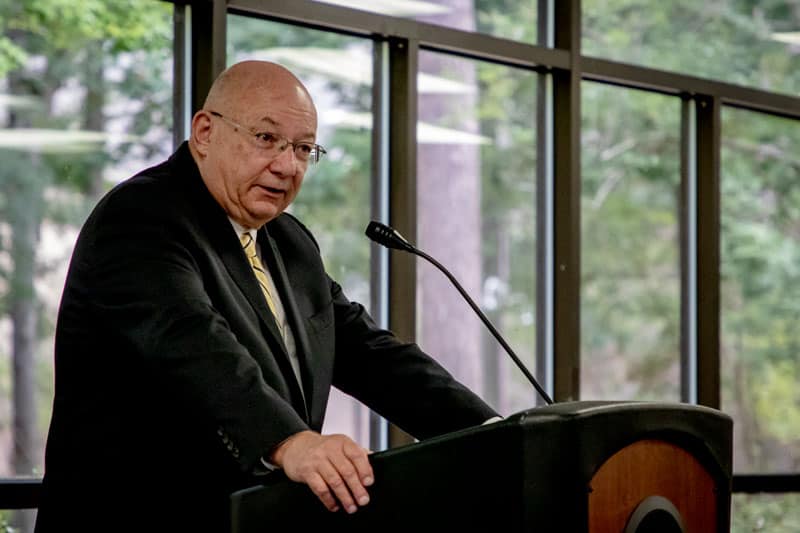 Carter details dynamic program growth, more new initiatives at FMU kickoff event
Francis Marion University President Dr. Fred Carter highlighted the dramatic growth of University's academic programs, and its increasing impact on the region, at the FMU's faculty breakfast Monday.
The annual event serves as the kickoff for the academic year. FMU's 2018-19 academic year begins on Tuesday with the first day of full classes. More than 800 new students are expected on campus, part of a student body of almost 4,000.
In his remarks, Carter also called attention to the "First Generation Fund" initiative, which will be launched later this fall. As its name implies, the First Generation Fund is designed to raise funds and provide additional resources for students who are the first in their immediate family to attend college. More than 40 percent of the incoming freshman last year at FMU were first generation.
Carter said coming to the aid of first generation students was the "most effective investment" the community and region could make. And while FMU's faculty regular contributes to the University's philanthropic needs, Carter issued a special invitation for them to participate in the First Generation initiative.
"I've no doubt that everyone in this room uniquely appreciates the criticality of this effort," Carter said. "I am asking you to help on this one, and we'll ask few thousand other folks too. And 17 trustees and seven vice presidents. And every alumni that we can track down. I'll be back in touch soon."
Carter briefed the faculty on the University budget, on legislative matters pertaining to higher education, and on the enhancement of special student events on campus. He also hinted at a major new donation that could be coming the University's way in the near future.
And he offered an overview of the dynamic landscape of growth and advancement across FMU's bustling campus. FMU will start six new programs this academic year and four the year after that.
The University's first class of Speech Language Pathology students is enrolled this fall and new programs are being launched in Healthcare Informatics and History Secondary Education (teaching). In the spring,  FMU will start business programs in Sports Management and Sports Marketing and a new Master of Education in Teaching and Learning.
Additional programs in the pipeline include Advanced Nursing Practice degrees in psychiatric care and gerontology, and a new Mechanical Engineering program. It will be FMU's second engineering program, following on the heels of its highly successful Industrial Engineering program which began in 2014.
All those programs could be in place as soon as 2020, and more academic enhancements are coming, Carter said. He's proposing the addition of a cultural anthropologist to the faculty within the next year, and used the breakfast to initiate a discussion on a proposed new multi-disciplinary graduate degree in environmental sciences.
"Drop by and let's discuss it," Carter said.
Carter said that while the fast-paced growth is exciting, he cautioned that it must be handled wisely while keeping with the University's long-standing mission in view
"This small college that became a comprehensive university is becoming much more comprehensive," said Carter. "But our growth needs to be symmetrical, and it needs to be sensible — replete with programs that continue to rely upon the liberal arts foundation that is so much a part of the past and present of this institution.
"What differentiates us from our sister institutions is that we've substantially broadened our number of majors while remaining rigidly faithful to our core curriculum —a curriculum which emphasizes reading, writing and reasoning.  Of course, these are all competencies that our graduates will need whatever their profession."