August 2, 2023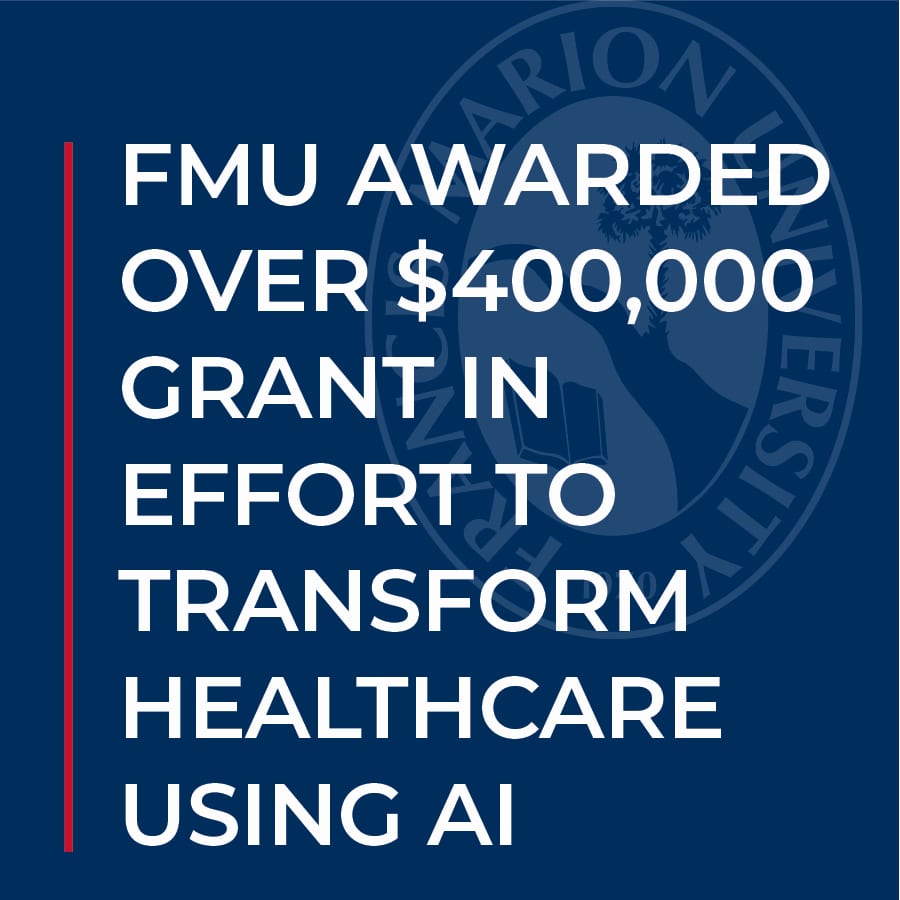 FMU awarded over $400,000 in statewide effort to transform healthcare with the use of AI
Francis Marion University has been awarded $416,800 from the National Science Foundation as part of a $20 million investment to advance healthcare with the use of AI.
FMU joins a statewide team of 11 institutions that will work closely with industry to advance AI-enabled medical devices and to train an AI-ready workforce.
The grant will represent the Pee Dee region in a coalition of South Carolina researchers that has formed to modernize healthcare diagnostics and treatment in South Carolina. The National Science Foundation announced the five-year investment in a multi-institutional project called Artificial Intelligence-Enabled Devices for the Advancement of Personalized and Transformative Health Care in South Carolina, or ADAPT-SC.
Dr. Ivan Dungan, assistant professor of mathematics, spearheaded the effort for FMU to receive this award. Over the next five years, the funding will support the establishment of the FMU AI Research Group, made up of faculty and student researchers in mathematics, mechanical engineering, and psychology.
The research will develop and apply artificial intelligence and machine learning to biomedical devices to analyze wounds, antibiotic treatments, movement, and brain electrical activity. The award also allows Dungan, FMU's principal investigator, to research with a cross-institutional team to develop medical devices integrated with Explainable and Trustworthy AI.
The project has three primary goals:
 Build research capacity in AI-enabled biomedical devices in strategically identified areas to transform SC's health care system, particularly in underserved areas;
Build a diverse talent pool in the field of biomedical AI through innovations in education and workforce development from K-12 through all levels of higher education; and
Foster interdisciplinary collaborations and academic–industrial partnerships by establishing research, education, and technology-transfer integrated programs.
Funding comes from the National Science Foundation's Established Program to Stimulate Competitive Research (NSF EPSCoR) Research Infrastructure Improvement Track-1 Award, which bolsters their overall goal to improve the research and development competitiveness of researchers and institutions within EPSCoR jurisdictions.
The funding granted to FMU will promote interdisciplinary research between mathematics, mechanical engineering, and psychology, where students are at the center of the research. FMU will provide up to 30 students with research experiences developing and applying artificial intelligence and machine learning.