December 15, 2017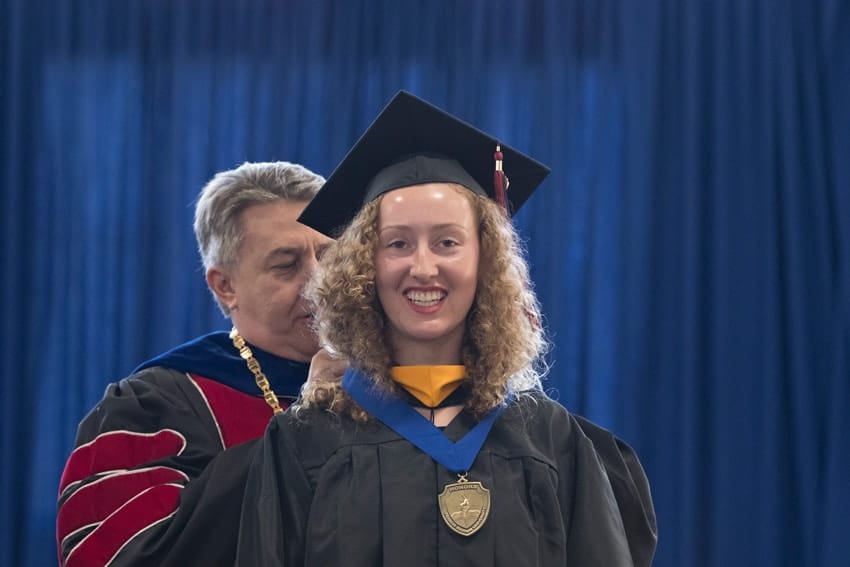 FMU Biology majors enjoy high-level research opportunities during their undergraduate careers
Undergraduate studies are all about preparation for real research. But for FMU students Rachel Fleschner and Kristin Ingram, their undergraduate years included a heavy dose of higher-level research within their chosen majors.
Both students majored in Biology and graduated Saturday with University Honors. Their abilities, coupled with FMU's commitment to experiential learning, allowed them to perform graduate-level research work while they were still undergraduates.
FMU University Honors means a student must complete 21 course hours – approximately seven courses – in the University's demanding Honors program, while maintaining a high GPA. The program includes writing an Honors thesis, which encompasses a semester-long research project.
Fleschner, a Bloomington, Ind. native with a love for animals, chose to study Von Willebrand disease, which affects Shetland Sheepdogs. She worked with Windsor Animal Hospital in Florence for part of her research.
"I have always loved animals and I knew what I wanted to do since the first time I was asked what I wanted to be when I grow up," says Fleschner.
Ingram, a Mullins, S.C. native, studied bacteriophages in the soils of Marion County.
Bacteriophages are essentially viruses that are capable of infecting bacteria. Knowledge of bacteriophages is useful when it comes to fighting certain infections, as they can be used in place of antibiotics, decreasing the risk of forming an antibiotic resistance.
The subject attracted Ingram, in part, because she aspires to work in the medical field. It also interested her because of the possibility that she could leave a lasting legacy if she discovered her very own bacteriophage.
"If I find a new virus, I get to name it and that really caught my attention," she says. "I always loved the medical field and you think of all these researchers who go through all this time and they don't find anything. Being able to do it over the process of a semester and being able to find a new virus would be really exciting."
The soil samples Ingram isolated are currently being processed to determine if any new viruses were discovered.
Fleschner, an aspiring veterinarian, was right at home while researching Von Willebrand disease, an affliction that inhibits proper clotting of a dog's blood. It essentially turns infected dogs into hemophiliacs, which in turn, means minor wounds can become serious.
Fleschner tested blood samples from dogs throughout the Pee Dee, focusing on Shetland Sheepdogs, but also examining Golden Retrievers and Doberman Pinschers as well.
"With my goal to go to veterinary school, I wanted to do something vet-related," she says.  "I wanted to have different experiences with animals to make sure that veterinary medicine was what I wanted to do."
Fleschner and Ingram are looking ahead to graduate school. Fleschner will pursue her veterinary dream. Ingram wants to become a Physician Assistant. Fleschner even says she may apply to FMU's new program in that field, which will admit its second class next August.