December 15, 2017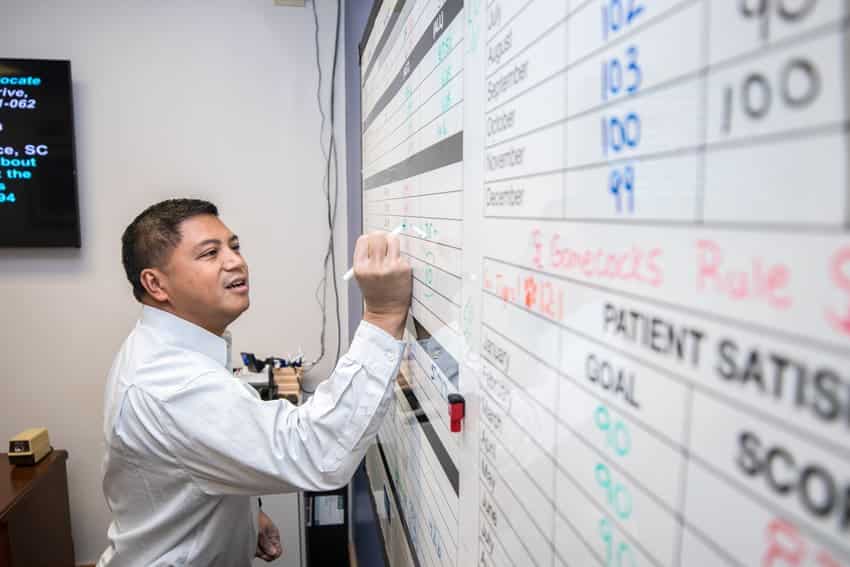 MBA grad says the struggle pays off
Earning a master's level degree is tough.
Earning one while working a demanding, full-time job is even tougher.
But with the right educational partner it can work out.
Just ask Eddie Vergara.
Vergara was one of the 309 graduates who marched at Francis Marion University's Fall Commencement Ceremony on Saturday, December 16. He finished with a Master of Business Administration (MBA).
It might not have happened, says Vergara, if not for the faculty at the FMU School of Business and their commitment to the needs of working students.
"Everything was geared toward me as a working professional," he says. "It was awesome because there were a lot of people in the same boat I was in. … We all had jobs and families, but we were trying to get through this program. If I would've known I would have had that much support, I probably would've done it a long, long time ago."
Vergara's path to a masters was unusual.
It began 17 years ago when he started a career as an occupational therapist in Florida.
Early in that career, Vergara demonstrated leadership and some ability as a manager. Returning to school for a second degree that would boost his career seemed like a good idea, but Vergara's supervisors kept piling on new responsibilities.
'I was good at other things like leading people and organizing, so my bosses started asking, 'Hey, why don't you do this?' and slowly the responsibilities grew," says Vergara. "It kind of got out of control, so I never got to back to school."
Eventually, Vergara's lack of an MBA began to hinder  his career. He started a search for an MBA school that would fit his needs and eventually settled on FMU. That meant relocating from Florida and taking a new job as Director of Therapy Operations at HealthSouth in Florence, S.C. But in the end, it proved to be worth it.
Vergara was no stranger to the college classroom. Before enrolling at FMU, he'd already obtained a Bachelor's degree in Rehabilitation Counseling and a Master's of Health Sciences. Still, there was some uncertainty as he began his MBA studies.
He was the father of three children, and a manager with numerous responsibilities.
"I thought, 'How much (time) am I going to need to do for this Master's' and 'can I do it?'" he says.
Vergara carved out the necessary time. And it quickly became clear that his MBA classes provided the knowledge and perspective needed to handle his current position and to advance in his field.
"Since day one, I learned something in every class," he says. "Now, when I sit in on meetings, I have the knowledge to speak intelligently about things… I can be a better contributor to the senior team."
Vergara says he now encourages co-workers and friends to follow his path back to school. It can be done. It is possible to step out of the rat race and accomplish something new.
"If I can do it with a family and a 40- to 50-hour a week job, it can be done," he says.  "It'll take work, but it won't overwhelm you."