August 4, 2022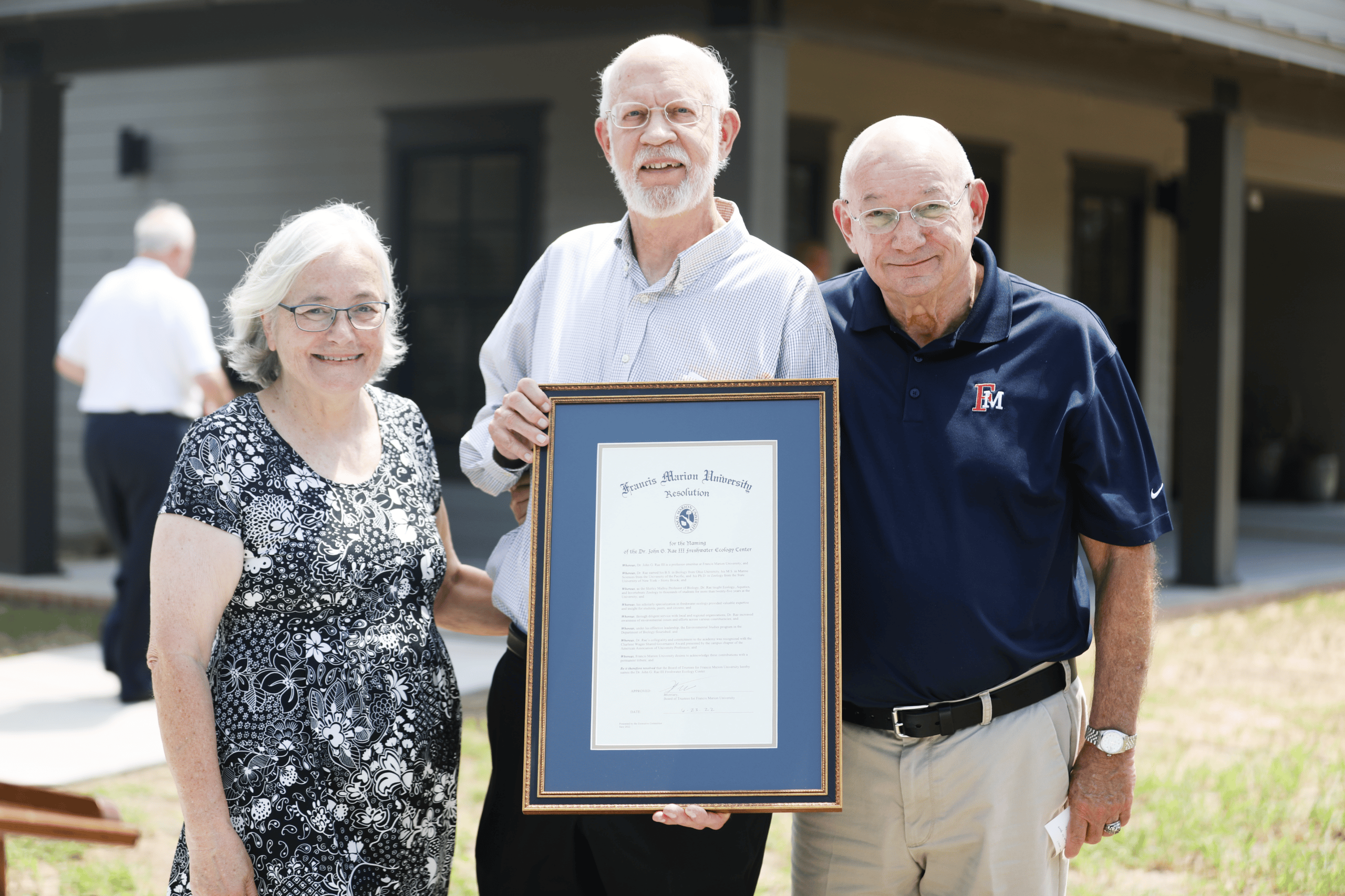 FMU continues tradition of naming facilities for faculty, staff
Colleges and universities have many traditions, but at Francis Marion University, naming buildings and other university facilities to honor the contributions of faculty and staff members has become one of its most cherished practices.
Over the past two decades, more than 25 university buildings, facilities, or landmarks have been named for faculty and staff members. Though this process is not unique among universities, Francis Marion president Dr. Fred Carter has put special emphasis on such recognition during his tenure.
"We have the finest faculty and staff in the state, and it is important to recognize the people who make this university run each and every day, across all departments," said Carter. "Without them, there would be no Francis Marion University."
Thursday's naming of FMU's Freshwater Ecology Center for Dr. John G. Rae, III marked the second time this year that a university facility was named for a former faculty member. In April, the Steven F. Gately Gallery at University Place in downtown Florence was named for the longtime fine arts professor who died suddenly near the end of 2021. Later this fall, another naming ceremony – this time the university's academic computer lab for recently retired staff member Teresa McDuffie – will take place on FMU's main campus.
From buildings and classrooms, roads and athletic fields, nearly every corner of FMU's campus pays tribute to the people who have built Francis Marion into the exceptional institution of higher learning it is today.
A student might wake up in one of the five Forest Villas apartment buildings named for longtime faculty and members. Visitors to the campus can walk through Hanson Park, honoring another faculty member and administrator. Current members of the faculty and staff might grab lunch in The Cottage's Hendricks Dining Room, a tribute to a beloved physics professor.
In 2018, the campus' main thoroughfare was renamed from Patriot Drive to Heyward Drive, a tribute to Dr. Joseph E. Heyward, who served FMU for more than 30 years as an instructor, administrator and provost. The Joseph Heyward Community Center, located in the Forest Villas apartment complex on campus, also bears his name.
Honors have not been limited to retirees. Several facilities bear the name of individuals still working at FMU. 
At the Griffin Athletic Complex – FMU's multi-million dollar athletic jewel – is named after Gerald Griffin, former Athletic Director and Baseball Coach at FMU, but Hartzler Field and the Michael Hawkins Press Box are both tributes to current members of the athletics staff: Athletics Director Murray G. Hartzler, and Associate Athletics Director for Media Relations Marketing Michael Hawkins.