August 4, 2022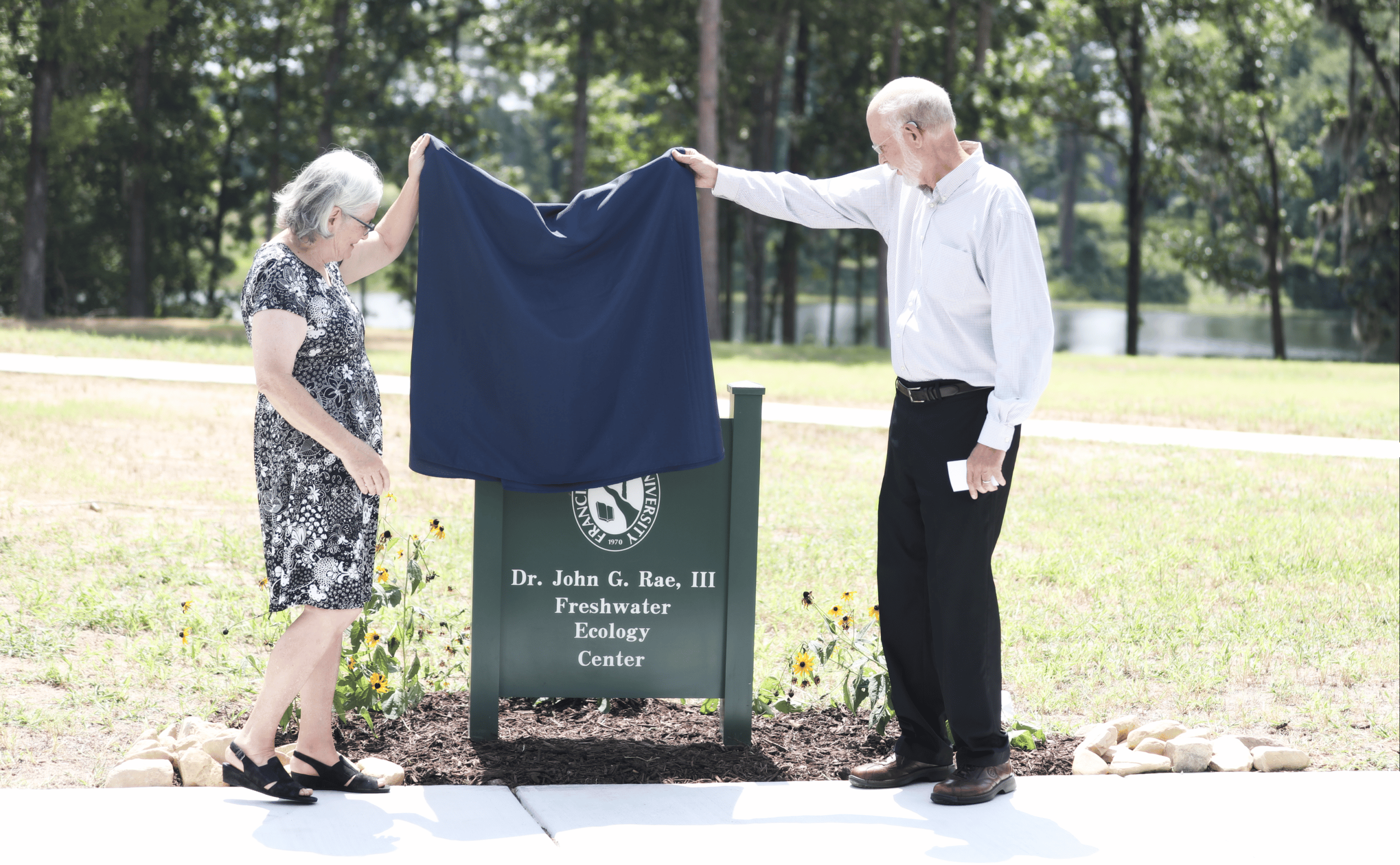 FMU Freshwater Ecology Center named after esteemed biology professor
Francis Marion University honored a distinguished member of its faculty by naming one of the university's newest facilities in his honor.
FMU's Freshwater Ecology Center was officially named for Professor Emeritus Dr. John G. Rae III during a special ceremony Thursday afternoon at the building located near I-95, approximately eight miles from the university's main campus.
Rae is credited with being the father of FMU's freshwater ecology program, which moved into the newly opened facility early this year. During a more than 25 year career at Francis Marion, Rae served as the chair of the biology department, teaching ecology, aquatics, and invertebrate zoology. 
Throughout his career, Rae impacted countless students and set a new precedent for biological research at the university. 
"This is a great honor," Rae said. "The greatest honor that I've ever had in my life. The facility is incredible, and it will open up countless possibilities for future Francis Marion students. These are the kind of facilities you'll find at major flagship universities, and I see our students benefiting from the great opportunities to research the natural world."
Rae was joined at the ceremony by his wife, Susan, and several members of their family. Members of the Francis Marion University Board of Trustees, university faculty and staff were also in attendance and joined the family for a luncheon following the ceremony.
"John's contributions to this university and his academic discipline over the course of more than two decades is deserving of this recognition," said Dr. Carter. "But the real testament to John's impact can be seen in his family, friends, and colleagues gathered here today, and especially in the thousands of students whose lives and careers he positively influenced through his teaching and research."
FMU's Freshwater Ecology Complex, the university's newest facility, opened in January 2022 and includes the newly named John G. Rae III Freshwater Ecology Center, as well as a spacious conference center.
Before coming to FMU in 1988, Rae's professional and educational journey took him around the country and abroad. After graduating from State University of New York at Stony Brook with a biology degree, Rae served in the US Air Force for four years. He then went on to obtain his Master's degree in marine biology from University of the Pacific, and then his Ph.D. in zoology from Ohio University. 
Rae taught and researched at numerous institutions around the country before coming to FMU, where he conducted the majority of his research and spent the bulk of his career. Throughout his tenure, he received many awards and honors, as well as research grants and invitations to present his research. Rae also published eight research papers while at Francis Marion.
Some of Rae's commendable achievements include being listed in the 25th edition of Who's Who in the World, a yearly publication that highlights the achievements of noteworthy people in the U.S.