April 21, 2023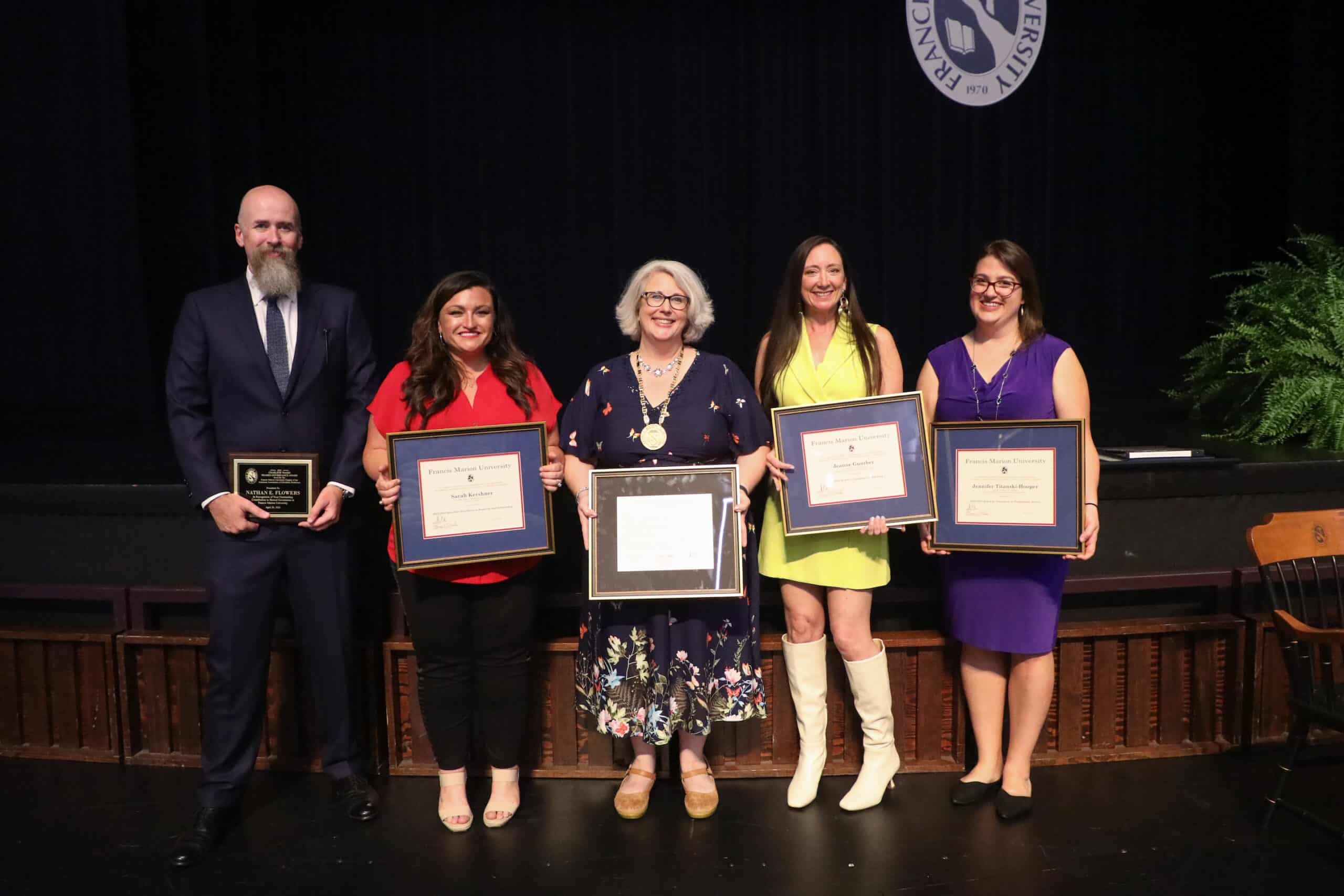 FMU Faculty Recognized During Annual Awards Ceremony
Francis Marion University held its annual faculty awards night on Thursday at the FMU Performing Arts Center in downtown Florence. During the event, members of FMU's faculty were presented with awards for the 2022-2023 academic year.
Mr. Nathan Flowers, head of the Library Systems Department and professor, was awarded the Charlene Wages Shared Governance Award by the university's chapter of the American Association of University Professors.
Flowers joined Francis Marion in 2006 as an assistant librarian. Since then, he has served various committees thirty-five times, sixteen of which are for shared governance. In Rogers Library, he has worked on Library Institutional Effectiveness and Disaster Preparedness and Prevention. He has also served across campus on Informational Technology, Handbook/Bylaws Revision, Faculty Life, Distance Education, Institutional Effectiveness, and the Francis Marion Trail Commission committees.
Dr. Jeanne Gunther, Coordinator of the Early Childhood Education Program and Associate Professor of Education, received the Excellence in Teaching Award in recognition of her innovative teaching in the field of Early Childhood literacy. 
Gunther joined the faculty of Francis Marion in 2011. Since then, she has consistently been engaged in creative teaching across multiple forums both inside and outside of the traditional classroom. During the COVID pandemic, she created a project called The Storytime Channel to allow early childhood education majors the opportunity to gain practice in modeling fluent reading to students while learning at home. Along with one of her classes, she created a library of children's books in the Richardson Center for the Child which serves education students as well as the Center's children. 
Gunther holds a Bachelor of Science from SUNY-College at Fredonia, an M.S. from the University of Albany – SUNY, and a PhD from the University of North Carolina at Chapel Hill.
Dr. Sarah Kershner, Chair of the Department of Healthcare Administration and Associate Professor, received the Award for Excellence in Research and Scholarship.
Kershner joined the Francis Marion faculty in 2017. Since 2020, she has completed 39 presentations at national, state, or local conferences and has co-authored seven published articles. In addition, she has acquired nearly $400,000 in grants for research funding from six separate awards from federal, non-profit, foundation and university-funded projects. She was most recently awarded a grant from the Centers for Disease Control and Prevention which provided support for 92 students to participate in public health disaster and preparedness activities and training sponsored by DHEC, FEMA, and the CDC. 
She received a Bachelor of Science from Clemson University and a Master of Public Health and PhD from the University of South Carolina.
Dr. Jennifer Titanski-Hooper, Director of the McNair Institute for Research and Service and Assistant Professor of Geography, received this year's Award for Excellence in Professional Service. 
Titanski-Hooper joined the faculty of Francis Marion in 2017. Her service at the university has been extensive on multiple levels of university and community life. She has assisted with four faculty search committees, served as a mentor for new faculty, and was chair of the Humanities and Social Sciences Symposium. She has also served as a faculty senator, member of the First Year Seminar Advisory Committee, and as an advisor to the Model United Nations Program. 
She was recently appointed the Director of the McNair Institute. Over the past year, she has collaborated with the FMU Education Foundation on the Non-Profit Leadership Institute and the Local Government Leadership Institute. In addition, she manages research projects through the McNair Institute and the Belle Baruch Institute for South Carolina Studies.
Titanski-Hooper holds a Bachelor of Science from Lock Haven University of Pennsylvania, a Master of Arts from West Virginia University, and a PhD from the Pennsylvania State University. 
Also recognized at Thursday evening's ceremony were four retiring faculty members who have been named Professor Emeriti. They are: Dr. Peter King, Dr. George Schnibben, Dr. Sophia Waymyers, and Dr. Nancy Zaice.