April 21, 2023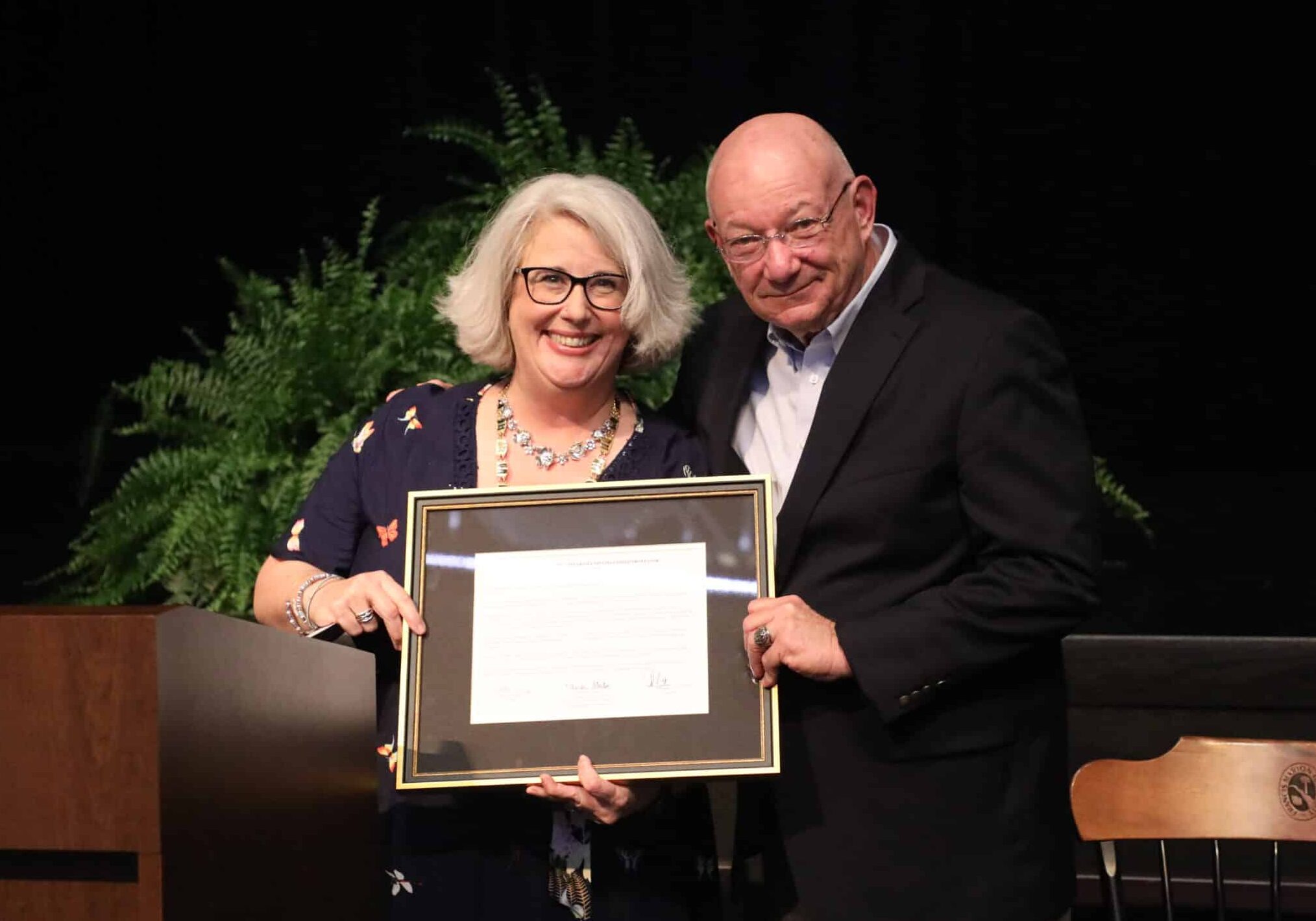 Love-Steinmetz named FMU's 2022-2023 Distinguished Professor
Dr. Meredith Love-Steinmetz, professor of English, was named FMU's J. Lorin Mason Distinguished Professor for the 2022-2023 academic year at an awards ceremony held Thursday evening at the FMU Performing Arts Center in downtown Florence.
The annual award is named in honor of a former chairman of the FMU Board of Trustees. It is the highest honor bestowed upon a faculty member at FMU. Love-Steinmetz will also be FMU's nominee for the South Carolina Governor's Professor of the Year Award competition.
Love-Steinmetz joined the English faculty at Francis Marion in 2003. She served as the Coordinator of Composition from 2005-2015, Coordinator of University Life from 2013-2015, and Co-Director of the Center of Excellence for College and Career Readiness from 2014-2021, and is the chair-elect of the Department of English, Modern Languages and Philosophy. She teaches first-year composition, Business Writing, Theories of Writing, and Gender and Public Rhetoric. 
She is the 48th recipient of the award. She earned a Bachelor of Arts in English from Loyola University in 1995, a Master of Arts in Literature from Clemson University in 1997, and a Ph.D. in Composition and Rhetoric from Miami University in Ohio in 2003.
The Distinguished Professor award is based upon a faculty member's contributions to teaching, professional service, and scholarly activities. 
Since 2003, Love-Steinmetz has 14 peer-reviewed publications, over 30 presentations at regional or national professional meetings, and has been a member of at least ten university-wide committees. She received the 2013-2014 Charlene Wages Shared Governance Award and the 2014-2015 FMU Award for Excellence in Professional Service. 
FMU President Fred Carter praised Love for her many contributions to the university.
"Meredith is one of the finest and most versatile university professors in the state. She is a master teacher and researcher, who is especially adept at developing curricula and directing programs. She has contributed substantially to FMU's academic success over the past two decades and is the ideal choice for this highly prestigious recognition" said Carter.