May 8, 2021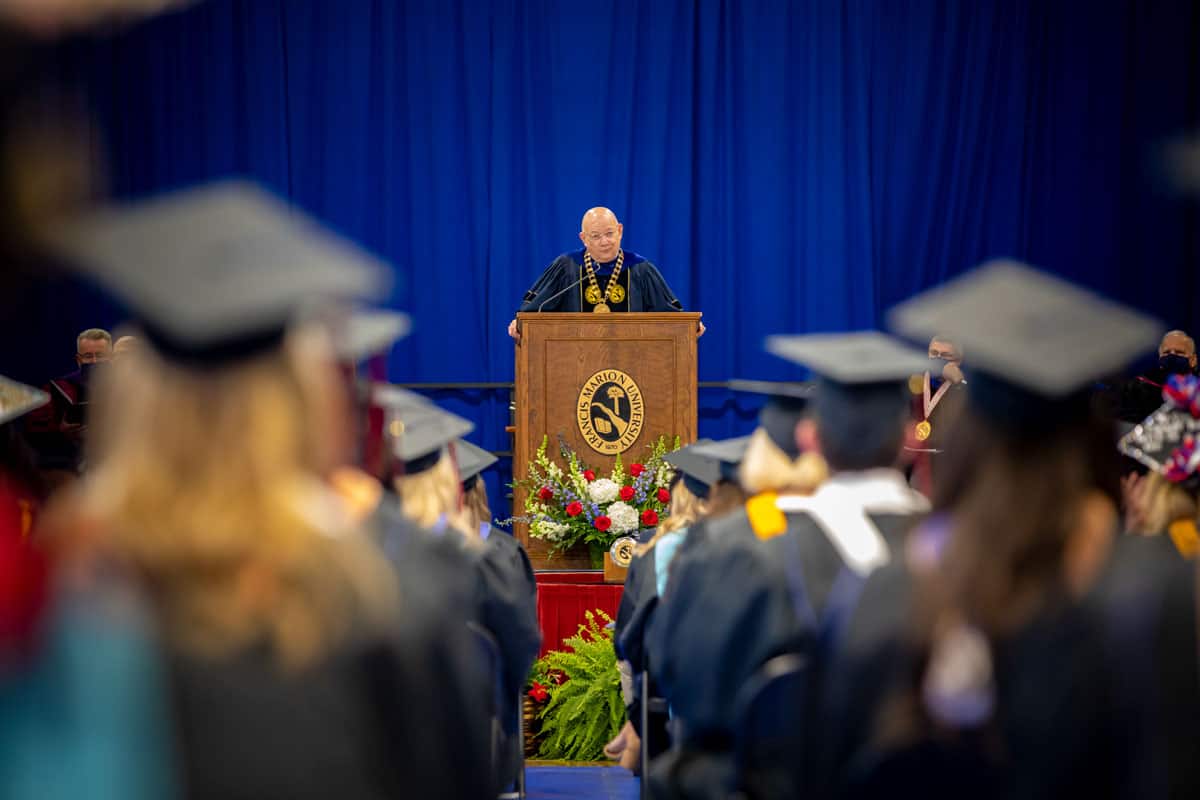 FMU graduates largest class ever at spring '21 commencement
Francis Marion University celebrated the largest graduating class in school history at three, in-person commencement ceremonies held May 7 and 8 in the Smith University Center on the FMU campus. 
FMU awarded a total of 387 degrees – 324 baccalaureate, and 63 master's and specialist's degrees – throughout the three ceremonies. The previous record was set in the spring of 2017 when 380 degrees were conferred. The combined 723 degrees awarded in the 2020-21 academic year is also a record. 
The record-breaking spring class was buoyed by undergraduates from FMU's Department of Physics and Engineering. The 19 students marked the largest class of graduates in the history of the burgeoning department.
The School of Business graduated 57 undergraduates. Forty-eight new nurses received degrees from the School of Health Sciences, and 24 new teachers received their undergraduate degrees from the School of Education. 
One ceremony was held on Friday night, May 7. Two additional ceremonies were held on May 8. FMU's campus mask policy, in place since the advent of the COVID-19 pandemic, was in effect, and both graduates and guests were appropriately distanced. The number of faculty and other officials was limited. No honorary doctorates were awarded and no special speaker was invited to deliver a commencement address. However, FMU President Dr. Fred Carter spoke briefly at each of the three ceremonies.
Carter told the graduates that the degrees they were receiving were essentially "only" if they aspired "to treat the ill, litigate our laws, manage our thriving industries and businesses, educate our sons and daughters, design our bridges and buildings, lead our state, counties, and communities…well, you get the picture. 
"If you don't want to do these things, you probably don't need the degree. On the other hand, if you want to be an integral part in shaping the future of this state and making a better life for its citizenry, then a university education is imperative.  But I speak to the choir, don't I? You are here today because you want to do these things." 
FMU recognized 83 students who earned Latin or University honors during the ceremonies. 
Students earning Latin Honors in the spring classes of 2021 were: 
Summa Cum Laude (grade point average of 3.9 to 4) — John A. Burghardt, Thomas O. Dixon, Carlie D. Fusco, Savanna C. Gainey, Reagan L. Gray, Chasity D. Grimsley, Anthony Ibrahim, Tracie Michelle Jacobs, Derek Taylor Neal, Jimmy J. Patel, Sara A. Simmons, Kailey B. Varney, and Sara C. Wilkerson. 
Magna Cum Laude (grade point average of 3.75-3.89) — Brandon T. Ard, Taylor N. Barefoot, Abigail F. Buie, Alexander J. Bursch, Kylie E. Coward, Ben Carson Davison, Andrew Charles Eason, Jonathan C. Ellison, Lauren E. Fields, David Galic, Anquan L. Gamble, Sarah Carlisle Green, Joshua R. Hardee, Nathan B. Hinson, Magnus Hoejland, Bethany Adelle Jackson, Kylie J. Kennedy, Taylor N. Lutian, Axl R. Mangadang, Laci Michelle McElveen, Sarah A. Moll, Mahnoor K. Mushtaq, Hailey D. Reed, Marisa Sams, Benjamin F. Skinner, Emilee Merridith Welch, and Gary M. Williams. 
Cum Laude (grade point average of 3.5 to 3.74) — Nicholas Paul Baker, Rachael Coker, Jenna Lane Cottingham, Kendall Rebekah Coward, Elizabeth M. Cox, Jonathan D. David, Aileen Dow, Kailey A. Eggert, Cameron Allen Eidson, Cameron D. Felkel, Laura P. Fox, Connie R. Gray, Emma C. Hall, Chase M Herron, Delonte R. Hough, Allana C. Ingram, Kei'yona M. Jordon, Hayli M. Keith, Morgan E. Kephart, Brook N. Lockliear, Ellison Danielle Marlowe, James P. McCarley, James G. Morris, Carlos M. Oliver, Rebecca Grace Owens, Mary A. Pammel, Madison I. Parker, Emily N. Powers, Hailey N. Rowell, Danielle M. Sessions, Kerington Blair Shaffer, Yongliang Shao, Joshua M. Smith, Logan A. Suggs, Grace Nagelvoort Teal, Kathryn G. Turbeville, Brooke Edna Ward, Andie M. Wendelken, Naetosha T. Young, and Eva Zannier. 
Eleven students who are part of FMU's honors program graduated with University Honors. To receive University Honors, students must maintain an overall GPA of 3.25 or higher, complete 21 hours of honors courses and maintain a GPA of 3.25 or higher in the honors courses. 
University Honors graduates were Astou Aw, Ryan Wilson Dees, Kailey Alexis Eggert, Carlie Dee Fusco, Nathan Bryon Hinson, Brook Nicole Lockliear, James Preston McCarley, Hailey Deanna Reed, Liliana De Jesus Arellano Salcido, Cheyenne Alexa Sconzo, and Kyndell Reed Smith.
Graduates were assigned to particular ceremonies by the FMU school or college from which they graduated. The School of Business, School of Education, and Department of Psychology were held Friday evening. The College of Liberal Arts was held Saturday morning. School of Health Sciences graduates were conferred their degrees Saturday afternoon.