May 8, 2021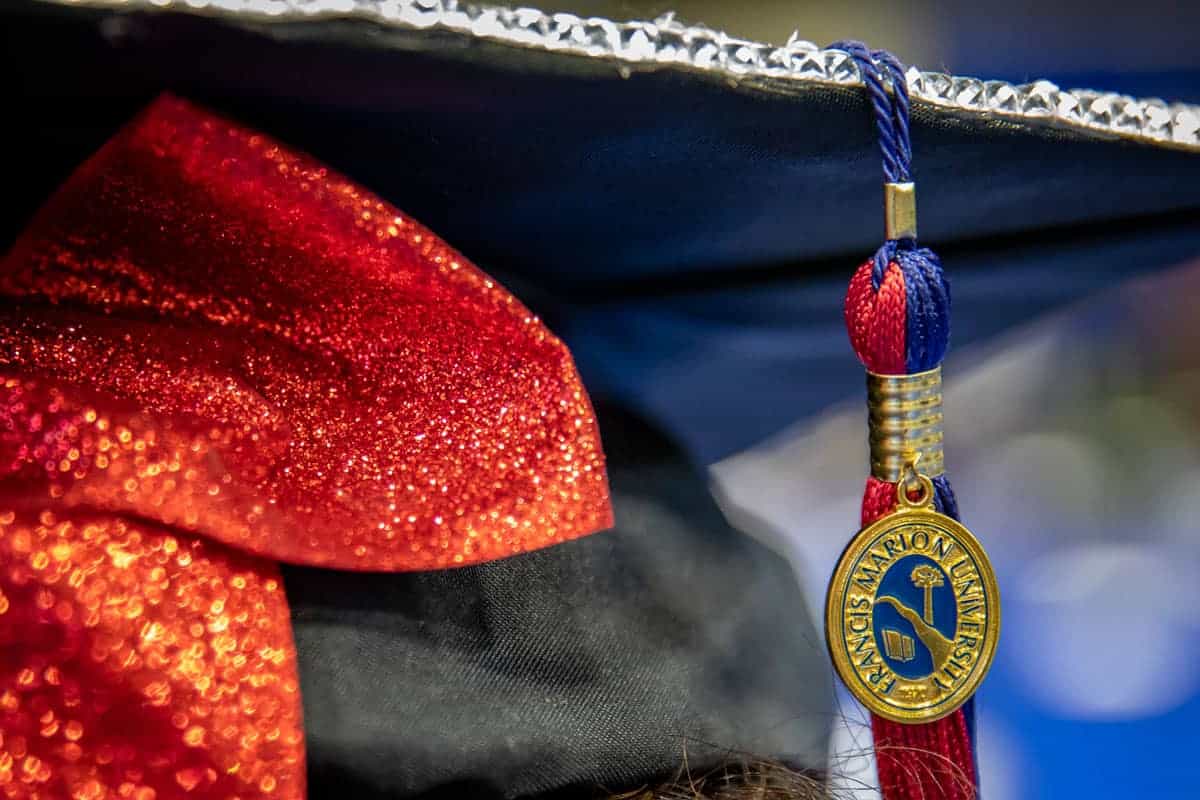 Four graduates receive FMU's prestigious Blackwell Award
Francis Marion University graduates John Burghardt, Thomas Dixon, Jimmy Jagdish Patel, and Sara Wilkerson received the William H. Blackwell Award during spring commencement exercises on Friday, May 7, and Saturday, May 8. 
The Blackwell Award is named in memory of William H. Blackwell, the founding chairman of the FMU Foundation. It is presented to the undergraduate student, or students, in a particular graduating class with the highest academic achievement, as reflected through grade point average, for all academic work undertaken at FMU. The award reflects the work of seniors who graduate at any time during an academic year.
Burghardt, from Oakville, Ontario, Canada, was a double major in Supply Chain Management and Economics. He was a recipient of the Scholastic Achievement Award and the Economics Award in 2021, and was a member of the Honors Program and worked as a consultant in the FMU Tutoring Center. Burghardt was also a member of the Francis Marion University golf team. He was team MVP in 2019, and was also named an Academic All-American. Burghardt will return to his native Canada and pursue employment opportunities in business. 
Dixon, a native of Florence, double majored in Mathematics and Computational Physics. Dixon was the recipient of a bevy of academic awards during his time at FMU, including the Duane P. Myers Honors Award, the Phi Kappa Phi Award, the Mathematics Award, the Computational Physics Award, and the Scholastic Achievement Award. He served as the president of Kappa Mu Epsilon, student vice-president of Phi Kappa Phi, and was a member of Omicron Delta Kappa, the Mathematics Club, and the Honors Program. This fall, Dixon will begin the doctoral program in Aerospace Engineering at the University of Michigan, where he has been awarded a research assistantship.
Patel, from Jefferson, S.C., majored in Early Childhood Education. Patel received the Thomas W. Sills Memorial Award and the Teaching Children of Poverty Leadership Award in 2021, and was a Teaching Fellow and Teaching Children of Poverty Scholar at FMU. She was also a member of the Phi Kappa Phi, Kappa Delta Pi, and Sigma Tau Delta honor societies. Patel will pursue a career in education this fall as a second grade teacher.
Wilkerson, from Florence, majored in Psychology. She received the 2021 Mike Jordan Psychology Award and Scholastic Achievement Award, and served as a volunteer project manager with the Florence Family Support Center, where she has provided case management and support for low-income families and those experiencing homelessness. She also worked as a consultant in the FMU Tutoring Center. Wilkerson will pursue further research opportunities as a doctoral student this fall.