May 2, 2023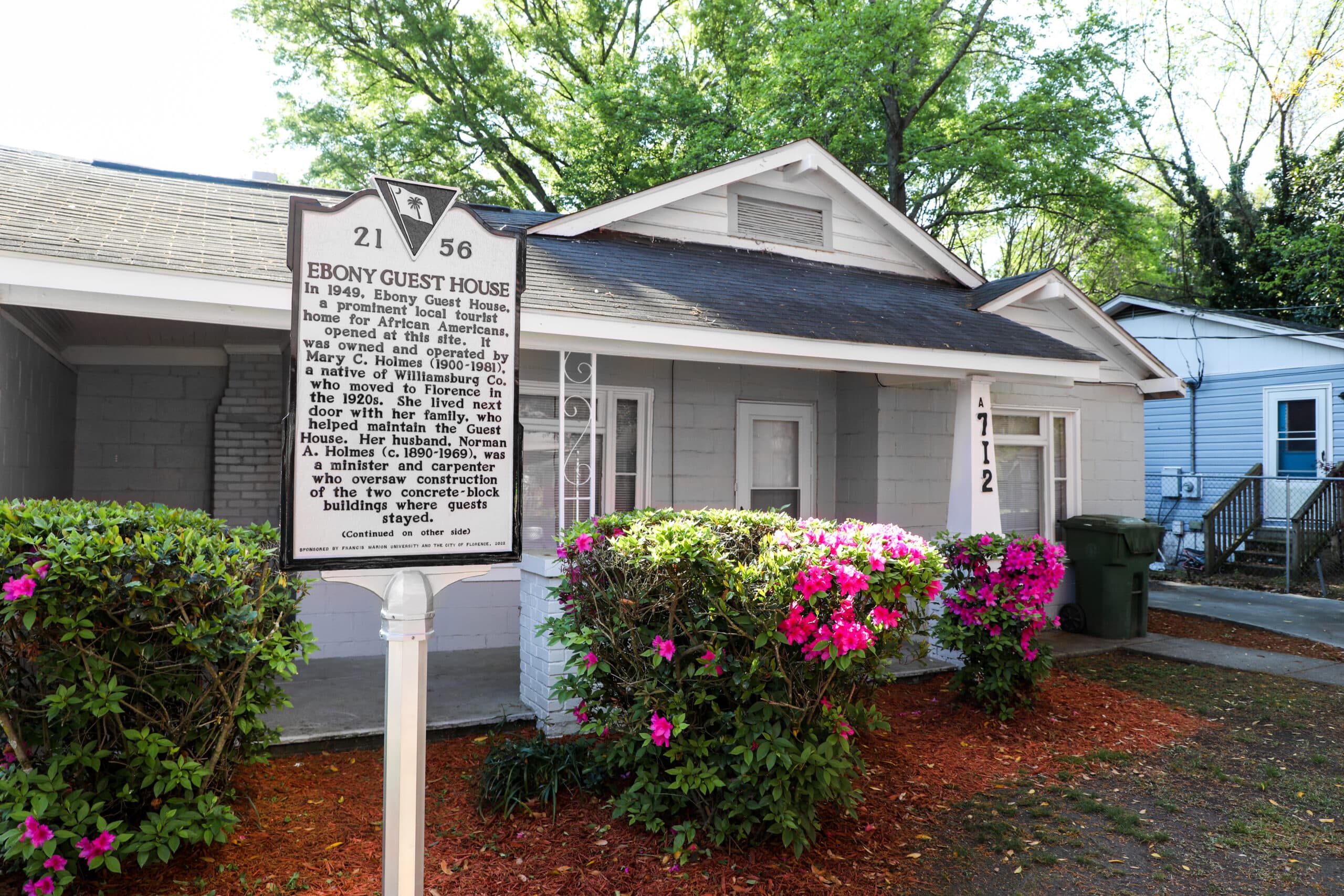 FMU Hosts Celebration for Ebony Guest House Historical Marker
Francis Marion University hosted a celebration on Saturday to recognize the placement of the Ebony Guest House historical marker. The celebration was held at the Dr. Iola Jones Park in downtown Florence.
The Ebony Guest House began as a dream of Mary Holmes, who wanted to open a guest house for traveling African American ministers. Holmes' dream became a reality in 1949 when the Ebony Guest House opened its doors to the first African American travelers. 
For nearly 25 years, African American ministers, soldiers, and even celebrities–including Jackie Wilson, Ike and Tina Turner, Ray Charles, and more–enjoyed the hospitality, conveniences, and ideal location of the house. The Ebony Guest House was one of eight Florence sites featured in the Negro Motorist Green Book. It is the only site in Florence from the Green Book that is still standing today.
"When I first started this project, I thought that I'd find several establishments from the Green Book still standing, maybe even some still in business," said Dr. Meredith Love-Steinmetz, professor of English at FMU. "However, I learned quickly that, across the country, there are very few extant Green Book sites. We are so fortunate that we have the Ebony Guest House in our community and it is exciting to see it added to the National Registry."
"I am excited that the significance of the Ebony Guest House and what it stood for has been recognized," said Dr. Erica Edwards, associate professor of history and coordinator for FMU's Universities Studying Slavery initiative. "I am deeply appreciative to the descendants of the Holmes' family for sharing their stories and knowledge of the Ebony Guest House with all of us."
The Ebony Guest House was recently approved by the South Carolina State Board of Review for inclusion in the National Register of Historic Places. A historical marker was placed at the site, 712 N. Wilson Street, in late March.
"I am pleased that the university has been able to play a role in educating the community on the importance of the Ebony Guest House," said FMU President Fred Carter. "Erica, Meredith, Mayor Teresa Ervin, and Cherish Thomas with the Florence Museum worked diligently to make this ceremony possible. We are so proud of their advocacy on behalf of this historic project."