May 6, 2023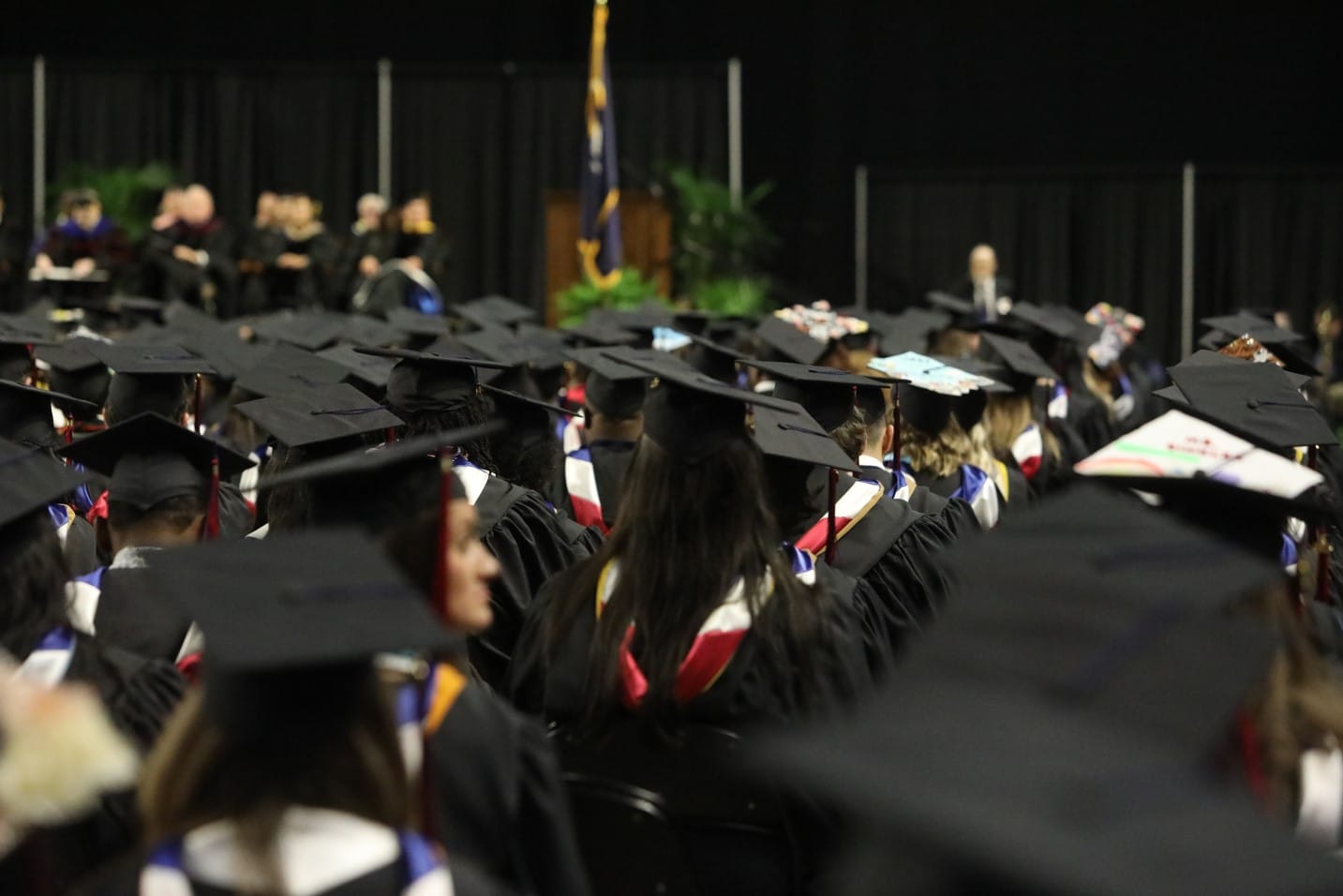 FMU celebrates graduates at Spring 2023 commencement
Francis Marion University celebrated spring 2023 undergraduate and graduate degree recipients in a ceremony held Saturday at the Florence Center and presided over by Provost Peter King. Over 350 degrees were awarded to graduates, with 90% of the class comprised of South Carolina residents. 
Honorary doctorates of Humanities were conferred on Linda Sullen, a longtime university employee; Dr. Peter King, retiring university provost; and Robert E. Lee, current chair of the FMU Board of Trustees. 
Lee, a 1987 graduate of Francis Marion, also served as the commencement speaker. He emphasized the impact earning a college degree has on each of the graduates and their families and urged them to carry love with them wherever they go.
"When you leave Francis Marion, whether you go into the classroom, courtroom, exam room, or boardroom, carry love into that room. Love is the expression of one's humanity and from that humanity springs compassion, empathy, kindness, forgiveness, and joy. These are the hallmarks of a leader people want to follow," said Lee.
In his opening remarks, FMU President Fred Carter lauded the graduates on their successes and noted their work during his remarks. He also reminded graduates that the diplomas they receive last forever.
"As you hold that baccalaureate, masters, or doctoral degree, remember that it is yours forever – a part of your academic pedigree. It will define you scholastically and identify you as a person who values intellectual development," said Carter. 
Carter also urged them to put their education to good use helping others.
"This knowledge will serve you so well in the years ahead — as you battle ignorance and superstition and as you push against the walls that others want to construct around you. It will also serve you well in arguing for fairness and equity in the treatment of others – especially those who don't have the benefit of the education or advantages that you do. After all, what's the point in acquiring an education if you can't put it to use in helping other people."
During the ceremony, eight students were honored with the William H. Blackwell Award, named in memory of the founding chairman of the Francis Marion University Foundation. The Blackwell Award is given by the FMU Foundation to the students who exemplify excellence in scholarship and who have attained, in all academic work, the highest academic achievement among those receiving the baccalaureate degree. The 2022-2023 Blackwell Award recipients are Brianna Bradley, Sarah Driggers, Angelina Jayapuram, Stephen Josey, Caroline McClam, Abbey McLean, Ada Smolen-Morton, and Whitley Turner. 
Eighteen students graduated Summa Cum Laude ("with greatest praise") after completing degree requirements with a cumulative GPA of 3.9 or higher. They are Jacob L. Ballington, Aidan B. Barker, Brianna S. Bradley, Mark Britt, Tyler L. Brown, Sarah Rose Driggers, McKenna E. Dynana, Angelina S. Jayapuram, Caroline L. McClam, Emery Christine McCutcheon, Dani-Reed M. McKenzie, Abbey Elizabeth McLean, Niki K. Patel, Payton Rose Russo, Ada R. Smolen-Morton, Cassidy Faith Tanner, Whitley A. Turner, and Gisela J. Vasquez.
Twenty-eight students graduated Magna Cum Laude ("with high praise") in recognition of a cumulative GPA between 3.75 and 3.89. They are Andrew T. Alexander, Christopher J. Boone, Michael M. Bristow, Jr., Caleb M. Clark, Brooklyn E. Cox, McKenna Leigh Davis, Rachel L. Davis, Abigail L. Floyd, Madison Denise Floyd, Chanelle Hanberry, Camryn E. Harris, Areyana Nicole Henry, Ethan M. King, Breanna A. Lisenby, Taylor Matthews, Reina C. McCullough, McKayla Leigh Miller, Riley M. Osbourn, Eryieal D. Peoples, Gabriella K. Perla, Alexander Schulze, Jacob L. Schwartz, Allison Tanner, Lucas Timothy Tanner, Roland G. Vu, Tearah Da'Shay Walker, Luke R. Watkins, and Jarrod L. Woodland.
Thirty-one students graduated Cum Laude ("with praise") after completing degree requirements with a GPA between 3.5 and 3.74. They were Cathryn E. Ackerman, Felicity J. Allen, Jenna Ryann Barino, Saphire A. Campbell, Cole J. Chestnut, Tianna C. Cohen, Meisha N. Coles, James O. Creel, III, Daniel C. Dixon, Cassondra M. Edgemon, Edith M. Flores, Abigail Morgan Graham, Annalena J. Griffin, James W. Hanna, Stanislaw Kansiewicz, Savannah G. Lewter, Naphis Llanos, Andrew T. Lowry, Caitlin Renae Matthews, Hunter O. McGee, Garrett Miller, Kaylie P. Miller, Savannah D. Mincey, John Benedict Odasco, Nicholas James Palumbo, Sarah D. Paschal, Clayton F. Raines, Frances Elaine Singletary, August Stelzer, Brittany M. Talbott, and Ryan A. Taylor.
Eight students also graduated with University Honors after completing twenty-one credit hours in Honors courses and maintaining an overall GPA of 3.25 or higher. They are James O. Creel, III, Sarah Rose Driggers, Annalena J. Griffin, Angelina S. Jayapuram, Ethan M. King, Reina C. McCullough, John Benedict Odasco, and Ada R. Smolen-Morton.