December 17, 2019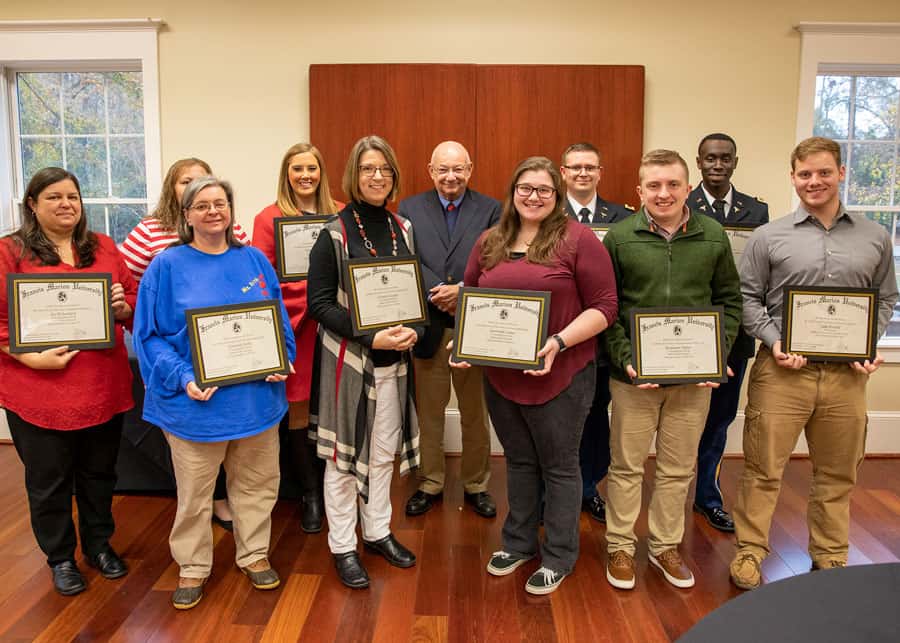 FMU recognizes graduates headed into public service
Francis Marion University recognized 23 graduating students for their dedication to public service during a special ceremony Friday afternoon in The Cottage, located on the University's campus.
Each student was lauded for their decision to begin a career in public service upon graduation from FMU. All 23 students are among the more than 300 students who will march in Saturday's commencement ceremonies at FMU.
The service recognition ceremony is a traditional event prior to each graduation at FMU.
FMU recognizes an array of public service paths including ministry, social service, non-governmental organizations, the military and teaching.This fall's honorees included teachers, commissioned officers in the U.S. military, and one military inductee who will be attending medical school.
Students honored at this fall's ceremony included Austin Anderson of Anderson, Mary Armstrong of Camden, Angela Bowers of Lugoff, Ashleigh Bradshaw of Camden, Savannah Catoe of Effingham, 2nd Lt. William Dunson of Hamer, Christy Evans of Pamplico, Luke Fennell of Olanta, Shawna Goerlich of Elgin, Kristian Hunter of Elgin, Jordan Jones of Columbia, Kimberly Keith of Society Hill, Carmen Lawson of Camden, Kara Matney of Lugoff, Emily McCants of Lexington, Courtney Neal of Kershaw, Joy Richardson, of Gresham, 2nd Lt. Nicholas Smith of Lamar, Rebecca Sofish of Columbia, Katerine Speed of Sumter, Rebecca Stinson of Pawleys Island, Benjamin Taylor of Timmonsville and Lauren Watkins of Hartsville.