December 17, 2019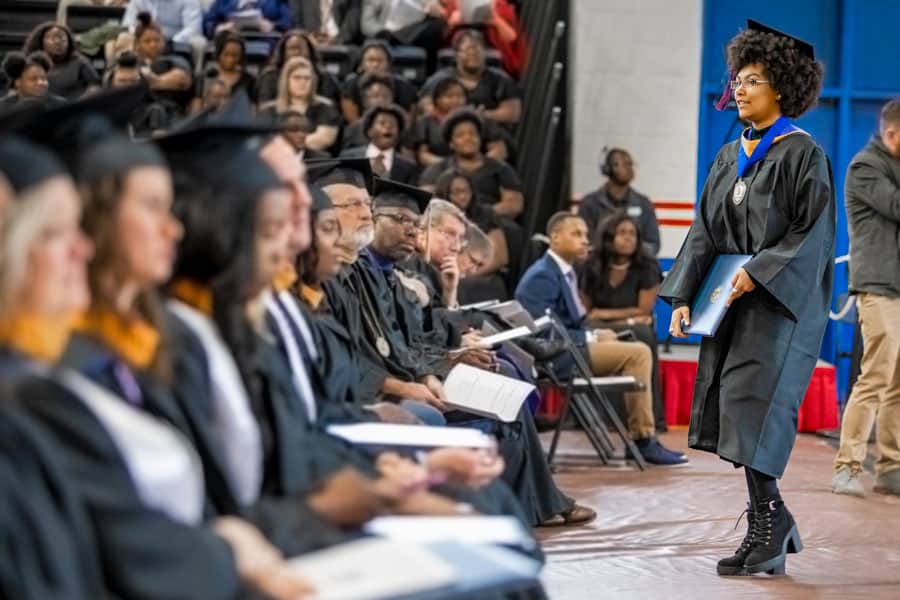 Summa Cum Laude grad hits her stride as a double major at FMU 
Being a college student is hard. Being a good college student is even harder. 
Being an exceptional college student that's double majoring in two demanding majors is… Well, you get the idea. It's not for everyone. 
For Francis Marion University graduate Rhyli Burke of Florence, the challenge of doing just that came naturally to her. 
Burke, a double major in Psychology and Sociology, navigated the demands of a rigorous course load along with simply being an active college student with great aplomb. She even earned the honor of graduating Summa Cum Laude with a GPA nearing perfection as a member of the FMU Honors Program. 
The journey to becoming a graduate was one that required hard work and dedication on the part of Burke. Late nights, early mornings, and a spirit of indomitability. 
If you ask her, though, it wasn't just one person that brought her to this point. 
"I had really good professors," Burke says. "The classes themselves were really good, but if I ever had any questions, the professors were always ready to help me do what I needed to do in order to succeed."
Burke came to Francis Marion with a mind to major in Psychology. It was a subject that she learned to enjoy as a high school student, and something that she saw as presenting a likely career path. 
As a freshman, Burke began to take her general education courses, and within that regimen of study, she took her first Sociology course.  
"When I took my first Sociology course at FMU, I thought, 'Whoa! This is really interesting and right up my alley,' so I decided to double major."
Accepting the challenge, Burke buckled down and invested her time in both fields of study.
With help from the faculty of the departments of Psychology and Sociology at Francis Marion, Rhyli hit her stride, and hasn't looked back.
"The class sizes were really small," Burke says. "That helped the professors get to know me and helped me get to know the professors." 
Now a Francis Marion graduate, Burke is planning to continue her education at graduate school, and ultimately hopes to become a social psychologist.