April 24, 2018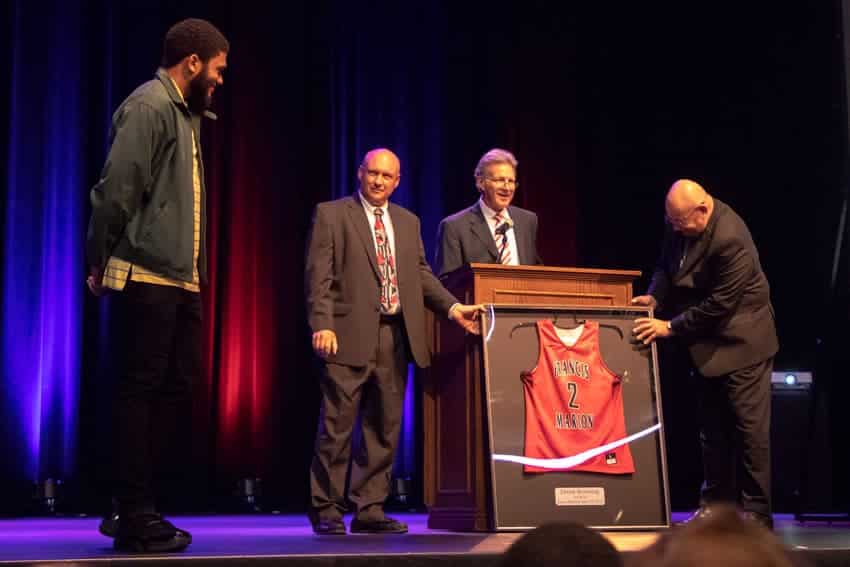 FMU retires Browning's jersey
Francis Marion University honored the extraordinary career of men's basketball star Detrek Browning by retiring his jersey at Monday night's FMU Athletic Awards Gala at the FMU Performing Arts Center.
Browning, a senior from Columbia, S.C., is just the fourth student-athlete in the 48-year history of the Patriot athletic program to have his/her jersey retired. The others with retired jerseys are baseball player Kenneth R. Roth Jr. (No. 14) in 1977, women's basketball player Pearl Moore (No. 12) in 1979, and men's basketball player Robert Moore (No. 40) in 1981.
The announcement was made at Monday's gala by FMU head coach Gary Edwards. The jersey was presented by university president Dr. Fred Carter and athletic director Murray Hartzler.
Only the university president can retire a jersey. The decision to retire Browning's jersey followed extensive discussion between Dr. Carter and Hartzler, and took into account not only what Browning accomplished during his brilliant senior campaign, but also his achievements in his four years at FMU.
Browning also received the men's basketball most valuable player award for the third consecutive year during the awards ceremony.
Browning was the Peach Belt Conference Player of the Year for 2017-18 and garnered All-American honors after leading the Peach Belt and ranking fourth nationally in NCAA Division II in scoring at 24.6 points per game.  Browning helped direct Francis Marion to a 20-win season and the program's second-ever berth in the NCAA Tournament.
Browning finished his career as both the FMU and the Peach Belt Conference career scoring leader with 2,356 points.  He surpassed the old FMU career scoring mark by 493 points.
He also finished second on the FMU career list for steals with 245, second in assists with 408, and 15th in rebounding with 539.  He holds the Patriots career marks for minutes played (4054), highest scoring average (20.5), field goals made (824) and attempted (1650), three-pointers made (292) and attempted (723), games scoring in double figures (111), and 30-point games (nine).
Browning, a guard, shot 49.9 percent from the floor, 40.4 percent from three-point range, and 82.7 percent from the free throw line.
Browning is a Psychology major and will graduate May 5 at FMU's Spring Commencement ceremony.