September 7, 2018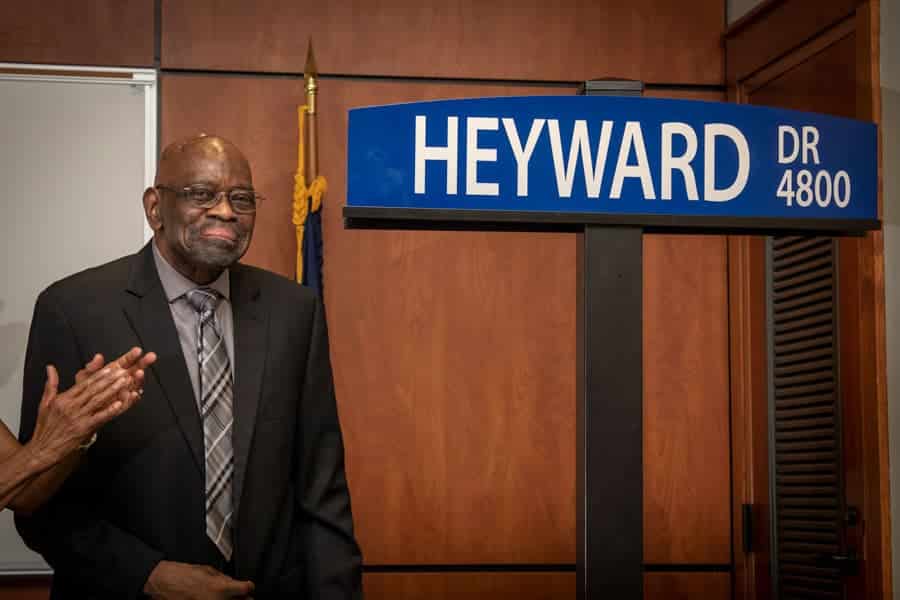 FMU thoroughfare renamed Heyward Drive
One of the primary thoroughfares on the Francis Marion University campus has new name.
At a ceremony Friday, University officials held a dedication ceremony for the new Heyward Drive. The naming honors Dr. Joseph E. "Joe" Heyward, who served FMU for more than 30 years as an instructor, administrator and provost.
Heyward Drive is the main east-west street on the FMU campus. It was previously called Patriot Drive.
FMU President Dr. Fred Carter called Heyward "one of the architects of the development of the university" and said that he depended upon Heyward's sound advice during the early years of his presidency."
During a ceremony in Francis Marion's Thomason Auditorium, Heyward was presented with a citation celebrating the event, and a replica of the street sign bearing his name. Heyward was accompanied by his wife Evelyn and numerous friends and family members.
"I'm still overwhelmed," Heyward said. "This is such an incredible honor."
Heyward, a native of Florence, graduated from Wilson High School, received his BA from Hampton University, his Master of Mathematics degree from Morgan State University and his Ed.D from the University of South Carolina.
Heyward taught math and physics, served as an assistant principal, and an assistant superintendent in Florence School District 1. Heyward served in a variety of roles at FMU during two different stints with the University. From 1983-2006 he was a vice president. Concurrently, he served as University Provost on three occasions for a total of four years.
During his career Heyward also served as an area representative for Senator Fritz Hollings, and served in the U.S. Army and the U.S. Army Reserve.
Heyward has been an active in a number of professional and community organizations throughout his life, including Cumberland United Methodist Church, the South Carolina Conference of the United Methodist Church, The South Carolina Housing Authority Board, the Greenwood Genetics Center Board, the Pelican House Board and of course FMU's African-American Faculty and Staff Coalition.
He and Evelyn have three children and six grandchildren.