January 15, 2020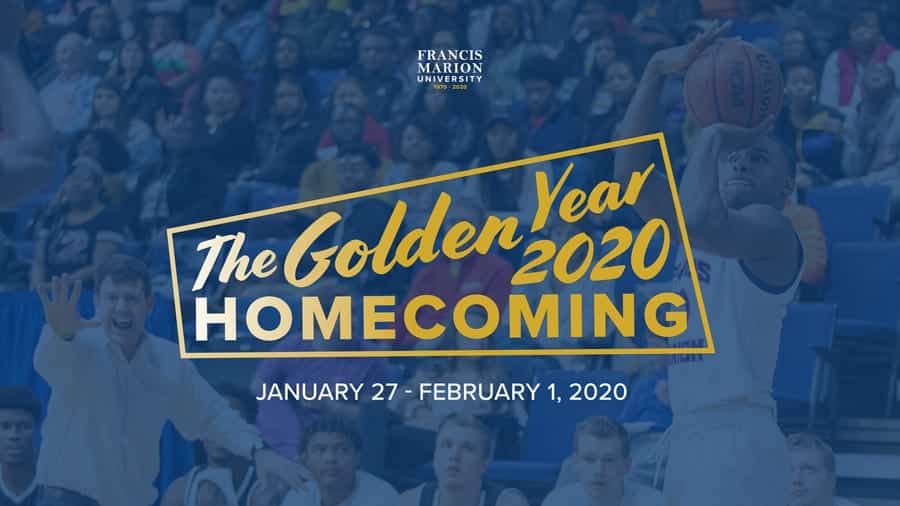 FMU to celebrate "The Golden Year" at Homecoming 2020
Francis Marion University's 50th anniversary Homecoming week will kick off Jan. 27 with a bevy of activities and events fitting of the University's semicentennial throughout the week.
The big event, Homecoming Day itself, is set for Saturday, Feb. 1
FMU's 2020 Homecoming will be highlighted by Saturday's basketball doubleheader with the men's and women's teams facing off against Georgia Southwestern State University in a Peach Belt Conference match-up in the Smith University Center Gym. The women's game tips off at 1:30 and the men's game will follow, starting at approximately 3:30 p.m..
A recognition ceremony for Francis Marion's national championship athletic teams will be held between the women's and men's games. 
The Homecoming king and queen will be crowned following the men's game. 
Admission to the basketball games is free.
Pre-game tailgating, a hallmark of FMU's Homecoming, begin at 11 a.m.  and in the fields adjacent to the Smith University Center and conclude at 7 p.m. This year's iteration will feature food trucks as a part of the tailgating festivities.
FMU's baseball and softball teams will also be in action at the Griffin Athletic Complex on Saturday as well. The Patriot's baseball team will face Lenoir-Rhyne at 2 p.m. The softball team will play a doubleheader against Mount Olive at 1 p.m. and 3.
The FMU Athletic Department will sponsor the 22nd annual Swamp Fox Club Benefit Silent Auction, featuring sports memorabilia and merchandise, beginning at 1 p.m. in the Smith University Center gymnasium. All proceeds from the auction will support Patriot athletics. The Patriot Bookstore in the Smith University Center will offer special Homecoming sales all day on Saturday.
For more information about Homecoming activities Jan. 27 through Feb. 1, visit www.fmarion.edu/homecoming or contact the office of Alumni Affairs at 843.661.1228.
Jan. 27, 2020
7 p.m. // Silent Disco Party @ The Smith University Center Commons
Jan. 28, 2020
7 p.m. // The Golden Mixer @ The Smith University Center Commons
Jan. 29, 2020
7 p.m. // FMU's Got Talent @ The Francis Marion University Performing Arts Center
Jan. 30, 2020
6 p.m. // The Patriot Bonfire @ Intramural Fields
Jan. 31, 2020
5 p.m. // Baseball vs. Mars Hill @ Griffin Athletic Complex
6 p.m. // Homecoming Eve @ University Place Art Gallery
Feb. 1, 2020
11 a.m. // Tailgating begins @ Intramural Fields
11:45 a.m. // Homecoming Parade @ Hayward Drive and Alumni Drive
Noon // Patriot Fest @ The Smith University Center
1 p.m. // Softball vs. Mount Olive @ Griffin Athletic Complex
1:30 p.m. // Women's basketball vs. Georgia Southwestern @ The Smith University Center Gym
2 p.m. // Baseball vs. Lenoir-Rhyne @ Griffin Athletic Complex
3:15 p.m. // National Championship Team Recognition Ceremony @ The Smith University Center Gym
3:30 p.m. // Men's basketball vs. Georgia Southwestern @ The Smith University Center Gym