December 18, 2017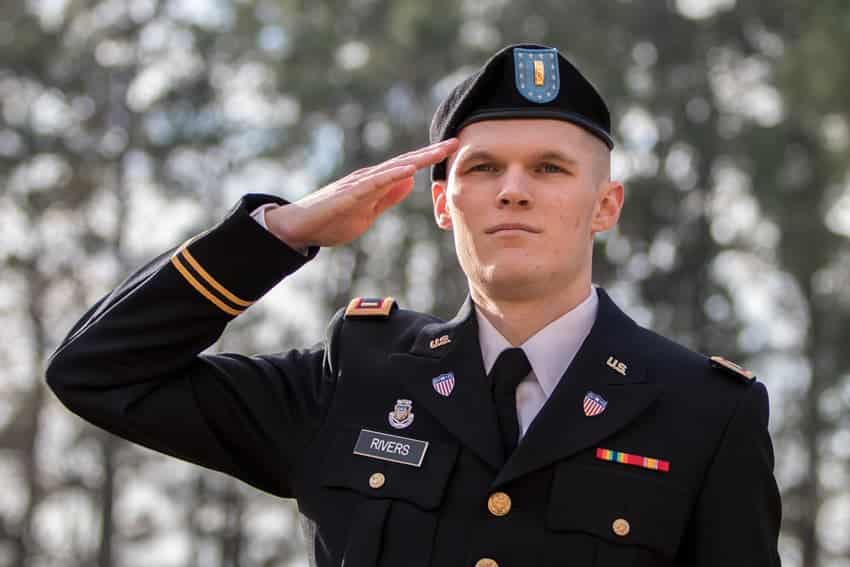 FMU's Rivers ready for the Army life
Jordan Rivers is the product of a military family who set his sights on a military career long ago.
Still, finally achieving at least the start of that goal is a moment to be savored. And Rivers was savoring this week after the fall 2017 Francis Marion University graduate was commissioned as an officer in the U.S. Army.
"It's important," says Rivers. "I've been working toward something and now that I've accomplished it, I feel a sense of fulfillment. It's not like I set out to do this on a Monday and finished it on a Tuesday. I've been working for this since I graduated high school. … Now that I'm finally here, I'm nervous about the next step because I planned for this moment for so long."
Rivers' very next step will be across the stage at FMU's fall commencement ceremony. After that, it's on to Ft. Jackson in Columbia, S.C. for his first posting. Rivers – now Second Lieutenant Rivers – will be part of the 81st Reserve Support Command.
The road to becoming an active duty officer in the U.S. Army isn't easy. Rivers' path took him through his high school Junior ROTC and then into FMU's ROTC program.
The Orangeburg, S.C., native says he was eager to see what was different about a college ROTC program. The main difference, he discovered, is that it's far more demanding.
"People say the two are very different – college and high school ROTC – so I wanted to see what the difference was," he says. "I got the full experience. It takes a lot to study, have a social life, get good grades and still wake up early in the morning and be here at 6 a.m."
Rivers did his best to fit it all in. The Math major filled his spare time as any college student would, by meeting new friends, joining a campus fraternity – Tau Kappa Epsilon – and enjoying the experience. Rivers even met his wife, Gracen ('16), through fraternity events.
Rivers says he's always had a desire to serve in the armed forces. In fact, he remembers times in which one of his grandfathers and uncles – both veterans of the U.S. Navy and Army respectively – would argue over which branch their grandson would join. Now that he's there he says he's ready.
"I know that I have to do something that I've been working toward a long time," Rivers says.