December 16, 2017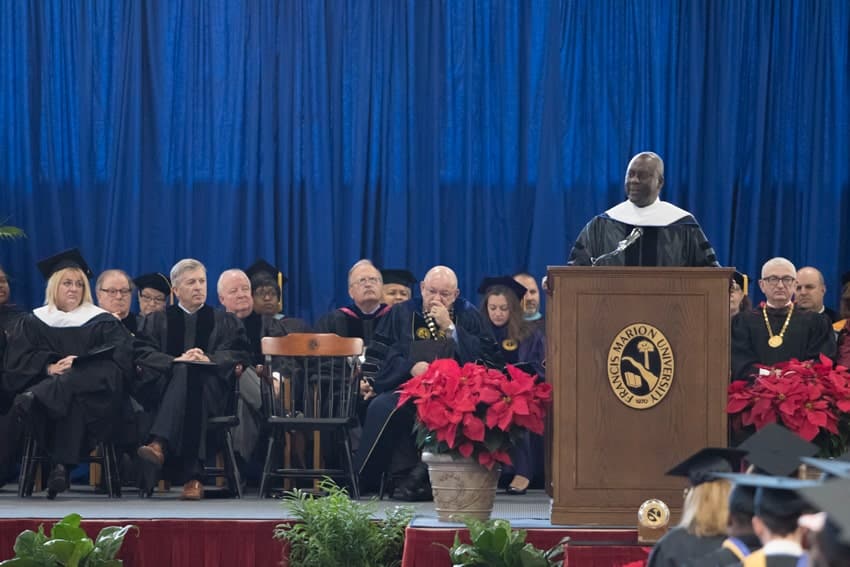 Duke Energy's Ghartey-Tagoe tells grads to avoid 'victim mentality'
Francis Marion University awarded degrees to 309 new graduates at its fall commencement ceremony on Saturday, Dec. 16.
The degrees included 231 baccalaureate degrees, and 78 graduate degrees.
Honorary doctorates of Humanities were conferred on Kodwo Ghartey-Tagoe, Duke Energy's state president for South Carolina operations; and South Carolina Family Court bench judge Melissa J. Buckhannon, an FMU alum ('91). Ghartey-Tagoe, a native of Ghana, served as the commencement speaker.
Ghartey-Tagoe, whose own professional and academic career contained many ups and downs,  told the newly minted graduates that, above all, they should avoid having "a victim mentality.
"So what do you do when adversity strikes … when it comes knocking on your door?" Ghartey-Tagoe asked the audience of almost 3,000. "Stay calm. Be poised… Have hope. Be thankful for you do have. Have faith. Understand your mission and create a plan to accomplish it. And persist until you break through. You will get through it."
FMU President Dr. Fred Carter told grads during his welcoming remarks that they'll never receive more advice in their lives than at their collegiate graduation. Make the most of that, Carter said. And don't hesitate to continue to seek advice in the future, especially from FMU faculty members who relish the chance to assist former students.
Ghartey-Tagoe assumed his current position with Duke Energy in 2017 where he is responsible for maintaining the financial performance of Duke Energy's electric utilities in South Carolina and managing community, state and local affairs.
Judge Melissa J. Buckhannon was elected to the South Carolina Family Court Bench
in 2014. Her election by the South Carolina Legislature followed a 19-year career as a lawyer in Horry County. While practicing law, Buckhannon served on a number of professional boards and in various volunteer posts related to the law.
Buckhannon also served on the Francis Marion University Board of Trustees from 1998 through 2013.
Among the graduates were 86 who earned degrees in the healthcare field, one of the university's largest classes in that growing field. Those grads included Nurses, Family Nurse Practitioners and graduates in FMU's relatively new MBA Healthcare Executive Management program. The high number of graduates illustrates Francis Marion's continued dedication to providing much-needed healthcare workers for the region and the state.
Six students graduated Summa Cum Laude ("with greatest praise") after completing degree requirements with a cumulative GPA of 3.9 or higher. They were Rachel Ankers of Elgin; Sierra Lind of Timmonsville; William Huntley of Florence; Catherine Hyman of Pamplico; Emily Lavender of Hartsville; and Shelly Smith of Pamplico.
Eight students graduated Magna Cum Laude ("with high praise") in recognition of a cumulative GPA between 3.75 and 3.89. They were Kaitlin Elmore of Dalzell; Rachel Fleschner of Florence; James Jepertinger of Florence; Tyler Matusiewicz of Florence; Miranda Miles of Coward; Devin Nelson of Bloomfield, Conn.; Garrett Rogers of Charlotte, N.C.; and Caroline Starling of Greer.
Eighteen students graduated cum laude ("with praise") after completing degree requirements with a grade point average between 3.5 and 3.74. They were Elliott Christmas of Hartsville; Jessica Elliott of Marion; Katelyn Elmore of Bishopville; Alexus Franklin of Georgetown; Grantham Heustess of Florence; Sarah Holladay of Florence; Hampton Johnson of Simpsonville; Stacey King of Pamplico; Chase Kirby of Effingham; Sidney Lawrimore of Florence; Juanita McLeod of Florence; Jessica Meggs of Effingham; Molly Packett of Pamplico; Amber Purvis of Effingham; Joshua Stalheim of Florence; Kimberly Vinson of Aiken; Cierra Weatherford of Hartsville; and Kendalyn Woodard of Longs.
Three students graduated with University Honors, which is awarded to students who achieve an overall grade point average of 3.25 or above and complete 21 hours in Honors courses with a grade point average of 3.25 in all Honors courses taken. They were Rachel Ankers of Elgin; Rachel Fleschner of Florence; and Kristin Ingram of Mullins.