February 22, 2023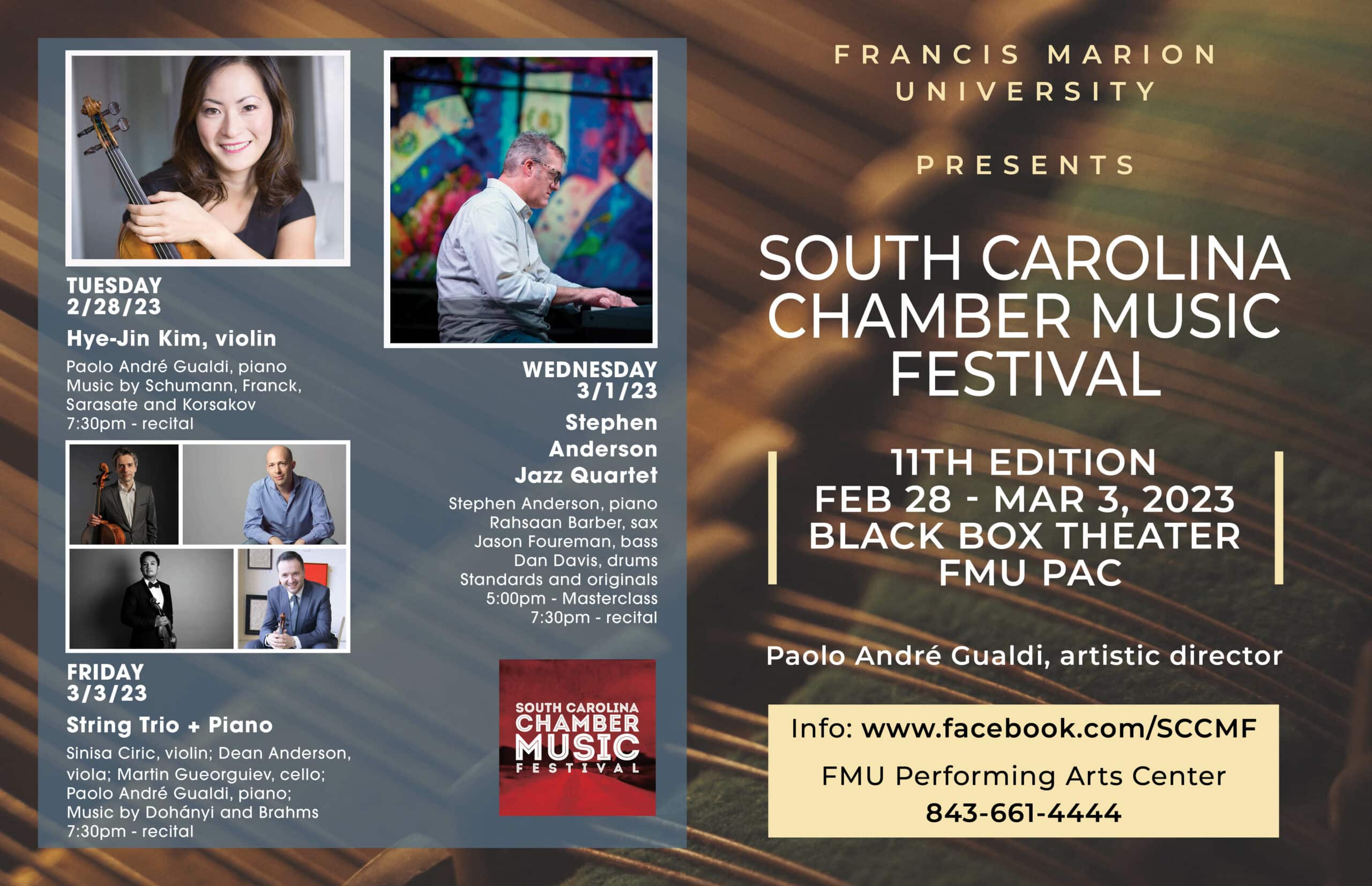 FMU's South Carolina Chamber Music Festival returns February 28
Francis Marion University will host the eleventh annual South Carolina Chamber Music Festival at the FMU Performing Arts Center's Black Box Theatre February 28 to March 3. 
This year's program will include three recitals featuring internationally acclaimed artists including violinist Hye-Jin Kim. The festival will also include a masterclass for FMU's Jazz Combo with jazz pianist and composer Stephen Anderson.
The South Carolina Chamber Music Festival was created over a decade ago by FMU associate professor of music and piano virtuoso Dr. Paolo André Gualdi. 
 "This year's Festival includes a fantastic lineup of internationally-acclaimed artists," Gualdi says. "It is so special and exciting to host musicians of such a high caliber at our university."
The first performance will be held on Tuesday, February 28 at 7:30 p.m. and features violinist Hye-Jin Kim accompanied on piano by Dr. Gualdi and features music by Schumann, Franck, Sarasate and Korsakov.
On Wednesday, March 1 at 7:30 p.m., the Stephen Anderson Jazz Quartet will perform jazz standards and originals with Stephen Anderson on piano, Rahsaan Barber on the saxophone, Jason Foureman on bass, and Dan Davis on drums.
The Festival will conclude with a String Trio and Piano performance on Friday, March 3, also at 7:30 p.m. This recital features music by Dohnanyi and Brahms presented by violinist Sinisa Ciric, violist Dean Anderson, cellist Martin Gueorguiev and pianist Paolo André Gualdi.
Tickets are $10 for the general public and are available at the FMU PAC Ticket Office at 201 South Dargan Street, Monday through Friday, 12:00pm – 5:00pm, or by calling 843-661-4444. FMU students, faculty, and staff are admitted at no charge upon showing an FMU ID. 
For more information on the artists or individual performances, visit https://www.facebook.com/SCCMF/.