January 28, 2019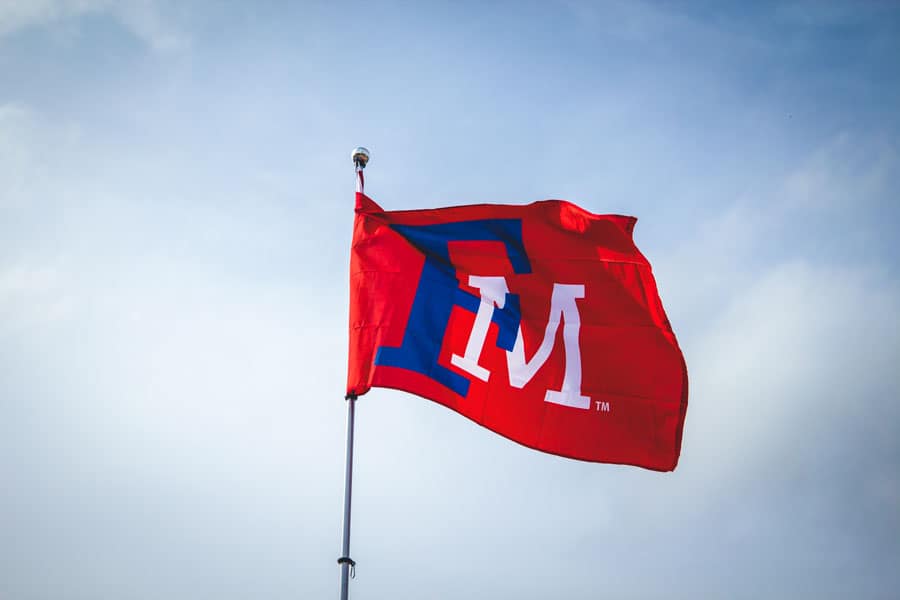 Francis Marion to celebrate 2019 Homecoming Feb. 23
Francis Marion University's 2019 Homecoming week will kick off on Monday, Feb. 18 with a week of activities leading up to the big Homecoming Day celebration on Saturday, Feb 23.
The highlight of the celebration will be Saturday's basketball doubleheader with the men's and women's teams squaring off against Flagler College in a Peach Belt Conference rivalry in the Smith University Center gym. The women's game begins at 1:30 p.m. and the men's game will follow, starting approximately at 3:30.
Induction ceremonies for the FMU Athletics Hall of Fame will take place between the women's and women's games. This year's inductee is former Patriot softball catcher Laurie Niego Mancari ('03).
The Homecoming king and queen will be crowned following the men's game.
Admission to the basketball games is free.
Pre-game tailgating, another Homecoming tradition, will begin at 11 a.m. at the fields adjacent to the University Center and conclude at 7 p.m. Food trucks will add to the offerings at this year's event. There is a fee for tailgating spots.
A Homecoming parade through campus is scheduled for 11:45 a.m. Patriot Fest, set to begin at noon p.m., will feature live music and entertainment at the University Center lawn.
Saturday's schedule also includes baseball and softball games. Francis Marion's baseball team will take on USC Aiken at 2 p.m. The softball team will play two games Saturday, first against West Liberty at 1 p.m., followed by Alderson Broaddus University at 5 p.m.
The Patriot tennis team will face Barton University at noon on the Kassab Courts.
The FMU Athletic Department will sponsor the 21st-annual Swamp Fox Club Benefit Silent Auction, featuring sports memorabilia and merchandise, beginning at 1 p.m. in the Smith University Center gymnasium. All proceeds from the auction will support Patriot athletics. The Patriot Bookstore in the Smith University Center will offer special Homecoming sales all day on Saturday.
For more information about Homecoming activities Feb. 18-23, visit www.fmarion.edu/homecoming or contact the office of Alumni Affairs at 843.661.1228.
February 18, 2019
7 p.m. – Blast to the Past @ The Smith University Center
February 19, 2019
6 p.m. – Education Alumni Reception @ The Cottage
February 20, 2019
7 p.m. – FMU's Got Talent @ The FMU PAC
February 21, 2019
7 p.m. – Patriot Bonfire @ The University Center Fields
7:30 p.m. – Bonfire After-Party @ The University Center
February 22, 2019
5 p.m. – Softball vs. Queens University @ Griffin Athletic Complex
6 p.m. – Baseball vs. USC Aiken @ Sparrow Stadium
8 p.m. – Homecoming Eve in Downtown Florence
February 23, 2019
11 a.m. – Homecoming Tailgating Begins at the University Center Fields
11:45 a.m. – Homecoming Parade @ Heyward and Alumni drives
Noon – Tennis vs. Barton @ Kassab Courts
Noon – Patriot Fest @ The University Center Lawn
1 p.m. – Softball vs. West Liberty University @ Griffin Athletic Complex
1 p.m. – Silent Auction @ University Center Gym (Ends at halftime of men's basketball game)
1:30 p.m. – Women's basketball vs. Flagler College @ University Center Gym
2 p.m. – Baseball vs. USC Aiken @ Sparrow Stadium
3:30 p.m. – Men's basketball vs. Flagler College @ University Center Gym
5 p.m. – Softball vs. Alderson Broaddus University @ Griffin Athletic Complex
7:30 p.m. – Second City Comedy Tour @ The FMU PAC